Updated April 17, 2023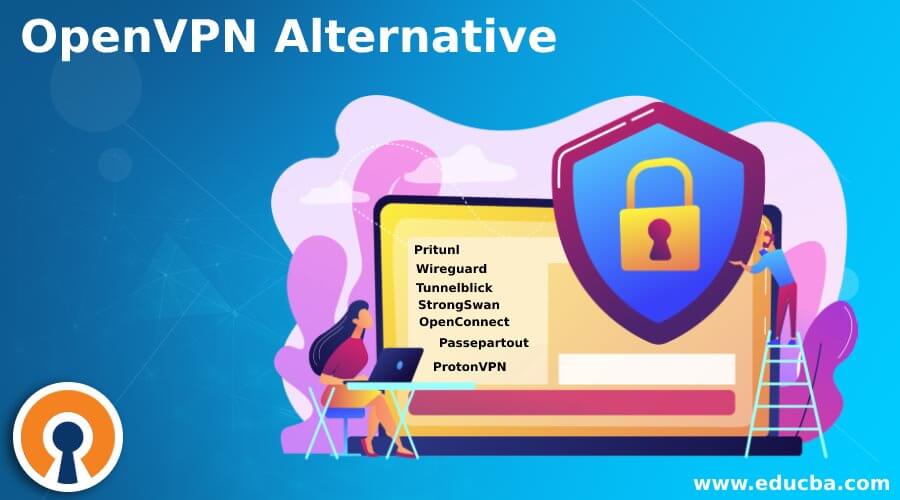 Introduction to OpenVPN
The following article provides an outline for OpenVPN Alternative. OpenVPN is not only a VPN client but also a standard that introduces new techniques for establishing stable end-to-end connections. It's no wonder that OpenVPN has risen to prominence as a leading security protocol, with many popular VPNs using it. On the other hand, its advanced features often perplex ordinary consumers who can't seem to wade through endless options for settings. So if you want to find a user-friendly VPN client, you are in the right position.
Here, alternatives to OpenVPN were referred to, taking into consideration certain broad points. Most VPNs are open-source like OpenVPN, as mentioned above. In the OpenVPN security protocol, certain customers are developed so that you receive the same protection but with a simple interface.
List of OpenVPN Alternative
Given below is the list of OpenVPN Alternative:
1. Pritunl
Pritunl has a user-friendly interface, which is uncommon among open-source VPNs. While OpenVPN is more advanced, Pritunl is the best option for beginners who want to set up their own VPN server. First and foremost, it's similar to OpenVPN, which is freely available on all major platforms. It also makes no concessions in terms of the underlying technologies. Pritunl uses the OpenVPN protection protocol and also offers some user management.
2. Wireguard
Wireguard is one of the best OpenVPN solutions because it combines sophisticated security features with the best of all worlds a user-friendly GUI. This is an open-source SSH-built VPN, to begin with. Many claims that SSH isn't as safe as OpenVPN's custom security protocol. Wireguard, on the other hand, employs additional cryptographic services such as Curve25519, Poly1305, SipHash24, and others. All of this makes Wireguard one of the safest VPNs available. Furthermore, Wireguard is less powerful than OpenVPN since it encrypts and transmits data using the basic SSL protocol. Overall, Wireguard is a fantastic VPN that competes with OpenVPN in terms of protection and features.
3. Tunnelblick
If you want OpenVPN to Mac alternative, Tunnelblick is a good option. It was created specifically for macOS and is compatible with Sierra, High Sierra, and the most recent version of macOS, Mojave. OpenVPN is open-source and free. It will assist you in connecting to a VPN without using a lot of resources. You also have a number of options such as server setup, protocol review, IPv6 tunneling, etc. In short, Tunnelblick is the best selection for macOS if you want a VPN so safe as OpenVPN.
4. StrongSwan
Another free and open-source alternative to OpenVPN is strongSwan. StrongSwan and IKEv1, and IKEv2 use the new IPSec protocol to exchange keys, while OpenVPN uses TLS and SSL-based security protocols. In terms of confidentiality, strongSwanis as good as OpenVPN, as it also employs separate encryption protocols. In addition, strongSwan enables you to add servers, adapt security preferences to prevent tracing, and supports virtual IP address.
5. OpenConnect
OpenConnect is a Linux, Windows, and multiple distributions open-source VPN client. Somehow it is still developing one of the oldest VPN customers out there. It was previously built for Linux only as an alternative to Cisco's AnyConnect VPN client, but OpenConnect was a standard for several VPN clients with strong community support. In terms of open-source support, you can say it rivals OpenVPN very much. Further, OpenConnect is built into a superb SSL security protocol.
6. Passepartout
Passepartout has been developed for the iOS platform and is the only VPN on this list. The OpenVPN security protocol is an open-source app at the benchmark. Although OpenVPN has dedicated iPad and iPhone applications, it is often found to be too clunky and too advanced to use. Passepartout, however, aims to bring the same OpenVPN technology, however, with a better design and an intuitive interface.
7. ProtonVPN
If you're not using a VPN for personal browsing, ProtonVPN is the best OpenVPN alternative available. Unlike OpenVPN, ProtonVPN has its own servers in a variety of locations around the world. The best part is that ProtonVPN has an unlimited free data plan. However, keep in mind that you won't have the fastest connection and that the free software is only available in three nations.
TunnelBear is the last choice we can say for the privacy and security in this list which is very likely similar to OpenVPN. It provides a free plan that does not log your internet activity and does not affect the speed. However, the data limit for free users is 500 MegaBit per month. So TunnelBear can be a great choice if you need a safe VPN for casual browsing. You can also get 1 GigaBit of additional data if you tweet to Tunnelbear, so it's superb.
Conclusion – OpenVPN Alternative
In this article, we have seen various alternatives to OpenVPN. You can choose any of them based on your requirements.
Recommended Articles
This is a guide to OpenVPN Alternative. Here we discuss the introduction and list of OpenVPN alternative for better understanding. You may also have a look at the following articles to learn more –