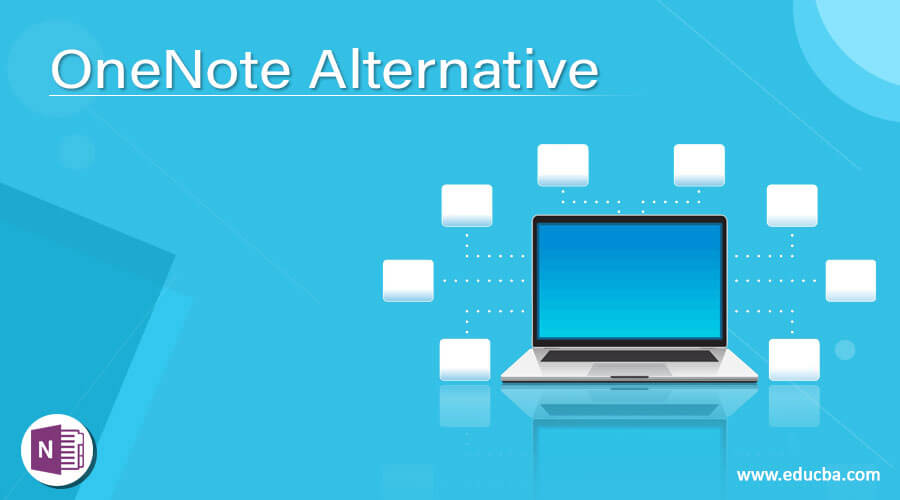 Introduction to OneNote Alternative
OneNote Alternative, Onenote is a note-taking program that is developed by Microsoft office suite and used for information gathering and multi-user collaboration. It gather the notes, screen clippings, drawing, and audio components of the user. notes of OneNote can be shared with other OneNote users through the internet or network. It supports operating systems like Windows 10, android, iOS, and macOS. It is available in a web-based version as a part of onedrive and office for the web. Other alternatives for OneNote are also available which provides the same function as OneNote.
Onenote Alternatives
Let's discuss Onenote alternatives.
1. Evernote
Evernote is the best alternative for OneNote which is designed for taking notes, task management, organizing, and archiving. It allows users to create notes in text format, drawing format, audio format, image format, or web content format. These notes are stored in notebooks. Notes can be tagged, annotated, searched, edited, given attachment, and exported. Through internet connection, Evernote can automatically synchronize the notes with master copy held on Evernote server
2. Google keep
Google keep is another note-faking software developed by google. IT is available in both format mobile app for the android and iOS system and as a web application for mobile app. For taking notes, google keep offers various tools such as text, audio, list, images. It allows user to extract the text from the image using optical character recognition. It also allows users to set the reminder. Voice recording created through google keep is automatically transcribed. User can also highlights the notes using a color-coded option such as white, orange, red, green, yellow, grey, blue, or teal.
3. Notion
Another alternative for OneNote is notion. It is an application that provides various components such as notes, wikis, calendars, databases, reminders, Kanban boards. user can use this to connect these components to create their own system for knowledge management, project management, database management. Notion can also be accessed using web browsers. It includes tools for clipping the contents from the web page. It allows users to schedule their task.
4. Simplenote
Another alternative for OneNote is simplenote. Simplenote is a note-taking application that supports platforms such windows, Linux, macOS, Android, and iOS. It is also available in a web-based version. It has externally accessible API. It allows other clients to be written such as macOS dashboard widget dash note, nvpy, cross-platform simplenote client among others.
5. Cintanotes
Another alternative for OneNote is a cintanote, which is a note-taking application provided by Microsoft windows. It provides a way to store text or retrieve them from other websites or documents. It allows user to perform text clipping from any application through hotkeys and captures the web or local file link. It also allows tags and instant search based on the tags, text, links, or date. It also allows users to export the selected notes, and database into XML or Unicode format. It divides the window into two section on left side, the list of tags is displayed and on right side, notes are written.
6. Amanote
It is another note-taking application, specially designed for students to offer solution that is adapted to students needs. Its main goal is to increase productivity and efficiency during study and lecture sessions. It allows users to export the notes into PDF. It also allows users to insert the mathematical or other formulae, codes, charts, drawing, etc.
7. Wikidpad
Wikipad is another alternative for OneNote which allows users to store their notes. In wikipad links are created by typing in wikiwords. Wikiword is any mixed case word typed into order. You can store tour thoughts, contacts, todo list, ideas, or anything else. Wikidpad is not a web server or application server, it is a standalone notepad-like application.
8. Paperwork
It is another best alternative for OneNote. It allows users to take notes and store in their own way. Its usage makes it quite popular among users to takes notes. It is self-hosted. User can save their notes on its own customized way. It allows users to create their own environment for storing the notes. It is available in a web-based version. It provides various customize options, an easy user interface, and multiple storage backup. It provides limited storage area for notes, for extra notes making user needs to buy their premium version.
Conclusion
Here in this article, we have discussed the various alternatives for OneNote such is Evernote, paperwork, amanote, simplenote, wikidpad, notion, google keep, and cintanote. Each has its own features and advantages and disadvantages. Based on the requirements and usage reliability you can choose one of them.
Recommended Articles
This is a guide to OneNote Alternative. Here we discuss the Introduction, various alternatives for OneNote. You may also have a look at the following articles to learn more –