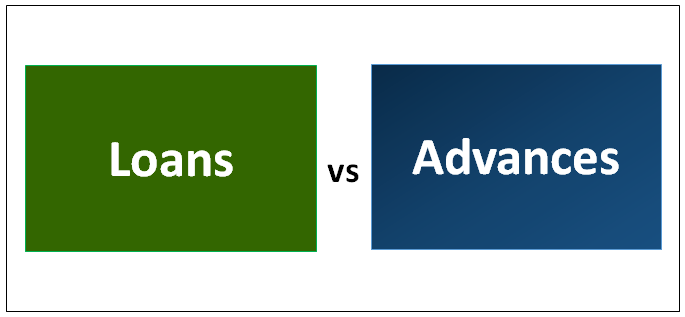 Difference Between Loans vs Advances
The center of these two concepts is Money and Timing. Money is an integral part of any business. It is necessary for any company to have sufficient money or funds in their pockets to run the business for investment purposes. There may be situations arising when an individual or a firm may need funds to fulfill their obligations. This need is fulfilled by loans vs advances. Timing is another indispensable factor which is brought to light. For every person giving out money or "lends the money", wants his money to grow and come back. This growth of money happens over 'time'.
What is a Loan?
An amount that is in form of debt given out by a financial organization to another firm or an individual in exchange for the future repayment of the same amount along with interest over a period.
The terms of a loan are mutually agreed by each party involved in the transaction before any exchange of funds take place. This contract typically includes the
The amount lent out,
The amount to be repaid,
The number of payments that shall be made,
The repayment period,
And collateral, if any.
A collateral is an asset held by a borrower, of the same value or a higher value as the amount borrowed. This is for a security purpose of the Lender in a scenario where a borrower might default on the repayment.
The borrower pays back the loan amount with interest. He/ She can make the payment in the form of a lump sum or as by installments methods. These terms are usually defined in the contract mentioned above.
These funds lent by the lender to the borrower come in use for a purpose like capital requirements, machine purchase, building construction, etc. The amount is paid back over a period of years and not in the short term (within one year).
Before lending out the money, a lending institution checks for the credibility of the borrower. Credibility is a financial position or a capacity of the borrower to pay back the loans. This analysis is based on his/ firm's history of financial transactions. The credibility also decides the interest rate at which the borrower will be paying back to the lender.
Focusing on the classification of loans,
Based on Security

Secured Loan: The loan which is backed by a collateral.
Unsecured Loan: The loan which has no asset/ collateral to be pledged. Comes with a greater interest rate as compared to a secured loan.

Based on Repayment

Time Loan: The entire amount of the loan (including interest) which is paid at a future specified data.
Installment Loan: A series of small amounts (each payment includes a part of interest and lent amount) distributed over a period. The amount can be either evenly distributed or as mentioned in the contract.
Demand Loan: The amount along with the interest is paid back to the lender upon his request or 'demand'
The basis of purpose of such loans can be
Popular Course in this category
Finance for Non Finance Managers Training Course
7 Online Courses | 25+ Hours | Verifiable Certificates | Lifetime Validity
4.5 (335 ratings)
---
Related Courses
Cost Accounting Course
US GAAP Course
Car Loan
Home Loan
Education Loan
Commercial Loan
Personal Loan
What are Advances?
The source of financing provided by the banks to the companies, to meet their short-term requirements (less than one year). Contrasting to loans, advances are a credit facility. The terms of the advances are decided by the central bank (RBI in India), and the bank lending the amount.
Advances are facilitated to the companies under:
Primary security: Hypothecation of debtors, promissory notes, etc. Here, the bank stands as a priority to be repaid the loan before any other private debt holders in the company
Collateral Loan: Mortgage of property (land, buildings, etc), other fixed assets like machines, etc
Guarantees: given by the partners, promoters, directors, etc
Different types of bank advance:
Short term loan: The entire amount is given to the borrower at one time
Overdraft: a provision by the bank, wherein the customer can overdraw money from his/ her account until a specified cap
Bill Purchase: Advances granted by the bank upon pledging the bills
Cash credit: A provision by the bank, wherein a customer can advance money up to an asset pledged
Loans vs Advances Infographics
Below is the top 6 difference between Loans vs Advances

Key Differences between Loans vs Advances
Both Loans vs Advances are popular choices in the market; let us discuss some of the major Difference Between Loans vs Advances:
Loans are a source of long-term financing (typically more than a year), whereas the advances are a source of short-term financing, that is, to be repaid within less than a year.
The monetary value of an advance is usually less than that compared to of a loan
Since advances are for a short duration, the interest rate charged on them is also less compared to the interest rate for loans
The legal formalities involved while drawing a loan are way too high as compared to the advances
Head To Head Comparison between Loans vs Advances
Below is the topmost Comparisons Between Loans vs Advances
The Basis Of Comparison Between Loans vs Advances

LOANS

ADVANCES

Finance for Non Finance Managers Training Course

7 Online Courses | 25+ Hours | Verifiable Certificates | Lifetime Validity

Watch The Course Preview

About
Funds lent by one entity to another for a purpose. (Usually for a Capital purpose)
Lent by a bank to firms to meet their short-term financial requirements
Nature
A loan is a debt by nature
Advances are a credit facility by nature
Time Duration
Loans are for a long-term
Advances are for a short-term (maximum one year)
Collateral Security
A loan may or may not be secured (Secured and Unsecured Loans)
Facilitated only against primary security or a guarantee
Legal Formality
Many legal procedures needed
Compared to Loans, low on legal formality
Example
Commercial Loan, Education Loan, Car Loan, Home Loan
Short-Term Loan, Cash Credit, Over Draft
Loans vs Advances – Final Thoughts
Colloquially, an "Advance" is regarded as a "Loan". But technically, they both Loans vs Advances are distinct. Based on the requirement, a company who needs financing for a capital purpose shall get a loan. The lender and borrower here agree to repay the total sum with interest over a period. A company, wanting to bridge their short-term financial requirements shall seek for advances from the bank.
Recommended Article
This has a been a guide to the top differences between Loans vs Advances. Here we also discuss the Loans vs Advances key differences with infographics, and comparison table. You may also have a look at the following articles to learn more –
Financial Analyst Course- All in One Bundle
500+ Online Courses
1000+ Hours
Verifiable Certificates
Lifetime Access
Investment Banking Course

Financial Modeling Course

Business Valuation Course