Updated November 15, 2023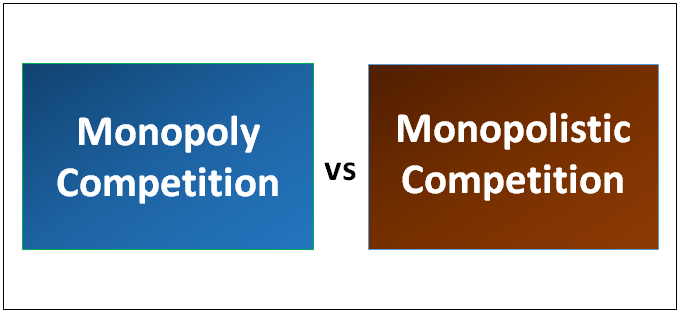 Differences Between Monopoly vs Monopolistic Competition
A single producer and seller of a product with no substitutes characterize a Monopoly market. It indicates that the monopolist faces a downward-sloping demand curve and can choose the price its product sells. There are high barriers to entry for a new firm in a monopoly. Monopolistic competition differs from perfect competition in that products are not identical. Each firm differentiates its products from other firms through product quality, product features, and marketing differences. Firms in monopolistic competition face downward-sloping demand curves, but the demand could be more elastic. Conversely, a monopoly is characterized by only one firm producing the product. In between are monopolistic competition (multiple firms with differentiated products) and oligopoly (few firms competing in various ways).
Let us study much more about Monopoly vs Monopolistic in detail:
There exist 4 different market structures in any economy or country. There are differences between monopoly and monopolistic competition in terms of the number of firms and their relative sizes, the elasticity of demand curves that they face, ways that they compete with other firms for sales, and ease/difficulty with which firms can either enter/exit the market. At one end of the spectrum, perfect competition consists of many firms that produce identical products and force all firms to sell at the same market price.
Monopoly firms' power source comes from elements such as copyrights or patents. Control over a resource needed specifically to make the product could be another power source for a monopoly firm. More often than not, monopoly power is supported by the government. Monopolists are price searchers as they have imperfect information regarding market demand. They must experiment with different prices to find the one that maximizes profit.
Figure 1 illustrates the revenues and cost structure for a monopolist. Production will expand till Marginal Revenue (MR) = Marginal costs (MC) at optimal output Q*. The price at which the product will sell is in a demand curve which is P*. In perfect competition, the profit-maximizing output is when MR = MC, which is the same for the monopolist. To ensure a profit, the demand curve must lie above the firm's Average Total Cost (ATC) at the optimal quantity so that price > ATCDemand beyond the firm's Average Total Cost (ATC)ensures monopoly profit at the optimal quantity, characterized by price P* > ATC.
Figure 1 – Monopoly short-run costs and revenues[1]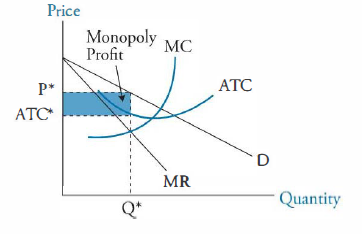 (Image Source: quizlet.com)
Further, Figure 2 illustrates the concept of deadweight loss and the difference in allocative efficiency in perfect competition and a monopoly. As depicted in Figure S, the industry supply curve indicates the summation of all supply curves of the firms competing in the market. The quantity QPC and equilibrium price PPC in a perfect competition lie at the intersection of the industry supply curve, and the market demand curve, D. Each firm is smaller in comparison to the overall industry. Therefore, there is no benefit to raising the price by lowering output. A monopolist, on the other hand facing the same demand and marginal cost curve, will produce QMON and ensure a maximum profit by charging a price of PMON. A deadweight loss is created as monopolists produce a quantity that does not ensure the maximization of the sum of consumer surplus and producer surplus.
Figure 2 – Perfect Competition vs Monopoly[2]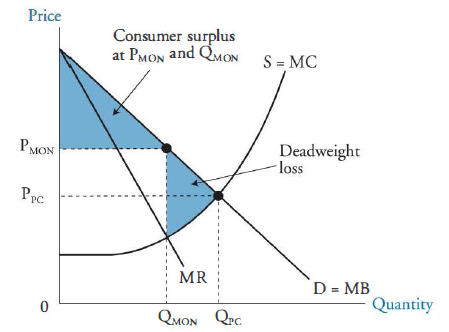 (Image Source: quizlet.com)
The market of toothpaste is an excellent example of firms in monopolistic competition. Firms vie for customers by differentiating their products through features and marketing such as claims of fresher breath, whiter or more attractive teeth, or prevention of decay. In perfect competition, the products of the firms are perfectly identical. If the price of your favorite product increases, one is not immediately likely to switch to another brand as would have happened in perfect competition. Some customers would switch in response to a 10% increase in price, and some would not.
Figure 3(a) illustrates the short-run price/output characteristics of monopolistic competition for a single firm. Firms maximize profits by producing where MR = MC. Here the firm earns positive economic profits because the price, P*, exceeds the Average Total Cost, ATC*. Due to low barriers to entry, companies will enter the market in pursuit of these economic profits. Figure 3(b) illustrates when new firms enter the market, and it shifts the demand curve faced by each firm down to the point where Price P* equals Average Total Cost ATC* such that economic profit is zero. New firms are no longer incentivized to enter the market, and a long-run equilibrium is established.
Figure 3 – Short and long-run Output in Monopolistic Competition [3]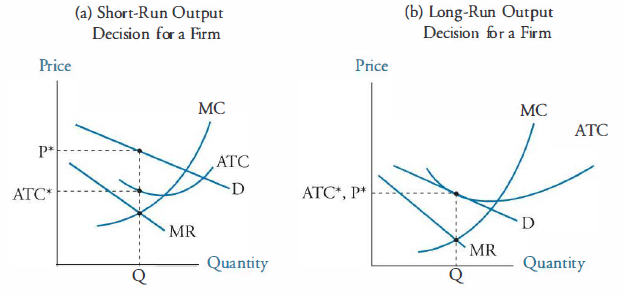 (Image Source: quizlet.com)
Figure 4 illustrates the differences between long-run equilibrium in monopolistic and perfect competition. In monopolistic competition, the price exceeds the marginal cost, i.e., producers can realize a markup. The average total cost for the quantity produced is low, suggesting an excess capacity or an inefficient production scale. The price is slightly higher than the perfect competition. The point to be noted here is that no product differentiation characterizes perfect competition.
Figure 4 – Monopolistic Competition vs Perfect Competition[4]

(Image Source: quizlet.com)
Monopoly vs Monopolistic Competition (Infographics)
Below is the top 6 difference between Monopoly vs Monopolistic Competition

Key Differences Between Monopoly vs Monopolistic Competition
Both Monopoly vs Monopolistic Competition are popular choices in the market; let us discuss some of the major Differences Between Monopoly vs Monopolistic Competition:
In a monopoly, only one producer decides the quantity and price of the product. In monopolistic competition, there are many independent sellers, and each firm has a relatively small market share; hence no individual firm has any significant power over price. Firms in monopolistic competition pay attention to the average market price and not the price of individual competitors. There is no scope for collusion (price-fixing) in the industry.
A single producer is in a monopoly; hence, they have no incentive to produce differentiated products. In monopolistic competition, each producer has an effect that is slightly different from its competitors (at least in the minds of consumers). The competing products are close substitutes for one another.
The nature of competition in a monopoly is advertising. Advertising is used to target various customers. In monopolistic competition, firms have differentiated products and compete for customers on price, quality, and marketing. Quality is a significant product differentiating characteristic. Firms can set price and output because they face downward-sloping demand curves, but there usually is a strong correlation between quality and price that the firms can charge. Marketing is a must to inform the market about a product's differentiating characteristics.
Firms trying to enter a monopoly face significant barriers to entry. Firms in monopolistic competition face low barriers to entry, so firms are free to enter and exit the market. If firms are earning economic profits, new firms can be expected to enter the industry.
Head To Head Comparison Table Between Monopoly vs Monopolistic Competition
Below are the top 6 differences between Monopoly vs Monopolistic Competition
| | | |
| --- | --- | --- |
| Basis of Comparison  | Monopoly | Monopolistic Competition |
| Meaning | A monopoly market structure implies that there is a single seller of a product with no substitutes. | Companies and their products vary by some combinations. |
| Number of sellers | Single firm | Many firms |
| Barriers to Entry | Very high | Low |
| Nature of substitute products | No good substitutes | Good substitutes but differentiated |
| Nature of competition | Advertising |  Price, Quality, and Marketing features |
| Pricing power | Significant | Some |
Conclusion
In conclusion, the primary difference between monopoly vs monopolistic competition is the number of firms. Monopoly is characterized by a single firm, more often than not by the government's support, where it can discriminate on pricing to maximize profits and ensure customers are not getting value for their money. In monopolistic competition, multiple firms are vying for customers by differentiating on quality, features, and marketing. Customers can choose which product they want to use and can easily switch between products if they want to.
Recommended Articles
This has been a guide to the top difference between Monopoly vs Monopolistic Competition. Here we also discuss the Monopoly vs Monopolistic Competition key differences with infographics, and a comparison table. You may also have a look at the following articles to learn more –