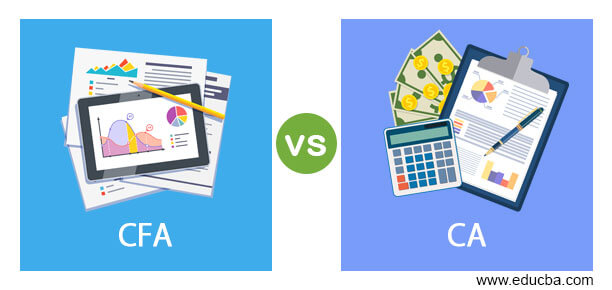 Difference Between CFA vs CA
The battle of making a career-oriented decision into finance goes on two different paths. CFA offers a program of Investment Management, covers topics like equity investments, derivatives, corporate finance, fixed income, portfolio management. These are the subjects that contribute to your career's goals into Research, Investment Banking, Portfolio Management, Investment Analysis. On the other end, CA offers a career in Accounting, Auditing, Taxation, Budgeting, and Management Accounting. CA is given the responsibility of managing the financial accounts of a firm. Let it be taxable accounts, budget analysis, as well as involve itself into an arm of auditing. CA can be practiced globally.
Head To Head Comparison Between CFA vs CA (Infographics)
Below is the top 5 difference between CFA vs CA

How does CFA® Contribute do your profession?
CFA Charter holders and CFA Candidates are highly recruited by top global financial institutions like Morgan Stanley, UBS, JP Morgan, Deutsche Bank, Credit Suisse, Bank of America. CFA being a more investment professional focussed is a highly essential for MNCs and investment Banks operating in this sector. The CFA charter holders and candidates are exposed to a great deal of ethical behavior and work experience making a better bag as investment professionals
A CFA® Charter shall contribute to your profile strongly, adding a great deal of real-world expertise, being professionally trained for an ethical mindset, a CFA® Charter is highly preferred shall put you in the driving seat of investment professional career and making you stand apart from the crowd.
A CFA Candidate is eligible to appear for the CFA Exam only after his graduation or in the last year of his graduation. To earn CFA Charter, the candidate must submit an experience of 4 years of work experience to the CFA University. To keep using the CFA® Designation, an annual membership fee is required with an attestation of the code of ethics and professional conduct.
Comparison Table Between CFA vs CA
Let us examine some of the differences between CFA vs CA:
Basis Of Comparisons 

CFA 

CA

Hosted by
CFA Institute, USA
ICAI -Institution of Chartered Accountants of India
Number of Levels to be achieved
3 levels – Level 1, Level 2, Level 3. Each level is a course of 1 year each
Consists of 3 levels – CPT, IPCC, the finals
Minimum number of Years needed to be completed
Can be completed in a minimum of 18 months and can take four years also to successfully clear all the levels.
A minimum number of years – 4. CPT is a 2-year course, IPCC is a one-year course as well as the finals
Exam Length
Every level, Level I, II, III – is conducted in the morning and afternoon session, each of 3 hours.
The exam is conducted subject-wise, spread over a fortnight, usually in the month of May
Fees

Registration Fees – $900 to $1200
Enrollment Fee- $350
Rescheduling Fee- $250

Indian Students – Rs.22000
Foreign Students – $1100
Requirement for CFA
CFA® requires you to have a 4-year combination of education and relevant work experience into the field of finance, which shall be accepted by the CFA® Institute.
The CFA® program demands you to have passed all the 3 levels to successfully obtain a charter with relevant work experience.
Any person, registering for the exam, or holding a charter must adhere to the code of ethics and standard of professional conduct of the CFA® Institute
Total Candidates Appearing for June 2018 CFA Exam
CFA Level I Exam: 79,507
CFA Level II Exam: 64,216
CFA Level III Exam: 35,518

At present, there are more than 150,000+ CFA Charter Holders advancing professionalism in the financial markets
What does a Chartered Accountant (CA) do?
A Chartered Accountant can have liberty in various sectors with a variety of business organizations. CA's are top employees in the public and the private sector organizations as well as in government bodies. The candidates go through rigorous training to complete the various levels of the examination. The work area of a CA is focused on taxation, auditing, and general management.
Usually, a CA is given the responsibility of managing the financial accounts of a firm. Let it be taxable accounts, budget analysis, as well as involve itself into an arm of auditing. CA can be practiced globally. They can set up their own firms and bag render their services to their clients independently or can also work at a CA firm.
Requirements for CA
The candidate must appear for CPT after clearing his 12th or can take up parallel to his/her graduate studies.
This intermediate exam is split into two halves to be cleared. Post completing the 1st group, namely, IPC Level, the candidate shall undergo and have exposure as an article assistant for a minimum duration of 3 years at a chartered firm.
In the 3rd year of training, before the candidate shall appear for his finals, the trainee can have an opportunity to work in the industry too
To be articled, the trainee should have completed 100 hours of IT training alongside a soft skills development orientation program.
CFA vs CA both?
A combination of CFA® and CA is very much possible and there is nothing like this. Holding a CFA® Charter and CA Charter shall make you stand out of the crowd. Such professional achievements rally your career growth and enable you to improvise and express your great commitment levels to your employers and clients.
Typically, investment banks/ treasuries prefer MBA (with Engineering) students. Engineering graduates carry an analytical thinking process, but since they lack core finance knowledge, a CFA® Charter recognizes their essential value. Alongside a CA is analytically sound, so a CFA® shall help him/her stand tall among the rest.
CFA vs CA
CFA vs CA are both globally renowned and shall carry your profile strongly into the finance industry. CFA vs CA the exam requires dedication and efforts to get through. The choice remains subjective into which area of finance you shall wish to enter.
Recommended Articles
This has been a guide to the top difference between CFA vs CA. Here we also discuss the CFA and CA key differences with infographics, and comparison table. You may also have a look at the following articles to learn more