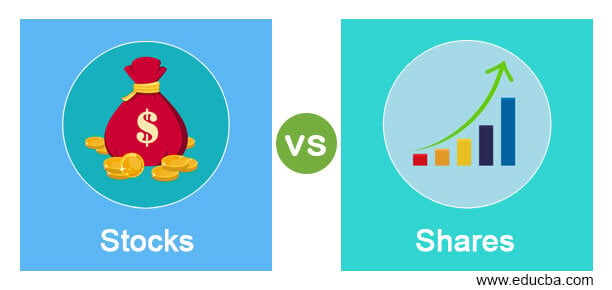 Difference Between Stocks vs Shares
STOCKS: Whenever a company plans to raise capital, it can issue stocks or it can try to borrow some money. They are the securities that represent a part of ownership in the corporation. Some stocks pay monthly, quarterly or annual dividends, which are a portion of the issuing company's earnings. SHARES: Whenever a company issues stock, each of the units of a stock is considered a share. Therefore, one share of stock is equal to one unit of ownership in a given company. Shares are the owner of one particular company.
Let us study much more about Stocks and Share in detail:
When an investor buys a company's stock, that person is not lending the company money, but rather, is buying a percentage of ownership in that company. In exchange for purchasing stocks in a given company, stockholders have a claim on part of its earnings and assets. Investing in stocks can be profitable in two regards.
Not only do you stand a chance to possibly receive dividends, but if the company whose stock you own performs well and it is stock price goes up, you could make money by selling that stock for a price that's higher than what you paid.
Those who own stocks in a public company may be referred to as stockholders, stakeholders, and shareholders, and in reality, all three terms are correct.
Although the term shares, generally refer to the units of stock in a public company, it can also refer to other types of investments. For example, you might own shares of a mutual fund. Some companies also offer plans or incentives in which employees get a share of their profits. It's common among start-up companies to offer profit-sharing plans to attract talent, though some established companies engage in this practice as well.
Stocks vs Shares Infographics
Below is the top 7 difference between Stocks vs Shares

Key differences between Stocks vs Shares
As you can see there are many differences between Stocks vs Shares. Let's look at the top differences between Stocks vs Shares below –
Stocks are the collection of shares of multiple companies or are a collection of shares of a single company.
Shares are the smallest unit by which the ownership of any company or anybody is ascertained.
A stock is a collection of something or a collection of shares. Shares are a part of something bigger i.e. the stocks.
Shares represent the proportion of ownership in the company while stock is a simple aggregation of shares in a company.
Shares are issued at par, discount, or at a premium. It is known as stock when the shares of a member are converted into one fund. It is when any company gets listed it is basically changing its shares into stocks.
For instance, let's say Mr. Anderson has bought certificates of Apple Inc. then in this case we will call these certificates as shares as it can be seen that Mr. Anderson has bought certificates from a particular company. Now, on the other hand, if Mr. Anderson has the ownership of certificates from several other companies as well, it can be said that Mr. Anderson has certificates of stocks and not shares.
Head to head Comparison between Stocks vs Shares
let's have a look at the comparison between Stocks vs Shares  –
| | | |
| --- | --- | --- |
| The basis for Comparison  | Stocks | Shares |
| 1. Meaning | Stocks are the ownership of the company and companies | Shares are the owner of one particular company. |
| 2. Denomination | Two different stocks of a company may or may not be having equal value. | Two different shares of a company can have the equal or same value. |
| 3.Possibilities of original issue | Yes | No |
| 4. Nominal Value | However, in stocks, there is no nominal value associated | There is some nominal value associated with the share |
| 5. Numeric Value | Stock does not have any such number. | A share has a definite number known as a distinctive number. |
| 6. Paid Up Value | Stocks are by nature always fully paid up | Shares are either fully paid up or partially paid up. |
| 7. How much is it preferred? | The preference is lower in terms of transfer as they can't be infractions. | The preference is higher in terms of transfer as they can be infractions. |
Conclusion
Stocks vs Shares are both important in their own terms. And they both Stocks vs Shares help in determining the ownership in the company or companies in their respective cases. Both Stocks vs Shares are used interchangeably when they talk about company ownership and stock markets.
They are primarily different in terms of their nature of quantity, as not a whole or quantity as a whole. When the quantity is calculated as a share of a single company we call it shares. While when we calculate it for different companies, it can be wholly called stock. The company can convert its shares which are fully paid up, into stock, as per Section 61, Companies Act, 2013.
Shares are of equal denomination while stocks are of different denominations. Shares can also never be transferred in a fraction. As compared to stock, it can be transferred in a fraction.
The tiny or the smallest part or unit of a firm or the company's capital shares while the collection of shares is stock which is held by a member. So the question remains can a firm use both Stocks vs Shares?  The answer is yes; both have been discussed with their respective meanings and usage along with the difference between Stocks vs Shares in the article.
Recommended Article
This has been a guide to the top differences between Stocks vs Shares. Here we also discuss the Stocks vs Shares key differences with infographics, and comparison table. You may also have a look at the following articles –