Updated March 6, 2023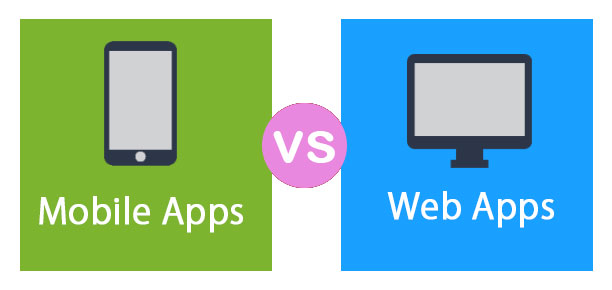 Difference Between Mobile Apps and Web Apps
Mobile apps are software applications intended to sprint on tablets, smartphones, and other mobile devices. A Mobile App is fundamentally for a specific mobile platform, and a straightforward installation on the respective device can be carried out. They are majorly built for high performance and a nice user experience; also, access to a wide range of API's will put no restriction on App usage. Since mobile apps are platform-specific, it is costlier to build. They are built using specific languages and Integrated development environments. A web app is reached through mobile devices' web browsers; they are also termed as progressive web apps. The coding remains the same across all platforms. Separate installation of applications is not necessary in the case of web apps. this stands to be very similar to any other computer website in that it consists of browser-based HTML pages that are linked together and accessed over the Internet. Like websites, they can display the content, data images, and other entities. The key characteristic that distinguishes a standard website from a mobile website is the fact that it is designed for the smaller handheld display and touch-screen interface.
There are around 2.8 million mobile applications across the Google play store and 2.2 million applications in the Apple App Store. App stores like Apple and google play are used for getting these native apps downloaded.
Head To Head Comparison Between Mobile Apps and Web Apps (Infographics)
Below is the top 3 difference between Mobile Apps vs Web Apps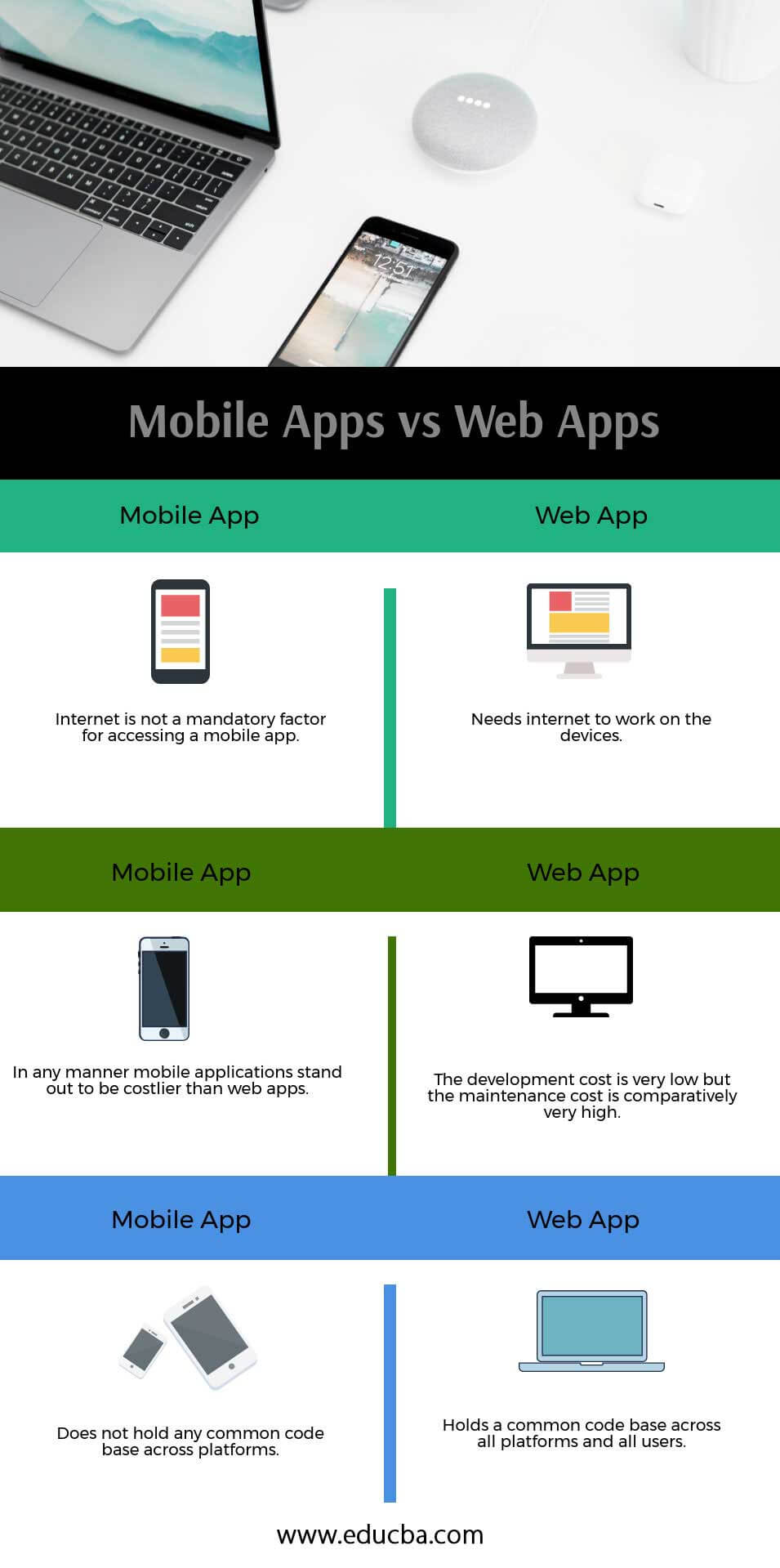 Key Differences Between Mobile Apps and Web Apps
Both Mobile Apps vs Web Apps are popular choices in the market; let us discuss some of the major Difference:
On hardware elements like camera, etc., the compatibility of mobile apps are very extensive.
The access level of web apps is very low to hardware components.
The web apps don't hold an appropriate contact with the system resources. Cloud service-based setup has been established; this connects to the database for all-purpose.
The web applications do not hold a common regulatory. Mobile apps are quicker and well-organized, so they operate in a cycle with the mobile device. Since users access them via app stores online, they are assured of quality.
Web apps have easy accessibility and can be shared across any platform users with ease. The reach capability of web applications is very high compared to mobile apps.
A mobile website is a lot lively compared to an app when it comes to pure flexibility to update content.
We application UI design is comparatively hard because each browser and device varies in screen size; hence this has to be considered as a serious factor. UI of mobile application has definite guidelines and are kind of restrictive to some extent.
The possibility of hacking is higher with mobile apps. Reaching the code of a web application is very easy, but in the case of a mobile application, this is going to be a harder task. Site Scripting, SQL injection is the different vulnerabilities faced with a web application.
Environmental replication is highly possible in the case of mobile applications. Web applications are independent across environments and can adhere to most of the devices.
Both Mobile Apps vs Web Apps may contain in-app purchases, ads, and app purchase themselves.
Mobile Apps vs Web Apps Comparison Table
Below is the 3 topmost comparison between Mobile Apps vs Web Apps
| | |
| --- | --- |
| Web App | Mobile App |
| Needs internet to work on the devices | The Internet is not a mandatory factor for accessing a mobile app. |
| The development cost is very low, but the maintenance cost is comparatively very high. | In any manner, mobile applications stand out to be costlier than web apps. |
| Holds a common code base across all platforms and all users | It does not hold any common code base across platforms |
Conclusion
The choice between a mobile website and a native app depends on the user's necessities and goals. An interactive graphical application is to be built, then a mobile app is a suitable option, But the goal is to offer mobile-friendly content to the widest possible audience, then a mobile app is probably the way to go.
Recommended Articles
This has been a guide to the top difference between Mobile Apps vs Web Apps. Here we also discuss the key differences with infographics and comparison tables. You may also have a look at the following articles to learn more.