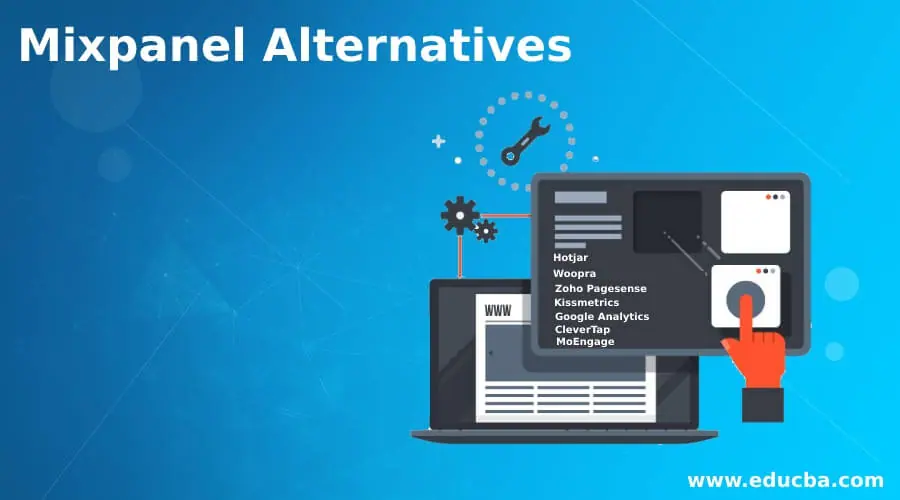 Introduction to Mixpanel Alternatives
Mixpanel is a website and mobile application behavioral analytics platform that helps you know how users interact with your product and when. In order to analyze, measure and improve customer experience, Mixpanel provides a platform for online platforms that provides thorough use of statistics, trends, event tracking and other crucial data to better decisions. Mixpanel is an excellent tool, but surely it's not the only one out there. If Mixpanel is a little heavy on your pocket, if it does not suit your requirements, or if you just want to look at something else out there, then we have covered you!
Top 7 Alternatives of Mixpanel Alternatives
Let's have a look at Mixpanel Alternatives.
1. Hotjar
A great alternative to Mixapnel, Hotjar is an extensive user analysis and a tool to optimise conversion rate. Hotjar facilitates the interaction between users and your website or app and the changes to optimize the customer experience. Heatmaps provide a visual overview of what your users do with their clicks, tapes and display behavior. On your website/app. You will also be able to see visitor recordings and see where and when your users are stuck. It is important to have this data to optimize your conversion funnel, as you can see where, when, and what can be done to prevent it. You can participate your visitors to your website through surveys, polls and feedback forms directly to ask them questions.
2. Woopra
Woopra offers end-to-end client travel analytics to track, analyze and optimize each step of your customer travel. Woopra analyses various points of contact, examines how visitors move through your website, marketing campaigns and products and reports them in detail. Woopra's profiles are a great feature, and they provide information about the person who interacts with your website, makes payments, open emails or uses important product features. You can see your last visit, your pages, social media profiles and much more! Whenever your website visitor is about to leave or is stuck, you can trigger and help with real-time messaging. Users may trigger emails automatically or post slack or update user-driven Salesforce fields.
3. Zoho Pagesense
Zoho Pagesense, a platform for the optimization of the conversion rate and a great alternative is the last on our list. This page allows you to track, analyze and optimize your website on the basis of customer and data use. Users can create business objectives to monitor key measurements and make use of funneling to see which pages are significantly decreased on your website. Heatmaps provide an insight into users' most frequently used features and scroll patterns while logging helps to supply data on the individual customer behavior. You can also create different landing pages in Zoho Pagesense so you can test different versions A/B and see what resonates most with your audience.
4. Kissmetrics
Kissmetrics offers deep insights into how your visitors interact with your website and then participate in highly focused email and Facebook campaigns. Kissmetrics never lets visitors slip through your sales funnel with strong customer segmentation and precise targeting. To ensure customers are engaged, you can trigger behavior and attribute automated e-mails. The impact of the email campaign can also be measured to see the strategies for driving sales.
5. Google Analytics
Google Analytics is the most popular website analytics tool and is free to choose from our list. The go-to tool for most of the people there is Google Analytics, which is a traffic analysis tool market share of 85%, which is 55.5% of all websites! In order to better understand your website and app users and evaluate their marketing and conversion activities, Google Analytics provides companies with critical data.
6. CleverTap
CleverTap is the only integrated retention analytics and engagement platform. Create more meaningful customer relationships whether you have just launched an application or millions of MAUs, in order to increase customer retention and value for life. With CleverTap the needs and costs of integration and maintenance of several platforms can be removed for users to analyze, segment and interact with users on mobile and websites.
7. MoEngage
MoEngage is a smart marketing solution designed to help you build, view and implement omnipresent lifecycle campaigns. The idea is to engage users proactively, regardless of the canal you use and to construct a marketing workflow that can help you determine the customer journey as you shop. MoEngage has an AI algorithm, which can offer your customers personalized suggestions for increasing their commitment and in the end boosting their revenues.
Recommended Articles
This is a guide to Mixpanel Alternatives. Here we also discuss the introduction and top 7 alternatives of mixpanel alternatives along with an explanation. You may also have a look at the following articles to learn more –