Updated April 19, 2023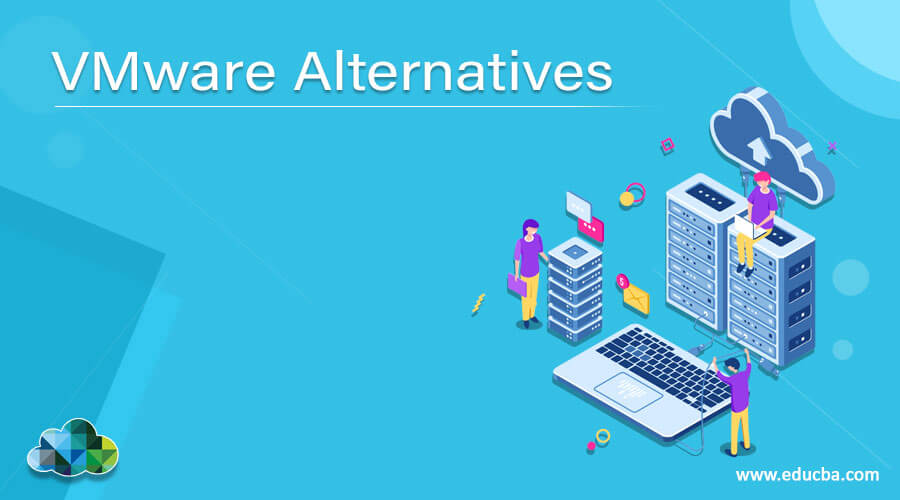 Introduction to VMware Alternatives
A Virtual Machine (VM) is a computer system emulating a software environment. It makes a replacement for a real computer simpler. They emulate machine architecture and have the same features as a physical computer. Below is a selected list of Windows, Mac, and Linux top virtual machine applications. The list includes open source software (free) as well as commercial software (paid).
List of VMware Alternatives
Let have a look at VMware alternatives.
1. Oracle VM VirtualBox
Virtualbox VM from Oracle is another cool FREE virtual machine program that is designed for a VMware workstation alternative. And for beginners, it's a perfect pick. VirtualBox mounts Windows, OS X, Solaris, and Linux for laboratory testing and desktop running. This FREEWARE permits the creation of new virtual machines from ISO or importation, as opposed to VM Player. And most operating systems run on 32 and 64bit, as a VM.
2. VMware Workstation
VMware Workstation is a comprehensive and certified virtual machine program. This software is designed for advanced users who need several systems to operate. It works well, for example, for developers in the same virtual space, who need database, web, and application servers. It also enables projects to be saved and cloned. VMware Workstation also communicates with the vSphere using an API. And I can tell from my experience it is a versatile solution for virtual machines to be managed on a desktop with too many features to mention.
3. XenServer
XenServer is a common virtual machine open-source software which Citrix has acquired. But Citrix then took the mistake of trying too hard to take advantage of XenSource, losing many of its main backers. Citrix has seen the mistake since then and the source code has reopened. XenServer is FREE available, but the fully supported version can also be purchased. This is a versatile approach for hosting servers and desktop operating systems in many business environments. And it can do almost everything that vSphere can do together with XenCenter, such as live migration, HA, and the import and export of VMs to the cloud.
4 . KVM
KVM is known as the kernel-driven virtual machine. It's the second-best option. KVM is a total Linux virtualization solution that is already available in the majority of Linux Distros. More than VMware or XenServer it is preferred for Linux and perfectly blends into OpenStack. FREE or fully supported RedHat versions are available, and all the fine things are finished. But KVM has limitations with Windows virtualization, as Hyper-V with Linux.
5. VMware ESXi
All this and more is done by VMware ESXi. In my view, VMware ESXi is the best solution for large company virtual server deployments on Windows or Linux. I will warn you that it isn't a cheap solution at the start, but VMware has a FREE ESXi edition to hook you up. And don't expect too much from the FREE release, for the most essential features are focused upon vCenter, shared storage integration, HA, vMotion, DSR, and storage DRS licenses. VMware has grown since the 1990s. It began as an awkward little program that was mounted on a Windows workstation. Then it modified for Windows Servers into GSX from there. It was also transformed back into ESX, eliminating Windows' need and booting into a kernel Redhat. In version 4 later, it became ESXi, which now operates on a customized Linux kernel.
6. Hyper-V
Hyper-V, historically known as Virtualisation of Windows Server. It is a hypervisor designed to build on x86-64 systems virtual machines. A Hyper-V server device may be set up to expose individual virtual machines to one or more networks. Hyper offers many Linux versions and also help on running multiple machines.
7. Red Hat Virtualisation
Red Hat is a software-defined open-source platform. This virtual machine helps you to manage and supply new VMs and clone existing ones and see how all of them operate together. It also includes virtualization for Linux and Microsoft Windows OS.
8. VirtualBox Portable
The VirtualBox Portable is a package of applications. It's an open, free tool that allows you to run any OS from a single USB drive, and no separate installation for the OS is required. The VirtualBox route configuration is modified and unpacked. It provides network support through a virtual network adapter. The main advantage of using Portable VirtualBox is that it is a portable program. This portable software permits developers and IT specialists to control any operating system on any other operating system, like a USB stick or any other external hard disk.
Conclusion
In this article, we have seen various VMWare alternatives along with their features. You can choose any of them based on your requirements. We hope you will find this article helpful.
Recommended Articles
This is a guide to VMware Alternatives. Here we discuss the introduction and various types of VMware Alternatives respectively. You may also have a look at the following articles to learn more –