Updated April 19, 2023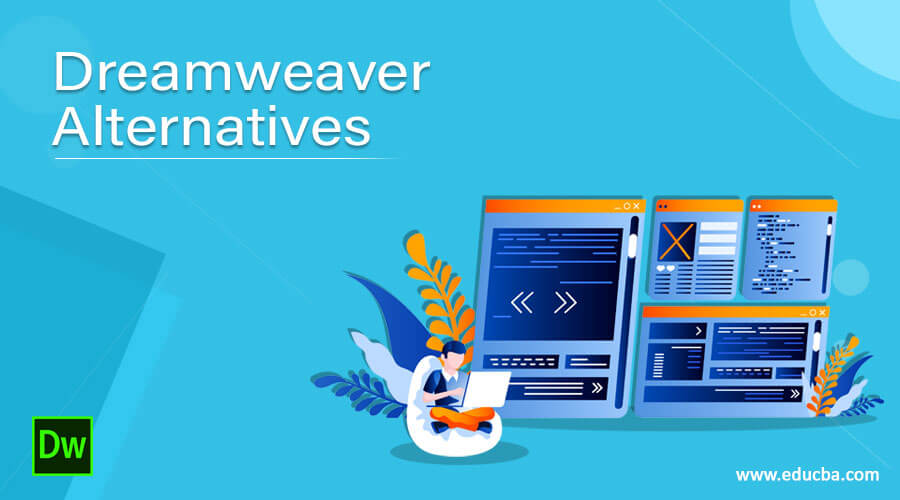 Introduction to Dreamweaver Alternatives
You may be thinking about using Adobe Dreamweaver if you want to build a website. The software surely has a lot to offer and the WYSIWYG editor makes the whole thing incredibly simple if you are a beginner. You can use this directly if you know your HTML and CSS code. Some of Dreamweaver's website designers swear and assure you they will not be using anything else. You think Dreamweaver is the "industry standard" in web design as you can do so much. You can efficiently handle websites and the debugging tools are fantastic if you are coders.
Let's have a look at Dreamweaver alternative
List of Dreamweaver Alternatives
Let us discuss the Alternatives to Dreamweaver.
1. NetObjects Fusion
NetObjects Fusion is one of the best Dreamweaver solutions for constructing company websites. If You have no knowledge of web code or willingness to learn it, this is a perfect website building program. It operates only on Windows. I liked how Fusion looks and sounds for NetObjects. The GUI is drag-and-drop, and adding different elements is very simple. You can also develop an outstanding website in three easy measures. There are also very helpful site Wizards. For your website, there are various models you can use.
2. Aptana
This is the best Dreamweaver Alternatives for people who want to build websites with code. On Windows, Mac, and Linux you can use Aptana and be glad that the program supports popular web coding languages like Ruby on Rails. It is also possible to create iOS software. You must rely on web code to use Aptana because there is no WYSIWYG feature. No spell inspection function exists and Xpath, RSS, or atom are not supported. There's a debugging function if you add JavaScript or PHP code, but it is not so good as Dreamweaver, since artifacts are unrecognized.\
3. Bluefish
This is another open-source, Dreamweaver solution for programmers. On Mac, Linux, and Windows you can use Bluefish, but it's for programmers because the WYSIWYG functions aren't available. You just can't edit jointly. In HTML, CSS, and XHTML, and beyond, all you can do is build. It supports other web codes such as Shell, Google Go and Ruby. It collapsed when I used Bluefish, and I was impressed that it restored the adjustments I had done automatically. There is a Bluefish Spell Check function, and you can script the server and pre-release your page. There is an FTP upload feature for publishing.
4. Kompozer
I have included Kompozer as an alternative to the Dreamweaver, even though it is no longer sponsored. Despite the stop, people still download it every week thousands of times, and it is one of the most popular free applications for web design. I have been making simple websites and editing existing websites using Kompozer for years. There's a WYSIWYG editor that's no different from Dreamweaver and a code editor and preview features are also available.
5. BlueGriffon
A new sound alternative with a free edition and two paid versions, BlueGriffon Dreamweaver. Windows (32 bit and 64 bit) and Mac versions are available. It has a great WYSIWYG publisher which facilitates web design. BlueGriffon is a rendering engine based on Firefox and supports HTML5 and CSS3. The GUI I liked really was very intuitive and found WYSIWYG editor. With the free edition, you get several features, and it's definitely enough for most beginners.
6. TOWeb
Many TOWeb users thought the application version released in 2015 was the last version but version 7 was now available. It's a WYSIWYG editor, which lets you add interactive to your web pages. I love TOWeb. The new version of TOWeb provides HTML5 and CSS3 support. Many models are available for the design of your website and even a shop can be developed online. I've used earlier TOWeb models, which is just as good as the new edition.
7. SeaMonkey
At the end of 2016, the last version of SeaMonkey was available, however, it remains a Dreamweaver solution. Since it was released in 2005, this open-source web editor has improved and improved. SeaMonkey for Mac and Linux is available but they can be difficult to find now. You'll have no trouble getting the last update if you're a Windows user. "Composer," with both HTL5 support and CSS-support, is the Web design framework in SeaMonkey. This is not a WYSIWYG publisher and to create web pages you need some coding skills. All right, it doesn't have Dreamweaver sophistication but if you want to learn HTML, it's a nice alternative.
Conclusion
In this article, we have seen alternatives to Dreamweaver. You can choose any of them based on your requirements. I hope you will find this article helpful.
Recommended Articles
This is a guide to Dreamweaver Alternatives. Here we discuss the introduction and various types of Dreamweaver Alternatives respectively. You may also have a look at the following articles to learn more –