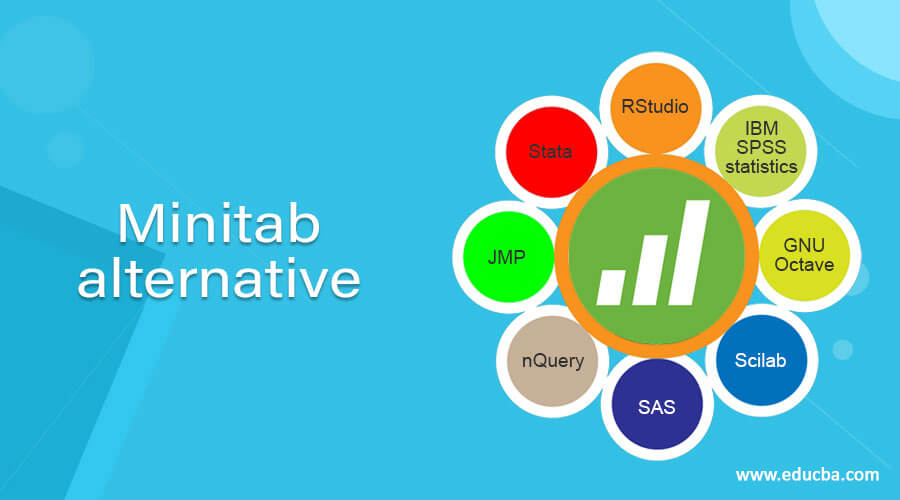 Introduction to Minitab alternative
Minitab is statistical software which helps organizations to solve the problems and discover the valuable insights in data by delivering comprehensive and best in class suite of machine learning, statistical analysis and process improvement tools. Minitab makes it simpler than ever get deep insights from data. There are other alternatives in the market, which provides the same functionality as Minitab like RStudio, GNU octave, IBM SPss statistics, Scilab, SAS, nQuery, JMP, stata, KNIME. In this article, we are going to discuss these alternatives in detail.
List of Minitab alternatives
Below is the list of Minitab alternatives
1. RStudio
RStudio is an integrated development environment used for executing R programs, which is used for statistical computing and graphics. RStudio is available in two formats desktop and server. RStudio desktop is a regular desktop application and RStudio server runs on remote server. Server allows to access the RStudio data using web browser. It is an open source data science software which adopts R, python and other open source data science software. Setup of RStudio is easy to deploy. It helps to know which objects you are working with.
2. IBM SPSS statistics
IBM SPSs statistics is an another alternative for Minitab. It is a package which is used for interactive, batched statistical analysis. It provides various features like reading and writing data from ASCII text files, spreadsheet, databases and other statistics packages. Its features can be accessed by pull down menus or can be programmed with proprietary 4GL command syntax language. It places constraints on internal file structure, data processing, data types and matching files, which together considerably simplify programming.
3. GNU Octave
GNU octave is an another alternative for Minitab which supports high level programming language, mainly used for numerical calculations. It is used to solve the linear and nonlinear problems and perform the operations of numbers using language that is mostly capable with matlab. It is an open source software which is termed under the GNU general public license. In addition to Command line interface GNU Octave includes Graphical User Interface. To execute the scripting language Octave uses interpreter. It supports operating systems such as Microsoft windows and UNIX.
4. Scilab
Another best alternative for Minitab is Scilab, used for mathematical computation. It is used for statistical analysis, signal processing, image enhancement, numerical optimization, fluid dynamics simulations, and modelling. Scilab provides interpreted programming environment. Its features allow users to construct models for range of mathematical problems rapidly. It supports mathematical operations like addition, subtraction, multiplication, correlation and other complex mathematics operations.
5. SAS
SAS stands for Statistical Analysis System is a Statistical software is an another best alternative for Minitab. It is developed by SAS institute, used for data management, business intelligence, data analytics, multivariate analysis, and predictive analytics. SAS software can manage and retrieve data from variety of sources and perform Statistical analysis on it. SAS provides graphical user interface for ease of use. It is a complete package for stream of data analysis. Its inbuilt libraries contain all necessary package that are required for analyzing and reporting data.
6. nQuery
nQuery is clinical trial design platform which is used for designing and monitoring adaptive group sequential and fixed same size trials. It is most commonly used to calculate sample size and statistical power for adaptive clinical trial design. It is used for analysis of bio.
7. JMP
It is an another best alternative for Minitab mainly used for Statistical analysis. It is used in many applications such as quality control, six sigma, engineering, design of experiments, research in science, engineering and social science. It is mainly concerned with exploratory data analysis and visualization. JMP software links statiscal data to graphical representation. User cam drill down or up to explore the data and various visual representation of it. Its primary application are designed to design experiments and statiscal data from industries.
8. Stata
It is another best alternative for Minitab created for data Statistics. It includes data management, graphics, Statistical Analysis, graphics, regression, custom analysis and stimulation. It can import data in various formats such as ASCII data format, spreadsheet format. File format have changed over time. Every version can read all older datasets and can write both current and previous dataset format.
9. KNIME analytics software
It is an open source data analytics software which integrates various components for data mining and machine learning. Its graphical user interface and JDBC driver allows assembly of nodes blending different data sources. IT includes ETL processing. KNIME allows users to visually create data flows, executive some or all analysis steps, inspect results, model using interactive widgets and views.
Recommended Articles
This is a guide to Minitab alternative. Here we discussed the best alternative for Minitab which are available in the market. You may also have a look at the following articles to learn more –