Updated May 15, 2023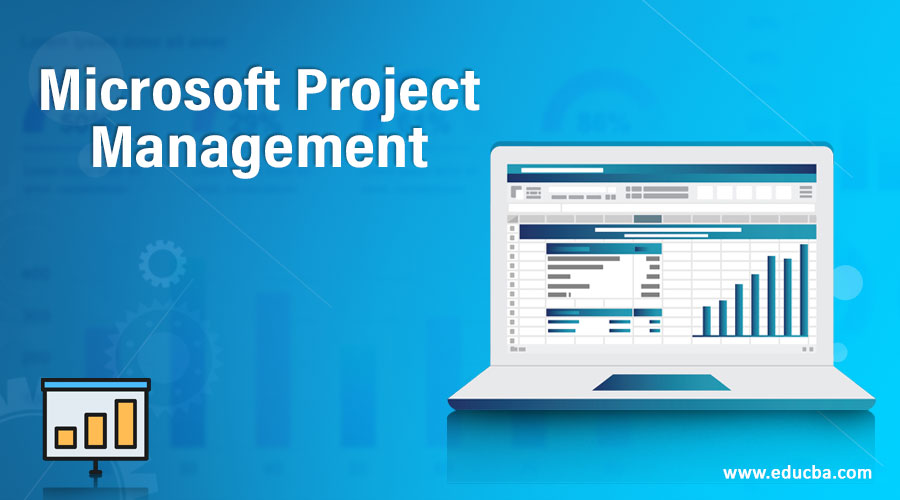 Introduction to Microsoft Project Management
Before entering the world of Microsoft projects, one needs to understand why is Project management important? Do we need project management at all? Yes, we definitely do. Starting or running any project without a project manager is to begin something without a mentor or guide. To hold the clients together, keep the team going, smoothen the ups and downs of any project, delivering on time, and, most importantly creating a vision of success, we need a Project Manager.
The world's most popular software for project management, Microsoft Project, is being sold by Microsoft. This software provides tools to manage projects. This is the most popular version of the software, and the latest version is Microsoft Project 2016.
This program has been designed in such a way that its users can benefit in various ways like:
Project managers can develop plans smoothly
Resources can be aligned with the tasks
The progress can be tracked at regular intervals
The budget can be managed
Workloads of the team analyzed
Origin
This software was originally purchased by Microsoft from another company, and when it released its own version in 1985. The strength is in the name itself. Some of the most popular and effective tools have been developed by Microsoft.
Experienced project managers can create project plans for companies by using Microsoft Project. It offers amazing resource management to the concerned teams, which in turn can utilize their resources in such a way that maximum efficiency can be achieved. It definitely takes time as well as training to learn the various aspects of the software, but the results will definitely be beneficial to the team and also the company.
Versions of Software in Microsoft Project Management
There are several edited versions of the 2016 Microsoft Version:
1. Microsoft Project 2016
Project Standard 2016: A single user can create reports and measure progress. The details can be effectively communicated to the team as well as the stakeholders.
Project Professional 2016: This version adds to the capabilities of Project standard by delivering the projects while leveraging the power of Office 365. Skype and instant messages to team members are also possible in this version.
Project Online Professional: This software is automatically kept up to date. The users can work from the computer of their choice on the go by streaming the complete desktop with Project on demand.
Project Online Essentials: Projects that are managed with Online Project or Project Server can use this version.
Project Online Premium: Project portfolio management and everyday work can be managed from anywhere and any device through this version which is very flexible.
Project server 2016: Team members, project participants, and the main decision-makers of the business can get started on their project and submit the reports from anywhere.
2. Microsoft Project 2013
Project Standard 2013: Modern reports to measure progress and share the details of the project effectively with your team and stakeholders can be easily created by a single user.
Project Professional 2013: This is an addition to the Project Standard 2013, and it also has the capability to start and deliver the project while leveraging Office 365. Lync 13 can be integrated with this version to call or instant message team members from Project Professional.
Project Pro for Office 365: The latest version of Project Professional is delivered as a subscription through Office 365. Users can work from the computer of their choice on the go by streaming the desktop with Project on Demand through this software.
Project Online: This software provides a perfect online solution for project portfolio management (PPM) and everyday work. This software is delivered through Office 365, and it enables companies to get started, prioritize investments and deliver the estimated business value from anywhere and from any device.
Project Server 2013: This version requires SharePoint 2013, which is sold separately. This is again a perfect solution for Project portfolio management (PPM) and everyday work. The participants of the project, members of the team, and the decision-makers can get started, prioritize the investments, and deliver the business value from anywhere.
3. Microsoft Project 2010
Microsoft Project Standard 2010: This version is for desktop users. It is an edition for a single user.
Microsoft Project Professional 2010: If an organization is using Microsoft project server 2010, then this software includes all the features of Microsoft standard 2010 and allows the users to work together.
Microsoft Project Server 2010: This version maintains data and information on the project plan on the server. Multiple users have access to the data through their client applications.
The earlier versions were Microsoft Project 2007 and Microsoft Project 2003. So these are the different versions of the software sold by Microsoft.
4. Starting a Project
Here is a simple guideline to show how to start a project in MS Project. Download the software and open it on your desktop. Data can be entered now in the task plan of the Gantt chart, for example, the task name and its duration. This information will be graphically represented in a blue bar on the right side of the Gantt chart. This is the Taskbar. So you can quickly scan when and which task needs to be done. Once done, the project should be saved. Name the project and save it in a folder.
5. Milestones
Once a project is completed, it should be marked as a Milestone as it is a good way to track progress and stay scheduled. Milestone can be added to the Gantt chart. It is a project in itself to learn how to use Microsoft Project, and it needs patience, time, and investment. It is a good idea to look around and get to know all the various functions and formatting options the software has to offer. Microsoft recognizes a different class of users. Using the software and exploring its full potential will result in tracking progress, managing budgets, and analyzing workloads.
Recommended Articles
This has been a guide to Microsoft Project Management. Here we discussed the origin and various Software in Microsoft Project Management. You can also go through our other suggested articles to learn more –