Updated November 23, 2023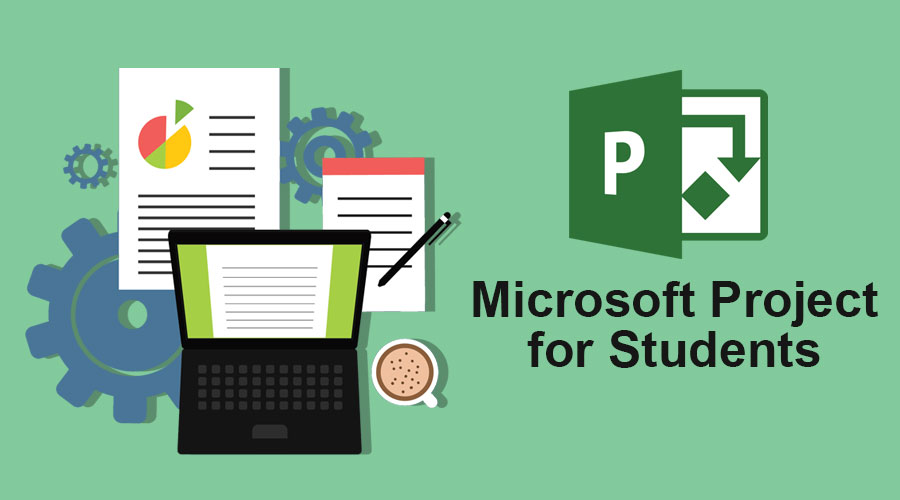 Introduction to Microsoft Project for Students
Microsoft Project is a software application that is designed and developed by Microsoft. The main motto of designing this software is to provide assistance to the project manager in formulating strategy, assigning tasks, tracking progress, managing budget and analyzing workload. It is implemented by various industries including pharmaceuticals, construction, government, manufacturing, healthcare, retail, etc. The format of Microsoft project file is .mpp and it is available in standard and professional editions based on project requirement and management level. MS Project can be deployed both on-premise and in the cloud. The web-based version has been used by project managers to communicate with team members collaborating with smartphones and mobile devices. In this topic, we are going to learn about Microsoft Project for Students.
Project Management Software
Microsoft Project has various versions including MS Project 2016, MS Project 2013, MS Project 2010, MS Project 2007; but MS Project 2019 is the latest version. It can be operated through Windows7, Windows 8, Windows 10 or any latest version of Windows. MS Project software provides the following interfaces to do the project work successfully.
Quick Area Toolbar
The table on the Ribbon, Groups
Commands
View label
View Shortcuts
Zoom Slider
Status bar
This project management software is rich in features to help a project manager to make a schedule of the project with provided constraints. But efficient project management techniques are needed to drive the project effectively.
How Students Use Microsoft Project?
Generally, MS Project is a handy tool for project managers associated with any kind of project, whether it is big or small, containing barely five/six people. For those who may need additional assistance in managing their workload or improving their writing skills, the essay writing service EssayPro can be a valuable resource.
Students can also take advantage of this highly professional and advanced tool to do their assignments or project work. Basically, MS project software is a more advanced form of MS Office including Word, Excel, PowerPoint, Outlook, etc. Usually, we see that students always search for dedicated Project Management tools to complete their assignments competently. The tool must be friendly with any device like tablets or smartphones and it must have the capacity to exchange data with any enterprise tools like Microsoft Project Server or others. With high requirements among students, Microsoft itself provides various tools for doing projects proficiently. Today Project plan 365 is one of the popular tools among the students.
Project Plan 365
Project plan 365 is the popular PM tool that has been used worldwide not only by project managers but also by thousands of students. Many education institutes or universities implement enterprise tools like Oracle Primavera, Microsoft Project Online to facilitate their students in their project assignments or project management studies. But Project Plan 365's adaptability is more because of its simplicity of design and compatibility with the devices used by major learning institutions.
Project plan 365 has the following aspects –
At the time of project planning, this software application helps in mind mapping or concept mapping. Mind-mapping is a method and technology of organizing thoughts. Nowadays students learn this technique at school level so that the term papers and a research report can be better understood and to organize for their professors.
It gives a complete database regarding all the essentials for the project including a risk management plan, project charters, and scope statements.
It has a project management data engine that performs all project management related calculations like critical paths, over allocations, and cost tables.
It provides a schedule that builds schedule automatically depending on the availability of resources and duration of tasks.
It has a report and dashboard generator to give the complete picture of the progress status and final report of the project.
In addition, it can be used in any device (such as tablet or smartphone) or any podium like PC, MAC or Linux.
Today Microsoft Project has more than 20 million users. But it is suggested that the user must have attended training on the handling of MS Project software before engaging in any task.
Pros and Cons of Microsoft Project
MS Project has some definite pros and cons –
Pros
MS Project software is highly flexible since its release of the first version before 30years ago. The team of Microsoft is working persistently to make it highly effective and finely-tuned.
The biggest advantage is that the users get the opportunity to collaborate with other project management tools.
With MS Project the users can access any communication tools including Outlook, Skype, and Yammer. Through this, the project manager can communicate with other team members. Even the students can show their presentation or project report with other classes and share information and feedback
Cons
Though MS Project software is a highly flexible, powerful, integrated tool, still it has some drawbacks.
There is a doubt about this software that it is too advanced for beginners. Many project managers have complained about how much time should be devoted to a new beginner to provide training for the application and navigation of this software.
Some people say that it is not a good product for collaboration and data sharing. Most projects require a decent amount of partnership among team members and clients. But MS Project doesn't provide any time update without integration.
Many people think that it is very much difficult and time-consuming to create reports because of the lack of a real-time dashboard.
MS Project software is expensive though Microsoft offers some varying tiers of it. Still, it is too expensive for students to purchase for a personal computer. Even there is a complaint about cost vs. functionality. That is why, some people like to buy a few licenses, but it results in low productivity.
MS Project software has a lot of advanced features that may seem unused or pointless for students.
This software is not compatible with many personal computers. So the user cannot share information or project status with the clients or other members unless there also have MS Project software.
To minimize the deficiency, Microsoft has introduced other software like Teamweek, etc. Teamwork also has salient helpful features, unlike MS Project. But as a student, whatever tools you use, it is important to develop the skill of managing projects efficiently. Microsoft provides various software applications or tools out of which MS Project is noteworthy among others to create a highly-skilled workforce for the future.
Recommended Articles
This has been a guide to Microsoft Project for Students. Here we also discuss How Students Use Microsoft Project with Project Plan 365 and its Pros and Cons. You can also go through our other suggested articles to learn more –