Updated March 24, 2023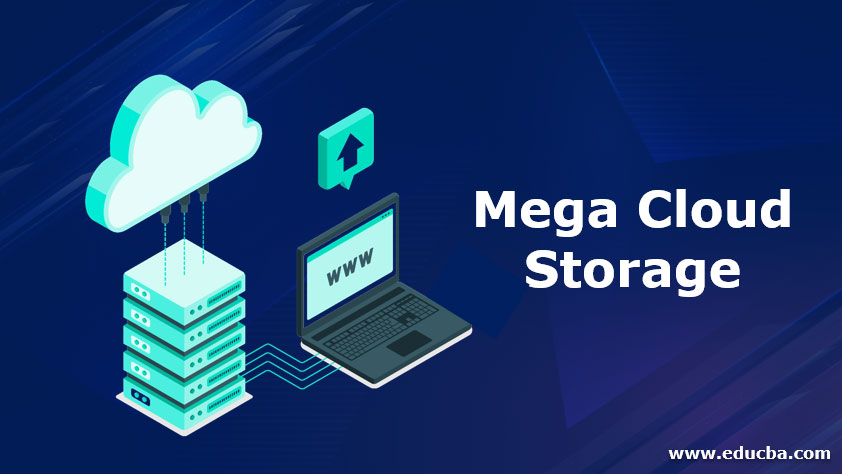 Introduction to Mega Cloud Storage
As per Google, Variance means the quality of being different. This difference in quality exists everywhere around us and the present title of the discussion is no different from it. Also, this variance generates a tremendous scope of improvements and competitive behavior among businesses. What we see today due to changing laws, rules and regulations is an era where privacy is charged. The more privacy we need the more we have to spend. Mega is an interesting cloud storage service that claims secured offerings to its users. It is a cloud storage and file hosting service offered to users under the name Mega limited. We see some interesting facts about Mega and try to find out how it has made its presence in today's market with rivals like AWS, GOOGLE & MICROSOFT.
What is Mega Cloud Storage?
Mega cloud storage would like to add a related terminology which is "Zero-Knowledge" Zero-knowledge can be started as an alternative or synonyms for private and end–to–end encryption. It is a private activity because nobody can read or have access to your files. Once you lose your password the cloud services providers will not help you to reset it and you will lose all access to your files.
Moving to the company details Mega is an Auckland based company that provides cloud services mainly over the web. The company also offers mobile applications for iOS, Android, and Windows. They are known for their services and had started their journey back on 19th Jan 2013.
The website is MEGA.
They use C++, Javascript, Java & objective C to code the services.
They work on Windows, macOS, Linux, Android, iOS, browser Operating systems (OS).
The services are offered in 49 languages.
The type of services is cloud storage, file hosting & remote backup services.
Why do we use Mega Cloud Storage?
The overall purpose to use Mega is to have a cloud service that is highly secured, but we have also collected some crucial points that most of the users seek while choosing a cloud service.
Ease of Operations: First and foremost thing a user need is to have a clean interface. Mega has a clean UI with minimal functionality as compared to other cloud storage. There is a functionality that others provide and Mega does not, for instance, you cannot play videos from Mega cloud but you can download them. So we can see and understand the intention is to have a safe and clean environment rather than mix all functionality and lose self-identity in the market.
Operation Speed: Mega is really quick, the files uploading and downloading happens at a great speed with an enhanced experience while restoring the files.
Let us see some stats under this:
Mega: 2:34 & 3:56 (Av. Upload time & Av. Download time)
G drive: 3:39 & 3:28 (Av. Upload time & Av. Download time)
SkyDrive: 3:08 & 4:36 (Av. Upload time & Av. Download time)
Dropbox: 4:42 & 3:33 (Av. Upload time & Av. Download time)
SugarSync: 10:28 & 11:02 (Av. Upload time & Av. Download time)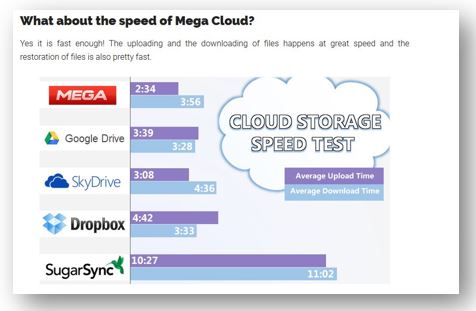 Application Offering: The mobile application offering for Mobile is a great add-on to its cloud services. They have a special mobile application for multiple OS like iOS, Windows, and Android. This application lets you play easily and effectively with the web interfaces like moving files, creating shared links, uploading and deleting of files. Apart from this, they have applications for Chrome, Mozilla and other browsers.
Pricings are affordable and there are multiple subscription packages available, a user is able to access 50 GB cloud storage under free usage policy.
Let us see these plans:
| | | | |
| --- | --- | --- | --- |
| PRO LITE | PRO I | PRO II | PRO III |
| $ 5.60/month | $ 11.20/month | $22.41/month | $33.33/month |
| 200 GB storage | 1 TB | 4 TB | TB |
| 1 TB transfer | 2 Tb transfer | 8 TB transfer | 16 TB transfer |
Security: Every communication under Mega servers is secured under the TSL/SSL and the passwords are hashed with PBKDF2 derivation function using the SHA256.
Let us see some technical aspects that Mega offers to its users:
RSP pair, 2048 bits
ED25519 key pair, 256 bits
Curve25519 key pair, 256 bits (used for chatting purposes)
Link files are protected using PBKDF2-HMAC-SHA512
Customer Support: After-sales service is always a cherry on the cake, once a product is sold the users look for support services they get. Mega customer support services are organized well, most of the queries are resolved sooner and there are 24*7 customer support services available.
Let us have a look at features of Mega cloud storage, these are accumulated as one:
Two-factor authentication.
Email, telephone support & knowledgebase availability.
Sync (folder, block-level sync, selective sync & bandwidth management) facility available.
Deleted file retention, Versioning WebDAV & file review facility available.
Importance of Mega Cloud Storage
There are multiple subscription packages that the company offers from free to pro, any free user can avail of its 50 GB free cloud storage space. All they need is to sign up.
A user can easily download multiple files and even folders in a Zip format quickly.
File sharing capability to the public is present.
Once the uploadings are going on, a user can easily pause it at his convenience.
A good operating speed is available.
Mega is secured with its above-average security policies.
It is legal and reliable.
Conclusion
The final verdict on Mega would be that it would not take any privacy management but make sure that nobody else does. It offers a different set of services with a varying medium which nobody else does. There are several pros which we discussed but there are also limitations associated with their offerings. Also, most of their servers are located in Europe's & New Zealand's so the time of operations may vary depending upon the user's geometric location.
Recommended Articles
This has been a guide to Mega Cloud Storage. Here we discuss the introduction, why we use and the importance of Mega Cloud Storage. You may also have a look at the following articles to learn more –