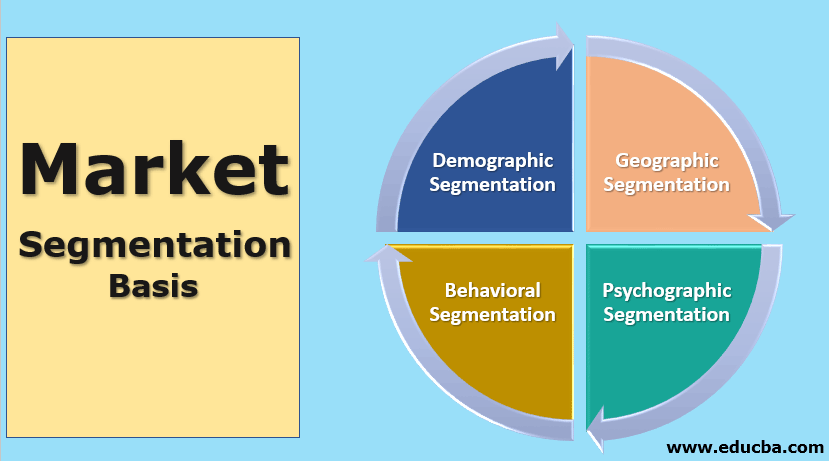 Overview of Market Segmentation Basis
Identification of customers' requirements and satisfying their needs by providing quality product or service is the ultimate prioritization of any industry. Before developing or improving the product or service quality, the marketers feel the necessity of market segmentation to determine customers' needs and demands. Though market segmentation is an old trick and has been used by marketers since the late 1990s, still increasing population, rapid changing of customers' preferences and easily availability of competitive substitutes in domestic and global markets stress the importance of segmentation in any business. Gradually it becomes a critical step in a marketing plan.
What is Market Segmentation?
Basically, 'segmentation' coins the meaning of division or bifurcation of a large unit into various small units with almost or less similar characteristics. Market segmentation is the process of bifurcation of the entire consumer market into subgroups or segments based on various characteristics such as preferences, needs, demands, and locations. Each segment has differentiation, and members of any particular segment share similar features or at least one commonality among them.
Why is Market Segmentation Necessitated?
Market Segmentation Basis is essential for marketers to strategize their marketing campaigns. It helps in grouping similar characteristics potential consumers rather than classifying them individually. Even it advantages marketers to use their resources and time efficiently to make strategies.
An unsuccessful marketing campaign may the cause of the failure of a business. Segmentation of consumers reduces the risk factor of campaigning rather than promoting it generically for all kinds of consumers. Marketers do the segmentation on the basis of their gathering information related to the characteristics of consumers. Basically, they divide the consumers to generate a custom marketing mix for each segmented group and nurture them accordingly.
How do the Marketers Segment Market?
Market segmentation is depending on the assumption that all the potential customers do not behave identically, and therefore, the industry should address their requirements by making appropriate marketing strategies and adapting them subsequently. The marketers bifurcate or split the market on certain bases. These are–
Demographic Segmentation
Geographical  Segmentation
Psychographic Segmentation
Behavioral Segmentation
Product-Volume Segmentation
These bases influence the market in different ways.
1. Demographic Segmentation
In this segmentation, the marketers divide the consumers on the basis of several factors such as gender, age group, marital status, income, profession and so forth. This kind of traditional method of segmentation is seen almost in all kinds of industries, including automobile, beauty products, mobile phones, apparels, etc. Those factors which are used in considering demographic segmentation are discussed here –
Gender: It is one of the crucial bases of segmentation because the choices, preferences, interests, and requirements of males and females differ at many levels. This kind of differentiation is usually seen in cosmetics, clothing, jewelry and footwear industries, where marketers need to focus on different marketing and communication strategy to reach their potential customers.
Age Group: All products or services cannot be universal for all age groups. The kids' toys or apparels are not to be equally interested or accepted by teenagers. So the market segmentation on the basis of age group is an important tool for personalized marketing, and it gives a better opportunity for marketing and communicating good quality products to the target audiences.
Marital Status: Sometimes, marital status is also considered to define strategy in marketing planning. The tourism industry would not offer similar holiday packages for a bachelor's and a married couple or family persons.
Income: The purchasing decision of consumers depends on their income level. The marketers divide the consumers into subgroups as per their earnings. These groups are – high-income groups, mid-income, and lower-income groups. The stores whose target customers are higher income level provide branded and luxurious products or services such as Pantaloons, Westside, and Shopper's Stop. On the other side, Reliance Retail, Big Bazaar, D-Mart targets the customers of the lower-income group.
Profession: People's occupation also influences their purchasing ability. An office-going person always prefers formal dresses rather than a casual or funky t-shirt.
2. Geographic Segmentation
This simplest method of market segmentation depends on the geographical location of customers. It means that the purchasing habit of one location differs from another location or country. For instance, lifestyle products or branded apparels have high demand in metro cities rather than small towns. Even the banking requirements of rural areas also differ from urban areas. Different kinds of banking products, schemes are designed to keep in mind the requirements and preferences of each customer group of various regions. The requirement of clothes, foods, home appliances of hilly people would not be similar to the demand of the inhabitants of desert regions or dry places.
3. Psychographic Segmentation
In this premise, the consumers are classified on the basis of their psychological traits such as attitude, personality, lifestyle, and habit. It is assumed that an individual's buying decision depends on personality and lifestyle. According to an individual's personal traits, the market divides the consumers as innovators, adapters, ambitious, laggards. Personality and lifestyle influence purchasing habit and decisions to a great extent. A person who is living a luxurious lifestyle feels the need for an air conditioner and television in every room, whereas a person who prefers to live a conservative lifestyle considers it a luxury.
4. Behavioral Segmentation
In this segmentation process, the marketers consider an individual's knowledge and attitude about the usages of a product or service. Several variables are considered for behavioral segmentation. These are –
User Status: Before launching any new product or the new version of the old products, the marketers target this consumer group. Here potential buyers are classified as regular users, occasional users, and non-users.
Benefit Counting: Most of the consumers always want high quality, low price products, and those consumers are measured as benefit seeking customers.
Purchasing Occasionally: Some buyers decide to buy products or services on various occasions. The consumers book a hotel or air ticket either for holiday or business purposes. So the service industry or aviation can target the customers in two different ways.
Product Volume Segmentation: In this segmentation, the consumers are divided as light, medium, and heavy product users. Sometimes 20 percent of customers consume 80 percent of the product of a particular brand. But the marketers need to concentrate on all groups of users because they provide different opportunities.
Fundamentally, market segmentation defines the division of consumer groups into two subgroups– people who have common requirements and the users who react similarly to a marketing action.
Recommended Articles
This is a guide to the Market Segmentation Basis. Here we discuss Why Market Segmentation is Necessitated? along with How Do the Marketers Segment Market? which includes Geographical, Demographic, Psychographic, and  Behavioral Segmentation. You can also go through our other suggested articles to learn more–