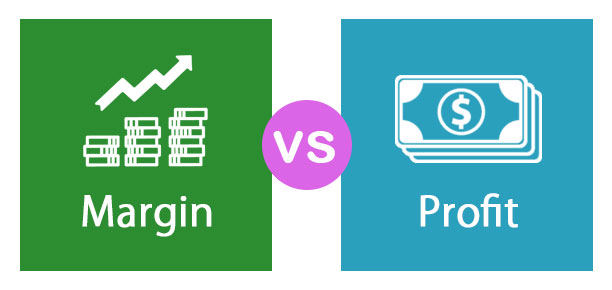 Difference Between Margin vs Profit
Getting good margins on a product and getting a good profit are two factors that are usually viewed holistically together and are directly proportional to each other. But we will try to view them individually to understand the concepts better.
Margin
A margin is a percentage term defined to denote the difference between the numerator and denominator. Since companies and products of different sizes and different types can have varying numerical terms, a margin is a powerful unit of comparison across sectors, within industries, with supplementary and complementary sectors, etc.
Margins can be viewed and correlated to any term on the income statement or balance sheet to determine a specific unit's margin. For example, gross Sales Margin and EBITDA Margin are examples of margins based on the Income Statement alone, whereas Return on Assets and Return on Equity are types of margins involving both the Income Statement and the Balance Sheet.
Even the interest rate that we deal with, regularly, in the corporate world or personal life, is a type of margin that distinguishes between the interest payment and the principal amount in percentage values.
Profit
Profit is a numerical value denoted in any currency terms and is usually derived from income statement calculations.
A company has a Top Line Sales Revenue figure on top of its Income statement that denotes the total money received by customers via full payments, partial payments, or due payments in exchange for goods and services.
A company also incurs expenses divided between direct and indirect expenses, including rent, wages, salaries, cost of materials, marketing, and advertising expenses, utilities, depreciation and amortization costs, etc.
Profit is your Total Expenses deducted from the Top Line Sales Revenue figure. Profit could further be divided into 2 major types, Gross Profit and Net Profit.
Example to understand both Margin vs. Profit
The following example will explain profits, margins, and some types of margins we usually come across;
Company ABH produces a Mobile Phone named "Letia" for a manufacturing cost of INR 7,200 and sells it for a selling price of INR 12,000.
The company spends INR 3,600 per unit on marketing, advertising, asset depreciation, and other overheads.
| | |
| --- | --- |
| Selling Price | INR 12,000 |
| Manufacturing Cost | INR 7,200 |
| Gross Profit (Selling Price -Manufacturing Cost) | INR 4,800 |
| Gross Margin (Gross Profit / Selling Price) | 40% |
| Marketing, Depreciation & Other Expenses | INR 3,600 |
| Net Profit (Gross Profit – Expenses) | INR 1,200 |
| Net Margin (Net Profit / Selling Price) | 10% |
Hence, when Company ABH sells a single unit of Letia phones, its net "margin" per product stands at 10%, while its actual "profit" stands at INR 1,200.
Head-to-Head Comparison between Margin vs. Profit (Infographics)
Below is the top 4 difference between Margin vs Profit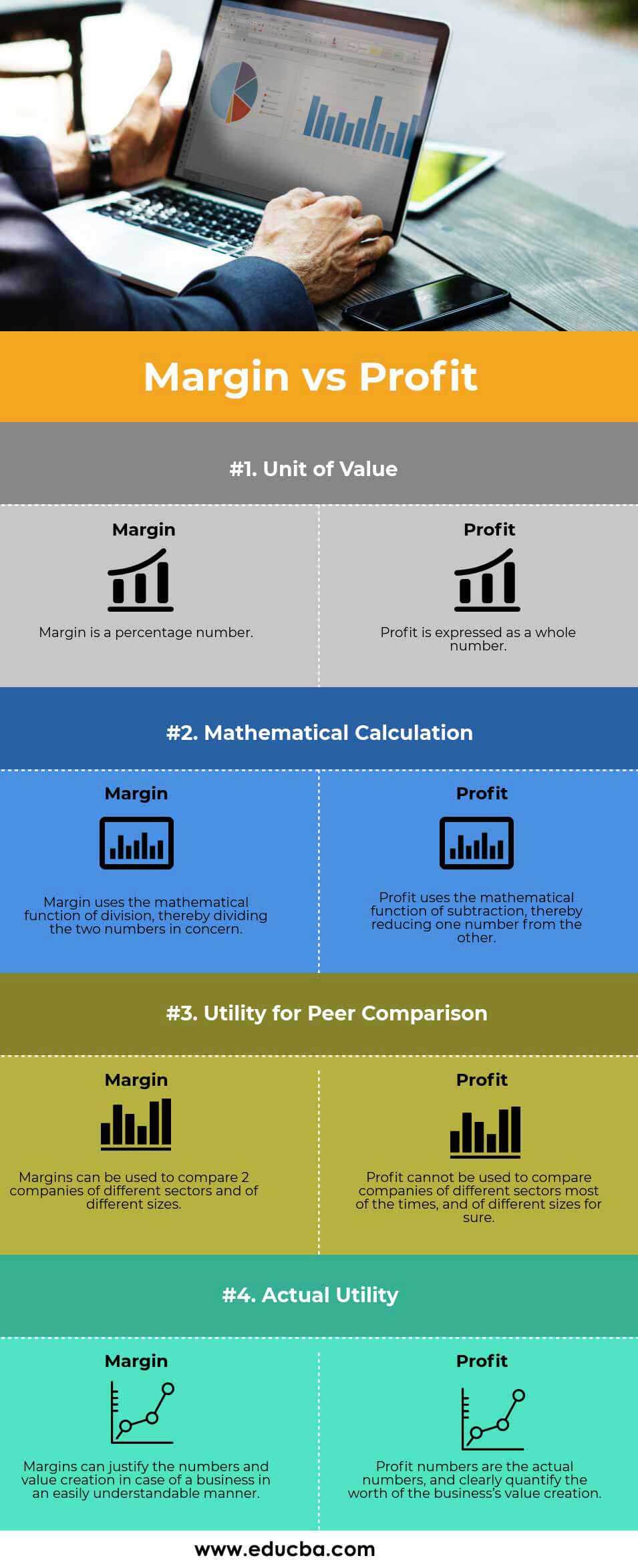 Comparison Table
Let's look at the top 4 Comparisons between Margin vs. Profit.
| | | |
| --- | --- | --- |
| The Basis of comparison Between Margin vs Profit | Margin | Profit |
| Unit Of Value | A margin is a percentage number. | Profit is expressed as a whole number. |
| Mathematical Calculation | Margin uses the mathematical function of division, thereby dividing the two numbers in concern. | Profit uses the mathematical function of subtraction, thereby reducing one number from the other. |
| Utility For Peer Comparison | Margins can be used to compare 2 companies in different sectors and of different sizes. | Profit cannot compare companies from different sectors, most of the time, and different sizes for sure. |
| Actual Utility | Margins can justify the numbers and value creation in the case of a business in an easily understandable manner. | Profit numbers are the actual numbers and clearly quantify the worth of the business's value creation. |
Key Differences
Let us discuss some of the major differences between Margin vs Profit.
While Margin is a percentage term and hence can always be standardized, Profit is a numerical term usually expressed in a certain currency and can differ in terms of the currency used.
Margin can be derived solely by deploying the mathematical function of division between the two units of numbers in concern, and Profit is derived from deploying the subtraction function, usually in a linear calculation between numbers of an Income Statement.
A business's Margin can be used to quickly check up on its relative performance internally (of different quarters or years in question) or externally (of similar other businesses or companies), while Profit cannot be used to compare businesses accurately against each other at least.
Margin can help understand a business or its sector, while Profit is actual numbers and denote the business's real cash value.
A lower margin as compared to a previous quarter can still result in a higher profit.
In the above example, if the Selling Price of the product is increased to INR 20,000 and the margin is reduced to 8%, the net profit will still be higher in actual numerical terms at INR 1,600.
Conclusion
However, for running a business, it is important to know the difference. While we tried to view this as two separate terms, and the two terms have certain nuances, they are closely related and attached. If no other number or unit (selling price, cost of raw materials, other expenses, etc.) is altered, then the business's margin and profit will always move proportionately. While Margin is the percentage value of the earnings generated in a business transaction, profit is the actual whole number, translating into actual cash gains.
Recommended Articles
This has been a guide to the top difference between Margin vs Profit. Here we also discuss the Margin vs Profit key differences with infographics and comparison table. You may also have a look at the following articles to learn more.