Updated December 1, 2023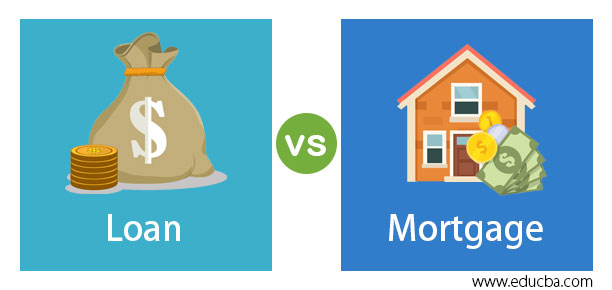 Difference Between Loan vs Mortgage
Loan and mortgage are often used interchangeably in the banking world. As to a layman, it is one and the same thing, and typically people find both similar to any lending deal they come across. In this Loan vs mortgage article, we will try and understand the key differences between a mortgage and a loan and how these two differ in their nature, type, and working.
Head To Head Comparison Between Loan vs Mortgage (Infographics)
Below is the top 7 difference between Loan vs Mortgage

Key Differences Between Loan vs Mortgage
Both Loans vs Mortgage are popular choices in the market; let us discuss some of the major Difference Between Loan vs Mortgage.
A loan is like a relationship between the lender and the borrower. The lender is also known as a creditor, and the borrower is called a debtor. The bank lends money to the borrower, who then becomes the debtor. In the case of a mortgage, the borrower secures a loan by using their property as collateral, typically to fund the construction of a house or another property. Mortgage loans are considered secured loans because they are backed by specific collateral. There is also the concept of a "home equity loan", which is often used in the same context but shouldn't be confused with a mortgage loan. Usually, people can't differentiate between a home loan vs. mortgage because of the collateral. People use the first one to purchase a home, and they borrow the second one to buy a piece of property that is already secured.
The loan is secured in mortgage loans, and the probability of default is comparatively low compared to other loans due to the low loan-to-value ratio, a crucial criterion in mortgage loans. The higher the loan-to-value ratio, the higher the risk of the lender. Mortgage loans generally have a property value of two times, which is an industry benchmark. Mortgage loans generally have a fixed repayment schedule and a lower default risk than other loans and advances.
The major difference between a Loan vs Mortgage is that a mortgage loan is always secure and has compulsory payments due. In contrast, on the other hand, loans are flexible in nature and are often unsecured in nature.
Mortgage loans are procured by keeping a property worth a higher amount than the loan the individual is looking to raise for his or her needs. Suppose there is a default in a mortgage loan's principal or interest payments. In that case, the banks or financial institutions can seize and sell the property in the open market. This allows them to recover the remaining money owed or attempt to sell the property at its fair value.
Mortgage loans are generally available in the market for a longer tenure, usually over a decade, or can stretch up to 15 years. Since the property fully secures these loans, they generally carry a lower rate of interest when compared to personal loans or unsecured loans. On the other hand, normal loans have a shorter tenure and can be flexible in nature; also, in some cases, if an individual takes an unsecured loan or any loan from a relative or a friend, then, in that case, the principal amount needs to be repaid whereas, the interest payment is foregone in such cases. Loans' nature and tenure depend on case to case basis, which also depends on the end objective of the loan or where the funds will be deployed.
Loan vs Mortgage Comparison Table
Below is the 7 topmost comparison between Loan vs Mortgage
Loan

Mortgage

The loan generally carries a higher rate of interest.
Mortgage Loans generally carry a lower rate of interest when compared with personal loans.
Loans can be secured or unsecured.
Mortgage loans are always secured as they are backed by collateral.
Loans period is less when compared with mortgage loans.
Loans period is more when compared with secured or unsecured loans.
A mortgage can be referred to as some property associated with the loan that can be repaid.
Someone lends you something for temporary use, and you are expected to return it when you have finished using it, resulting in a loan.
There are fewer formalities in the case of unsecured loans when compared with a mortgage.
In the case of mortgage loans, there are more stringent criteria in comparison with an unsecured and secured loan.
Unsecured and secured loans have less documentation related to them.
Mortgage loan documentation is intensive and involves a lot of formalities and paperwork.
There are the following types of loans:-

Open-ended loans
Close-ended loans
Student loans
Payday loans

There are the following types of mortgage loans:-

VA Loan mortgage
Reverse mortgage
Adjustable-rate mortgage
Fixed-rate mortgage
Conclusion
Lending is what is driving the banking industry, and that is how banks help the economy and the government in the creation of assets and increasing the money supply in the economy in turn, increases the purchasing power of the customers. However, individuals availing loans from banks and financial institutions should be careful in the repayment of the same as it affects the borrower's credit score and creditworthiness.
Recommended Articles
This has been a guide to the top difference between Loans vs Mortgage. Here we also discuss the Loan vs Mortgage key differences with infographics and a comparison table. You may also have a look at the following articles to learn more.