Updated July 10, 2023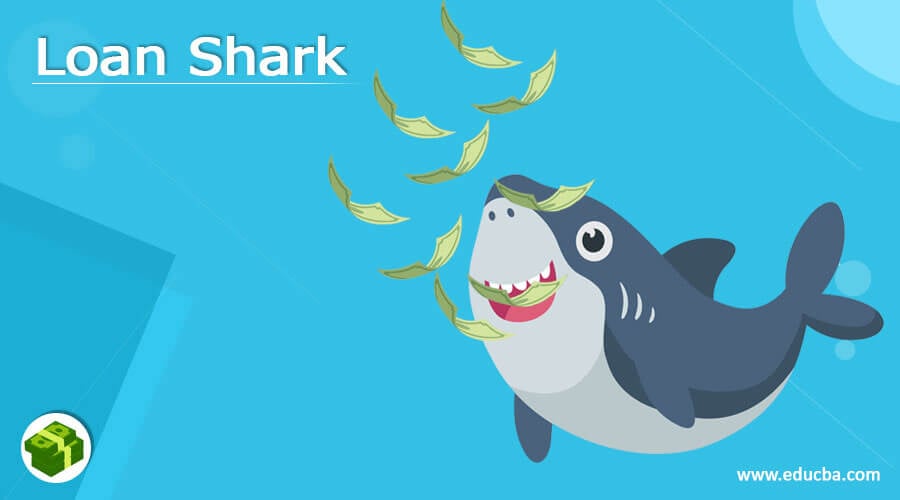 Introduction to Loan Shark
Loan Shark is a person or an entity that lends money in the form of a loan at an extremely higher interest rate than the approved legal interest rates.
They are part of the crime group that uses violence and open threats to the borrowers to recover their debts. The loan terms are very strict, and any law does not govern their operations.
What is a Loan Shark?
A loan shark is a person or any unregistered or illegal entity who lends the borrower's money at a higher interest rate. You can find them in the local neighborhood through personal contact or online platforms. Unfortunately, the funds they lent don't have any sound source, and mostly it's an illegal operation.
How Does it Work?
Loan sharks lend money to borrowers without background checks or credit reports. The benefit is that it enjoys a higher interest rate quickly. Their interest rate is always more than the legal interest rates in the market.
Borrowers must pay the money on time; otherwise, loan sharks start threatening them and using violence to recover the money. This leads to people in desperate need of money, and they cannot get the funds through any legal source due to their financial credibility or security.
Example
Mr. A borrowed $100,000 from a loan shark for an emergency need as an unsecured loan which he can repay in 30 days. A secured loan's prevailing market rate (bank lending rate) is 6% annually. But as discussed above, the loan shark law charges a higher interest rate. Therefore, the deal between the loan shark and Mr. A is loan shark will lend $100,000, and in return, he will receive $120,000 after 30 days. (i.e.) 20% per month against a 6% per annum interest rate charged by a bank.
Is Loan Shark illegal?
A loan shark is illegal, and it is not governed by law.  They are different from predatory lending and also lend at extremely high-interest rates like Payday or title loans which are legal.
If someone has borrowed from a loan shark without awareness, they can take help by seeking legal help. Loaning money without proper approval is illegal, whereas borrowing money will not be considered illegal; therefore, the borrower will not be considered someone who broke the law.
It may threaten the borrower by saying they may sue them in court and make them repay the money. But in reality, they cannot sue the borrower as the transaction is not legal without any proper approval and legal documentation. So, the borrower legally does not owe any money to the loan shark. It is those who have gone against the law and not the borrower. So, the borrower always has a legal cover.
How to Find Loan Shark?
Loan shark transactions can be figured out in some instances. Following are some examples:
As loan shark transactions are illegal, they avoid paperwork and do not document the transaction as it may have a legal impact.
The transactions are always in cash, and they don't do any bank transfers to avoid the cash movement trail.
The transaction is not transparent between the borrower and the loan shark. For example, they don't specify the interest rate, repayment period, etc.
Though the transaction with a loan shark is not a secured loan, they always take the personal possession of the borrower as security. (e.g.) Passport, bank account, any property document, etc.
As the interest rates are extremely high, loan sharks add additional costs during the transaction, and the debt keeps increasing despite regular payments.
It always uses threats, blackmail, and violence against borrowers as part of the loan recovery process.
It lends money without checking the repayment capacity of the borrower. They don't do any credit checks.
Key Takeaways
Loan sharks are not a good option for borrowing money because the transaction is too risky. Their initial friendliness may change when the loan is not repaid on the committed time. The following are the major risks of dealing with loan sharks:
Extremely high rate of interest in comparison to legal borrowing.
Loan sharks harass and threaten borrowers if they are not repaid on time. They employ violence when issues arise with the borrower, leading to numerous reported cases of harassment caused by loan sharks.
Lenders may trap borrowers by compelling them to take out new loans to repay the original loan. So it may continue, and the interest multiplies, and they can end up in multiple cycles of debt that they can never repay.
People predominantly approach loan sharks because their income and credit score are low, and the requirement can be only for a short-term purpose. So, they cannot obtain loans from any legal source easily. Still, instead of loan sharks, they can prefer credit unions, Cooperative banks, etc., which predominantly operate as not-for-profits and for the community's welfare. They provide loans at a lower interest rate, encourage their members to save and contribute and provide proper financial advice.
Conclusion
Borrowing from a Loan shark is not beneficial as it is organized illegally. Furthermore, their interest rates are extremely high, and their recovery methods are unprofessional, which involve threatening, blackmail, violence, and securing the personal possessions of the borrower. Other alternatives can be considered instead of loan sharks offering lower interest rates. In addition, the transactions are legal, and the borrower will be protected by law.
Recommended Articles
This is a guide to Loan Shark. Here we also discuss the definitions, working examples, how to find Loan Shark and key takeaways. You may also have a look at the following articles to learn more –