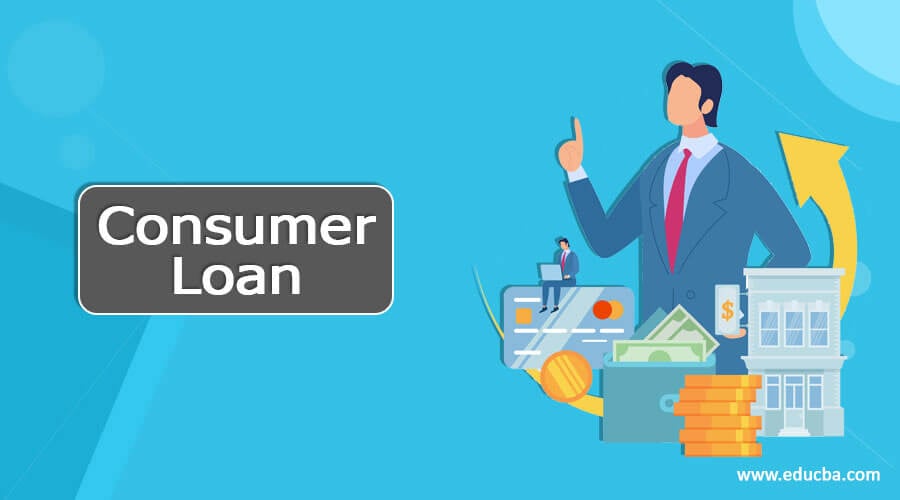 What is a Consumer Loan?
The term "consumer loan" refers to the type of loan extended to consumers to fund specific items or purposes. Typically, consumers avail of loans for financing home purchases, debt consolidation, education, general living expenses, etc. On the other hand, growing small businesses take on loans to fund working capital requirements, equipment purchase and real estate, inventory purposes, etc. In short, there is a wide variety of consumer loan products available in the market, and thus it is important for consumers to understand their own needs before availing of any of the products. This article will provide a brief understanding of consumer loans and their different types.
Types of Consumer Loan
There are multiple types of consumer loans available in the market suitable for the different needs of the consumers. Some of the most common types of consumer loans are as follows:
1. Mortgage
A mortgage is a secured loan given by a bank to a consumer for buying a house, which usually costs much more than what an average person earns in a year. This type of loan is stretched over a longer period of time to ease out monthly installments, the most common mortgage being a 30-year fixed-rate loan.
2. Auto Loan
An auto loan is either extended by a bank or the car dealer itself to finance the purchase of a vehicle. The term of a typical auto loan ranges from 2 years to 7 years. The tenure is shorter, and the down payment is larger for an auto loan due to the rapid car value depreciation. It is typically secured in nature.
3. Education Loan
The objective of an education loan is to fulfill the education needs of a student by paying the college/tuition fees. In this way, students are able to pursue their life goals through proper education. This is an unsecured type of loan, and the repayment only starts few months after the student's graduation from college.
4. Personal Loan
A personal loan caters to various day-to-day needs of the borrower. It is the most versatile type of loan in the consumer loan market due to its wide range of end-use purposes, including debt consolidation, vacations, etc. This type of loan usually has a long tenure and can be either secured or unsecured in nature.
5. Refinance Loan
As the name suggests, this type of loan is used to refinance an existing loan. In fact, a refinance loan can be used to refinance any of the abovementioned loans. Typically, it has a fixed payment with a lower interest rate, which primarily attracts consumers.
6. Credit Card
It is the most commonly used and popular among the various types of consumer loans. A borrower usually uses it to buy daily need items, such as groceries, apparel, etc., on credit. The rate of interest charged on this type of loan is a bit on the higher side, and thus failure to pay on time can attract a very high penalty.
Example of Consumer Loan
Let us look at the details of some of the personal loans available in the market as of August 2021.
| | | | |
| --- | --- | --- | --- |
| Lender | Estimated APR | Loan Amount | Min. Credit Score |
| SoFi | 5.99% – 19.63% | $5,000 – $100,000 | 680 |
| Marcus by Goldman Sachs | 6.99% – 19.99% | $3,500 – $40,000 | 660 |
| Wells Fargo | 5.74% – 24.24% | $3,000 – $100,000 | – |
| PenFed Credit Union | 5.99% – 17.99% | $500 – $20,000 | 700 |
Source: Nerdwallet
Eligibility for Consumer Loan
To be eligible for a consumer loan, the age of the consumer has to be in the range of 21 years to 60 years. However, the maximum age of 60 years is applicable for a salaried person, but that of a self-employed professional can go up to 65 years. Nevertheless, the criteria can vary from one bank to another, and various other factors can also kick into the checklist.
Categories of Consumer Loan
Consumer loans fall in either of the two categories – open-end loans and closed-end loans.
1. Open-end loan
In this type of loan, the borrower can avail of the fund for any purpose but must pay back a minimum portion of the loan within a certain date. Thus, this type of loan is also referred to as revolving credit.
2. Closed-end loan
This type of loan is availed for financing some specific purchases. The loan is paid back by the borrower in equal monthly payments over a period of time, and thus it is also referred to as installment credit. It is usually secured by collateral, and failure to pay installments can lead to seizure of collateral.
Uses of Consumer Loan
Some of the most common uses of consumer loans are as follows:
Purchasing a house or repairing an old house
Paying tuition fees for higher education
Purchasing cars for both commercial and private use
Refinancing existing loan
Benefits of Consumer Loan
Some of the major benefits of consumer loans are as follows:
First, it offers easy access to funds during times of critical requirement.
Second, it enhances financial flexibility with a wide range of products.
Third, it is very useful for debt consolidation.
Finally, consumers are able to purchase items that are otherwise far beyond their annual earning.
Key Takeaways
Some of the key takeaways of the article are:
Consumer loans are extended to consumers to finance the purchase of specific items or purposes.
The consumer loans allow the borrowers to purchase things are much costlier than their annual earning.
The most common types of consumer loans are – mortgage, auto loan, education loan, personal loan, refinance loan, and credit card.
Consumer loans can be categorized into open-end loans or revolving credit and closed-end loans or installment credit.
Conclusion
So, it can be seen that consumer loans are used in financing purchases that are otherwise financially difficult for the borrowers. In fact, many people won't be able to purchase a home or a car without consumer loans. Thus, consumer loan is a great privilege for the people if used with caution.
Recommended Articles
This is a guide to Consumer Loan. Here we also discuss the definition, types, examples, and categories of Consumer loans along with their uses and benefits. You may also have a look at the following articles to learn more –