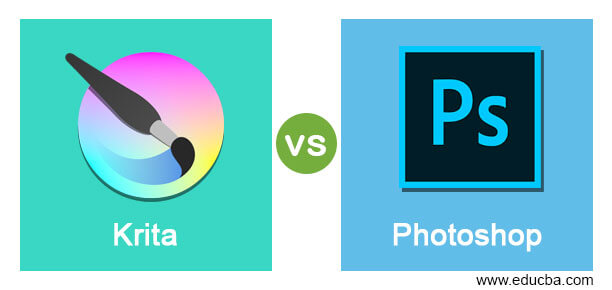 Introduction to Krita vs Photoshop
Krita is a free as well as open-source raster graphics editor which works on digital painting, 2D animation and for this purpose, it deals with non-destructive mask and layer management, colorization and many more thing which are related to raster graphics can do in this software. Photoshop is also raster graphics editing software that works on manipulation as well as editing of an image by using a number of editing features that deal with raster graphics but it is not free software. You have to pay for having its subscription and updated plan with the advance feature.
Both software is used for raster graphics editing purposes and they do this work by using their special features and tools. So let me tell you some important facts of both software for explaining them to you.
Head to Head Comparison Between Krita vs Photoshop (Infographics)
Below are the top 8 differences between Krita vs Photoshop:

Comparison between Krita and Photoshop
| | | |
| --- | --- | --- |
| | Krita | Photoshop |
| Definition | It is a raster graphics editor which works for the development of digital painting and 2D animation and it is open-source and free-to-use software. | It is also used for 2D animation along with raster graphics editing, image retouching, & manipulation, curves & level management and offers a subscription plan for having it for your use. |
| Developer | It was developed by Krita Foundation, KDE, and released initially on June 21, 2005. | Originally it was developed by Thomas and John Knoll in 1988 but released by Adobe Inc. in 1990 as its raster graphics editing software. Now it is a part of the creative cloud desktop application of the Adobe system. |
| Operating system | You can have this software on different operating systems such as Microsoft Windows, Mac OS, Linux, Chrome OS, and Android as well. | Microsoft Windows 10 and its later versions, Mac OS 10.13 and its later version, iPad OS 13.1 and its later versions are those operating systems on which you can run this software. |
| Latest version | The latest version of this software was released on January 19, 2021, which named 4.4.2, and its beta version which was 4.4.3 was released on February 24, 2021. | Photoshop 2021 (22.2) is its latest version and released on February 19, 2021. |
| Supported languages | It supports few languages that are Japanese and English but Russian and French languages also in the list which it will add in its next updates. | It is available in many languages that are English (both United State and the United Kingdom), Arabic, Chinese (both Traditional and Simplified), Czech, Danish, Dutch, Finnish, French, Hebrew, German, Italian, Hungarian, Norwegian, Polish, Turkish, Romanian, Russian, Korean, Ukrainian, Japanese and Portuguese. |
| Written in | It is written in C++, Qt computer languages. | It is a programming language is Pascal and C++. |
| Availability | www.krita.org is an official website of Krita software and by visiting it you can have it all updated as well as download it for starting work with it. | By visiting www.adobe.com you can download this software and also have information about subscription plans, system requirements, and many other updates. |
| Supported File | It supports number of file formats such as .kra, .ora, .jpeg, .tiff and some others. | You can have its supported file in .psd format and .psb is for large document supported format. You can also use .jpeg, jpg, .png, and some other file format with this software |
I told you these points so that you can have basic knowledge about Krita and Photoshop software for analyzing them on the basis of their system requirement as well as the ability to handling any work. Now let us move to the other section of this article where I will tell you some other facts about this two software for polishing you know more about them.
Key Difference between Krita and Photoshop
You must be thinking about if both software is used for the same type of work so how can we differentiate them from each other? So the answer is that we can because both have their different developer and they include lots of special features with their software. So let me tell you about them.
Being open-source software Krita is free to use and its developer developed it so that it can be affordable to its user as an art tool. You can download it from its official website without paying any subscription charges and need not to worry about any other additional payment. You can enjoy all the good and advanced features of it with this version. It also offers a trial version which is also absolutely free.
Whereas Photoshop is paid software but it offers a free trial version so that you can understand it and interact with its features as well as a working environment. Its subscription plan starts from $19.99 which is a monthly payment price it. You can visit on the official website of adobe for having more information about other plans of it and also for advanced features and tools details.
Being a raster graphics editor Krita is quite different from Photoshop because it is focused on the development of animation as well as digital paintings and you may not see Krita as an alternative to Photoshop. For this purpose you can have many types of features with Krita software such as you can use Brush engine, HDR supports, Layer Supports, Drawing assistants, Resources manager as well as OpenGL. Whereas in Photoshop there we can do smoothing of stroke, access photos of Lightroom, we have Quick share menu, 360 panorama workflow, a number of good typefaces with different font styles, you can apply filters for image manipulation and also use retouching tools with photographs and so on.
We did this discussion for pointing out some of the necessary information about Krita as well as Photoshop and i think you have found that one for your deeper knowledge about them.
Conclusion
Krita and Photoshop are now both those words about which you have good knowledge and it is easy for you to start work with any one of the raster graphics editors of them. You may try both software for choosing one between them because Krita is absolutely free and in the case of Photoshop you can go with a free trial of it.
Recommended Articles
This is a guide to Krita vs Photoshop. Here we discuss Krita vs Photoshop key differences with infographics and comparison table respectively. You may also have a look at the following articles to learn more –