Updated April 8, 2023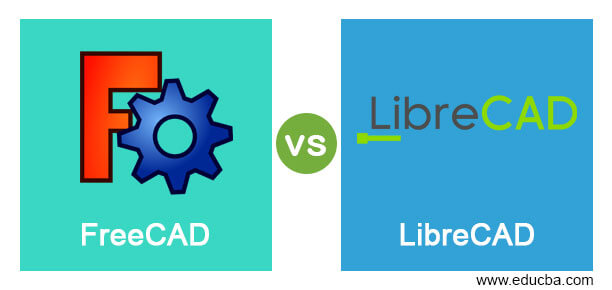 Difference Between FreeCAD vs LibreCAD
The following article provides an outline for FreeCAD vs LibreCAD. FreeCAD is free open source program under LGPLv2 + license and focused on designing of parametric 3D CAD models as well as works for BIM (building information modeling) purpose. It was specially designed for designing of components of mechanical engineering but has its impact on other important braches of engineering. LibreCAD is also free open source software for CAD (computer-aided design) purposes and was developed as fork of community edition of QCAD. You can run it on number of platform because its graphical user interface based on Qt5 libraries systems. It has lot of good features for dealing with number of problem related to CAD field.
Head to Head Comparison Between FreeCAD vs LibreCAD (Infographics)
Below are the top 6 differences between FreeCAD vs LibreCAD:

Key Difference Between FreeCAD vs LibreCAD
Let us discuss some of the major key differences between FreeCAD vs LibreCAD:
Here we will see facts by which you can find out key points about these software and use that points for deciding which software is better for you.
If we talk about price of both software then begin open source and free software these are free to use and you don't worry about time to time subscription, annual or monthly plans, payment and updates of these software. You will have all good features with free versions of both software.
With LibreCAD you can do 2D drawing and drafting by using number of advance features and tools of it and these tools make its working smoother but annotations as well as data importing and exporting features not available in it which may create problem to you during working with it. It is also not for architects and designing of their components, manufactures and for simulation work. Whereas if we tell you about FreeCAD then yes annotations and data importing, exporting are possible in it so you can import data as well as export for different type of purpose with this software but 2D drafting and drawing are not possible in it. It can easily work for architects, simulation purpose and manufactures.
Now we will see some of the features which are not available with both of the software but you must know about them because these are most used features of this these type of software. These features includes lack of 3D or solid modeling feature, lack of backwards compatibility, lack of collaboration, lack of custom commands, custom interface not supported, text editing tools are also not available with them and many more things you can find which are not supported by both software but you can handle these features by the help of other additional softwares.
FreeCAD offers easy handling tool by which you can do push and pull modeling and if you group items together you can have pretty good complex object of 3D shape. LibreCAD offers you multi-layer design management through which 2D designing become easy in this software.
You may face difficulties during printing with LibreCAD and biggest draw bag of this software is that it doesn't supports most common file format .dwg but is supports .dxf and can export .png, .jpg, .pdf, .svg and many others. You can export and import number of file format with FreeCAD such as DXF, STEP, IGES, SVG, OBJ(Wavefront), SCAD, IFC, IV (Inventor) and DAE (Collada).
FreeCAD vs LibreCAD Comparison Table
Let's discuss the top comparison between FreeCAD vs LibreCAD:
Although both are free open source software and used for CAD purpose of different sector yet we will see their basic requirement and functionality
| | | |
| --- | --- | --- |
| | FreeCAD | LibreCAD |
| Definition | FreeCAD is Open source software that means it is free for using it and used for designing of different type of components of CAD fields. | LibreCAD is also open source software and used for 2D drafting and drawing of computer aided designing elements. |
| Developer and Initially Released | It was developed by Jurgen Riegel, Werner Mayer and Yorik van Havre and released on October 29, 2002. | It was initially released and developed by LibreCAD community on December 15, 2011. |
| Latest Version | On February 26, 2021 its latest version was released and named as 0.18.6. 0.19 version was release on February 25, 2021 as preview version. | Its latest version which is 2.1.3 was released on 23, 2016 and next version 2.2.0 was released on 31, 2020 for preview purpose of it. |
| Operating System | It is compatible with different operating systems such as GNU/Linux, Mac OS, Microsoft Windows and Unix. | You can run it on number of operating system and that are Microsoft Windows, Mac OS, and UNIX-like. |
| Supported Languages | It can find with several type of languages that are English, French, Chinese (simplified and traditional both), Czech, German, Italian, Korean and Spanish. | Number of languages supported by this software such as English, Arabic, Hindi, German, Portuguese, Romanian, Latvian, Russian, Hungarian, Slovak, Indonesian, Italian, Spanish, Japanese, Czech, Danish, Swedish, Chinese (simplified and traditional), Estonian, Turkish, Ukraine, Polish, French, Macedonian, and in some other languages. You can have information about other supported languages from its official website. |
| Availability | www.freecadweb.org is its official website and you can visit on it for downloading this software and also for other information as well as updates of it. | You can visit on www.librecad.org for downloading this software and for other information as well. |
Conclusion
FreeCAD and LibreCAD are both used for same purpose of work as we saw about but have their own methodology for giving best result in their work. Now you are free to choose better software for you between them and enjoy that one in your CAD working for having effective and best result of your project work.
Recommended Articles
This is a guide to FreeCAD vs LibreCAD. Here we discuss FreeCAD vs LibreCAD key differences with infographics and comparison table respectively. You may also have a look at the following articles to learn more –