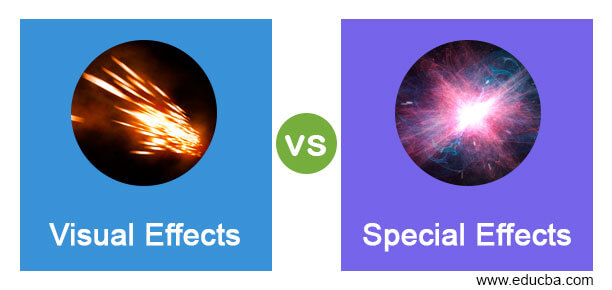 Introduction to Visual Effects vs Special Effects
Visual Effects are popular with the name VFX and Filmmaker as well as video producers incorporate it in their live shots for creating imagery or for manipulating action which makes them more interesting and realistic. In other word combination of live-action footage with CG elements which creates realistic imagery are called VFX. Special effects create by applying different types of tricks for having illusions of any particular screen, object, or effect on set during shooting, and it is used by filmmakers, in television, theatre, video game, and some other related industries.
Visual Effects and Special Effects both are using for adding effects in multimedia sectors, films, video games, and in some other industries that incorporated with it. So let us have look at the features of them for building basic knowledge about them.
Head to Head Comparison between Visual Effects vs Special Effects (Infographics)
Below are the top 5 comparisons between Visual Effects vs Special Effects:

Comparison between Visual Effects and Special Effects
This table contains a number of good points for explaining the purpose of using both of them. So what are you waiting for? Let us start.
| | |
| --- | --- |
| Visual effects | Special Effects |
| Visual effects are abbreviated some time as VFX and used for creating imagery with live actions on a digital platforms for giving it a more realistic look with less expense. | Special Effects abbreviated as SFX and use for creating the illusion in different shots which creates the whole background and theme for the story of a particular scene. It sometimes becomes more expensive to have the desired result with the arrangement of SFX. |
| Visual effects combine live-action footage with generated imagery for obtaining a realistic look and this imagery may include digital or optics, animals, or creatures. Visual effect deals with those effects which may be dangerous, impractical, expensive, time-consuming, and sometimes impossible to capture on film. | SFX is commonly categorized in two sections, one is mechanical effects and the other is optical effects where mechanical effects generally accomplished at the live-action shooting and includes props, sceneries, scale models, pyrotechnics, animatronics as well as atmospheric effects for getting desired results and in Optical effects, there are some techniques involves for creating photographically form of images or film frames for giving that shot real-world look. |
| VFX incorporated with the addition of a different type of effect such as adding explosion in any scene and it can be done digitally that means it can create everything with the help of digital media which SFX can do one set and by doing this it adds digital enhancement to the shots. | Whereas SFX creates an effect on set during live actions that mean a number of elements used with live actions scene and these elements express the story of that scene properly. You can understand it as practical effects that perform on the shooting set with help of crew and props. |
| It is generally preferred by filmmakers as the addition of digital elements for creating an environment of any shot and making it realties such as fire, water, and many other things added digitally on the scene of shot for giving the feel of these elements on scene. | Whereas SFX refers to filmmakers as effects that create by adding physical elements on the set or practices such as smoke, fire, and many other objects involve physically for narrating the story of the scene. |
| As we know it works with the digital platforms so when it requires to apply that effects on wide-area which were capture on set and not appropriate according to the requirement of the scene then it will easy to do this with VFX or it also required when you want to have an additional element with that shot. | SFX is used at the time of the creation of natural effects such as rain, snowfalls, and many other atmospheric effects required during performing a particular scene, and for this, it must need proper planning. Many other things are there which need SFX. |
Key Difference between Visual Effects and Special Effects
Visual Effects and Special Effects are work parallel to each other and when the filmmaker or director and its team have not got their desired effect on set then they go with VFX and VFX come over SFX in this matter. Let me explain to you that for example there is the scene of action and set member creates smokes on set for giving smoky effect but due to the flow of wind it flowing in opposite direction in place of the desired direction and that is the time when designers use the smoke of VFX for maintaining it in their desired direction with the desired impact.
Visual Effects can create with dangerous effects than Special Effects cannot create even with lots of expense for example with VFX we can create high explosion effect without harming actors, stunt people as well as team member who is working on that scene whereas if you go with the on-set process then there will be lots of risks with more expense for creating these type of effect.
This question must become in your mind that will VFX replace SFX? So let me explain that SFX and VFX are complementary to each other because there may be sometimes filmmaker can haven't a big budget for creating fire, smoke, and snow like heavy effect for widescreen with SFX then they go with VFX with less budget for increasing this effect.
It was discussion of VFX and SFX for adding effect, elements during doing multimedia platform task. Now you can analyze on your own basis what is the importance of both types of effect in their field of work.
Conclusion
Here in this article, we told you all major aspects of Visual Effects and Special Effects which are necessary for understanding their features, using and working capacity. Now you can find out the benefits as well as losses of using them in the creation of effects during the making of different types of digital media staff.
Recommended Articles
This is a guide to Visual Effects vs Special Effects. Here we discuss the key differences with infographics and comparison table. You may also have a look at the following articles to learn more –