Updated June 13, 2023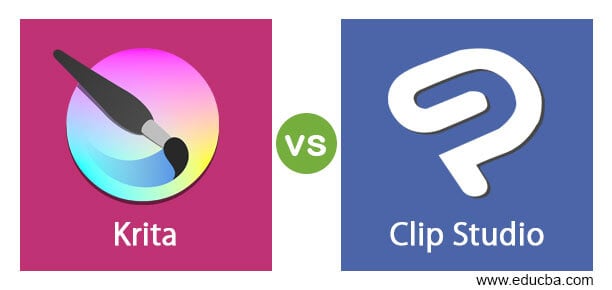 Introduction to Krita vs Clip Studio
Krita is a raster graphics editing software that is free and open-source software. Being raster graphics editing software it works on digital Painting and 2D animation primarily and has many different features such as color management, offers non-destructive mask & layer, and many other important features it has. Clip studio is generally used for the digital creation of objects and characters of comics, for 2D animation, and also for some type of illustration work. In Japan, it is informally known as Kurisuta and it is a collection of some applications developed by the company Celsys. Today in this article we will discuss all important facts of both of the software for comparing features which will clear our view about them.
Now in the next movement of the eduCBA article, we will first compare Krita to Clip studio and get knowledge about what are the main terms that make them effective in their working environments.
Head to Head Comparison between Zendesk vs Salesforce (Infographics)
Below are the top 7 differences between Krita vs Clip Studio:

Comparison Table of Krita vs Clip Studio
We will compare Krita and Clip studio on the basis of system requirement, supported file format, availability, and many more thing we have in this table which are as follows:
Features
Krita
Clip studio
The first point of this table is the definition of software.
Krita is free and open-source raster graphics editing software and also works on 2D animations.
Clip studio works on the digital creation of comics, 2D animation as well as offers vector art supports.

The second point of this table is which operating system requires for having this software.
Krita is compatible with different operating systems such as Microsoft Windows, Mac OS, Linux, Chrome OS, and Android.

While Clip studio is compatible with Microsoft Windows, Mac OS, Android, Chrome OS, and also with iPad OS, iOS.

The third point is when both software were lunched and what is their latest version.
Krita was initially released for public use in June 2005 and right now its latest version is 4.4.1 which was released in October 2020. On 24 December 2020 its beta version was released which is 4.4.2.

 

Clip studio was initially released for public use in 2001 and its latest version is 1.10.5 which is its stable version of the current time and it was launched on 10 December 2020.

The fourth point of this list is languages supported by this software.
Krita currently supports Japanese and English but Russian and French languages also on its list which it will add in its updates.
Clip Studio is available in 7 different languages which are English, French, German, Japanese, traditional Chinese, Korean and Spanish.

The next point is that where you can find this software.
If u want to work on this software then you have to download it from its official website which is www.krita.org

 

 On another hand, you can download Clip studio from its official website is www.clipstudio.net

The next point of this table is the development of this software.
Krita has also its own developer company that is the Krita foundation.
Developer company of Clip studio is Celsys that is a Japanese firm.

The next point is supported file format.
Krita supports kra, ora, TIFF, JPEG, and many more.
It supports BMP, JPEG, PNG, TIFF, and many more.
Now after going through the good and informative comparison table of this article, I think we should also analyze the differences between Krita and Clip studio so let us move toward it in the next step of our article which is Key differences.
Key differences of Krita vs Clip Studio
We have a minor difference between Krita and Clip studio which we will discuss today so that you can get an overview of the features of this software. So the differences are as follows:
The first difference between both of the software is Clip studio being Japanese software offers you everything of this software in front of you on the user interface of it and you can close any panel of it after your working. You will find small buttons of different tools in it. In short, it has a moderate user interface which interacts with its user very easily.
While Krita has a well-organized user interface in which you can make arrangements according to you but one thing you will face here in comparison with Clip studio that is the element of an interface of Krita is too big to arrange them very quickly, it is quietly struggling.
The second difference between both software is Clip Studio has a very smooth and continuous paint brushes stroke because it avoids difficulties of splotches in brushes and it can also control brushes automatically instead of manual controlling. You may face problems during the making of brushes from images because Clip studio offers this facility only on the single layer but in opposite, to it Krita done it for multilayer image without any difficulty because it is piece of cake for it.
The other difference of this software is that you will have Effects layers in both Krita and Clip studio software but Clip studio makes it easier by making the clipping and masks process smooth while Krita improving its workflow speed by making a white mask for the same effect. You can adjust this inconvenient step of adding a white mask for doing the same effect in Krita by creating an action button (it will combine all steps of creating a white mask in just one button of a keyboard) from the Filters menu of Krita software.
These were important points of Key difference subheading of this article which helps us in a proper analysis of main difference and now we can easily distinguish both of the software by our own views.
Conclusion
This was our good and effective approach toward giving you as possible as much information about Krita and Clip studio software and now you can go through both of the software ones by one for having good command on them which will give you effective result in raster graphics editing as well as 2D animation creation.
Recommended Articles
This is a guide to the Krita vs Clip Studio. Here we discuss the introduction, head to head comparison with infographics, key differences, and comparison table. You may also have a look at the following articles to learn more –