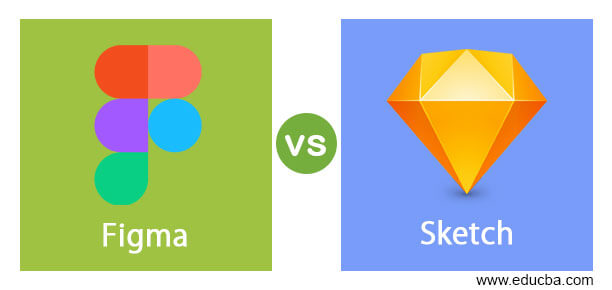 Difference  Between Figma vs Sketch
Figma vs Sketch is best question for understanding both software in better way and here Figma is vector graphics editing software which also works as prototype tool. It is initially designed for web-based platform but later with Figma Mirror companion apps its capability enhanced for mobile devices and now you can also use it with Android and IOS platforms but if we talk about Sketch then it is also a vector graphics editing software and initially it works for User interface and User experience of websites as well as mobile apps but there was no print design features with it. Later collaboration and prototyping features also added in Sketch's feature list.
Today in this article of eduCBA we will go through all essential information of the both software for getting more and more familiar with them. We have two sub headings in our article as content of it which gives you a good over view about these software and content are Comparison table and Key differences so let us first explain Compassions table.
Head to Head Comparison Between Figma vs Sketch (Infographics)
Below are the top differences between Figma and Sketch

Key Differences between Figma and Sketch
Differences gives us an over view about dominion of these software so we have number of differences in our list which are as follows:
This is the very important difference of these two software which is Figma works on browser platform whereas for Sketch you have to its desktop app on your computer. You can also have desktop app for Figma but it needs internet connection for opening of new file on desktop app of it.
Figma is new member of vector graphics editing family in comparison with Sketch and as the pricing of sketch you have to pay $99 for licensing it and enjoy it for a year with timely updates of it. Whereas Figma costs $12 for Team plan per editor per month if it is annually paid but if it paid monthly then it costs $15 per editor per month. The one thing is common between both software is both offers free trial which helps you getting interface with their features and user interface and you can build an mind set for them.
Once you start work with Figma you will find very similar user interface in it as we have in Sketch so it will be easy to switch from Sketch to Figma for doing vector graphics editing work but there is also some difference between them on context of User Interface which is Sketch use Artboards as new document for any work and Figma use Frames as new document for working on it. In Figma we have components term whereas in Sketch it indicates with name Symbol.
Figma is full package of creation and collaboration for doing is work in smooth way while in Sketch for doing its work properly you need InVision, Abstract or Zeplin software also.
Figma offers you to share and collaborate designed file in real time which is not possible in Sketch software and makes Figma's features greater to sketch's that mean you can do prototype interactions, share links of your work or prototype, get feedback through comment in Figma and these things helps in smooth workflow.
Although Figma is new member of this field but it has tremendous designing tools and offer effective features in this area which makes it superior to Sketch. It has Grids and Constraints which provides full flexible environment during resizing and lay outing. You can also do resizing of group object in Sketch but it has limited number of option for it.
Here we approached to give you lot of information about both software for solving out your confusion  about these vector graphics editing software by the number of facts and main features of Figma and Sketch software.
Comparison table between Figma and Sketch
Comparison table is very good medium for understanding main fact of different software. So here we have number of facts in our table and these are as follows:
| | | |
| --- | --- | --- |
| | Figma | Sketch |
| Definition | Figma is vector graphics editing as well as prototyping software which works on web-platform but now its capability enhanced for mobile devices also. | Sketch is also vector graphics editing software and used for designing of user interface and user experience of websites as well as mobile apps. It was later enhanced with prototyping and collaboration features. |
| Developers with initial release date | Figma was developer of Figma software and released its initial version for public use in September 27, 2016. | Sketch B.V which is a Dutch company was developer of Sketch and formerly this company known as Bohemian Coding. The initial version of it released on September 7, 2010. |
| Operating system | Figma is supported on different operating systems such as Linux, Microsoft Windows, Mac OS, Chrome OS. | Sketch is a software which only compatible with Mac OS but you can use its file in different other apps for review it. |
| Latest version | Latest version of Figma was released on November 19, 2020. | Sketch has released its latest version on 11 August 2020. |
| Web address | You can find this software on its official website which is www.figma.com | If you want to have Sketch on your personal computer then you can visit on  www.sketch.com |
| File Format | Figma has capability to support number of file format such as Sketch, Fig, PNG, JPG, SVG, GIF. | Sketch supported different type of file format and these are PNG, JPG, SVG, PDF, WebP and TIFF etc. Being supported on only MAC OS operating system you can open .skerch files on Adobe Photoshop, Adobe illustrator, and other programs. |
Now after having good interaction with comparison table of Figma vs Sketch software we will move to key differences of them so that you can also find special features of these software.
Conclusion
Now you should go for trail version of both software and delve with them for extracting good features of them so that you can make any one of the software as your best choice for working with vector graphics editing as well as for prototyping. Once you try both of them one by one you can get interact with pros and corns of them on your own basis.
Recommended Articles
This is a guide to Figma vs Sketch. Here we discuss the Figma vs Sketch key differences with infographics and comparison table. You may also have a look at the following articles to learn more –