Updated April 15, 2023
Difference Between AMD and Nvidia
CPU manages general operations of a computer, such as reading the instruction from memory, processing it as per the program logic, and storing the memory results. The graphics processing unit (GPU) manages the rendering of 3D Graphical images on the screen. If the CPU is the brain of a computer, GPU is an innovator in providing attractive images moving faster on the screen.
By design, the CPU handles minimal display and video activities, intensive graphical activities like 3D modeling in Computer-aided design, and rich video rendering for games software require services of GPU, encompassed in Graphics card. GPU manages the complex display activities with the help of multiple cores, doing thousands of operations simultaneously in parallel processing mode and using its high throughput capability.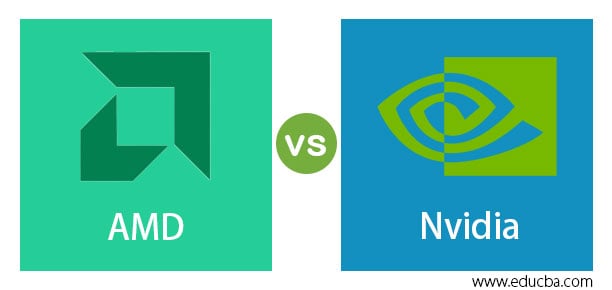 GPU is used in 3D Modelling platforms in Engineering Design to view real-size views of a part by slicing/dicing/rotating and to view sections. It is used in high-resolution video operations, 4K, and 360-degree videos. GPU is most preferred in Machine learning, Computer vision, Games, and supercomputing as it has to deal with a high volume of data and more functions to be processed at any given time.
AMD and Nvidia specialize in GPU processors, and let us compare their strengths and capabilities in detail in this article.
Head-to-Head Comparisons Between AMD and Nvidia (Infographics)
Below are the top comparisons between AMD vs Nvidia:

What is AMD vs Nvidia?
Before getting into a comparison of whose graphic card is superior among AMD and Nvidia and which card to buy, let us study their tracks first.
AMD
It started its operation in California, US, in the late 1960s as a secondary chip producer and manufacturing Ram and registers. Designed its first product, Am9080, in 1975, pitted against Intel 8080, and later entered into an agreement with Intel as a second source manufacturer in 1980. In the 1990s, it produced Am386 to compete with Intel.
The big breakthrough came in 2006 for AMD in the form of the acquisition of the Graphic processor company ATI Technologies, which gave them a GPU chip brand identity, later, in 2008, a manufacturing company, Global Foundries, was a spin-off for manufacturing. These two major activities helped AMD to establish itself as a chip manufacturer. Then onwards, it focused on Graphics and computing chips.
Nvidia
Started in the mid-1990s in California, US, and from day one focused on next-generation computing, especially Graphics. Riva TNT, their first product in 1998, established them as a graphics chip manufacturer. GeForce 256, developed in 1999, became their flagship product and helped them to gain entry into Microsoft products like Xbox. Multiple acquisitions helped them to grow as a strong player in the Graphic processor field.
Titan V, Quadro GV100, and RTX2080GPUs were released in 2017-18. Nvidia has a presence in high-end workstations also laptops also.
Key Differences Between AMD and Nvidia
Let us discuss some of the major key differences between AMD and Nvidia:
Performance: Radeon was the original product of ATI (Array Technology Inc), and ATI used to be the main rival to Nvidia. Post-acquisition of ATI by AMD, it had become a two-player GPU market with NVIDIA and AMD. Radeon brand took GeForce heads on and became their competitor. AMD has a lower market share in the GPU market, similar to what it had in the CPU market in completion with Intel. Benchmarks in comparing the performance of GPU processors can be the number of frames processed in a given time and how fast it is able to run games like Crysis. In both, the brand's Performance does not remain the same across the range of models, and it varies.
Low range (Budget models): RX590 of AMD reigns in this range of models. Run AAA-ranked games with ease and somehow manages to run 4K games as well. GTX 1050 Ti and GTX 1650 are the offerings from Nvidia in this range. Still, AMD emerges as the winner in this range.
Mid-Range: RX5700 with 8GB video memory with 60-90 frames/sec speed was the prominent model from AMD. GeForce GTX 1660 Ti is the competitor from nVIDIA in this range. These products offer equally good performance, and both AMD and Nvidia emerge as the winner.
High-Range: GeForce RTX 2060 super from Nvidia is the clear winner in this range, and AMD could offer little in the form of RX 5700 XT hardly matches its competitor.
Super-Range: nVIDIA emerges as the clear winner as AMD has little to offer in this range.
Hardware: Nvidia uses advanced technology, and it manifests in its superior performance. The heat generated is less, and hence the power consumption is also less. AMD compensates for these lacunae with its processing power by using more memory and consuming more power. This was the gap that was closed by AMD in its newer products.
Technology: Nvidia uses CUDA (compute united device architecture) cores, and AMD uses Stream processors. No performance variation is visible between these two cores.
Software: Fine-tuned software makes a difference in performance, covering the hardware gap. Drivers are frequently updated by both, and Nvidia slightly scores in consistency and stability. Barring these differences are on equal terms.
Streaming & Recording: But for improved video quality in the case of Nvidia during Streaming and recording, both the players are on the same level.
Vertical Sync Substitute: This avoids screen tearing by synchronizing the monitor's refresh rate with the frame rate. AMD's Freesync and Nvidia's Gsync provide the solution, and they are comparable in performance. Freesync is the better solution on the cost front, and Gsync wins on the overall performance,
Comparison Table of AMD vs Nvidia
Let's look at the top comparisons between AMD vs Nvidia.
| | |
| --- | --- |
| AMD | Nvidia |
| Primarily started as Compute Chip (CPU) producer and, by Acquiring, got into GPU with full vigor. | From day one, it deals with GPU and maintains its supremacy till day. |
| Have a presence in CPU and GPU markets and is in the second position in both Intel and Nvidia, taking the first position. | Presence in the GPU market prominently and little presence in the CPU |
| Excels in the low-end and medium-end ranges. | Excels in high-end and medium ranges of processors. |
| It just manages to run high-end applications. | The only processor that is truly capable to run high-end applications like 2K and 4K games. |
| Generates more heat as it uses more memory to enhance performance | It generates less power and consumes less electricity. |
Conclusion: One will have to choose Nvidia for its high frame rates and rich 3D experience. AMD fits the budget, and Nvidia fits the aspiration.
Recommended Articles
This is a guide to AMD vs Nvidia. Here we discuss the key differences with infographics and a comparison table of AMD vs Nvidia. You can also go through our other related articles to learn more –