Updated June 13, 2023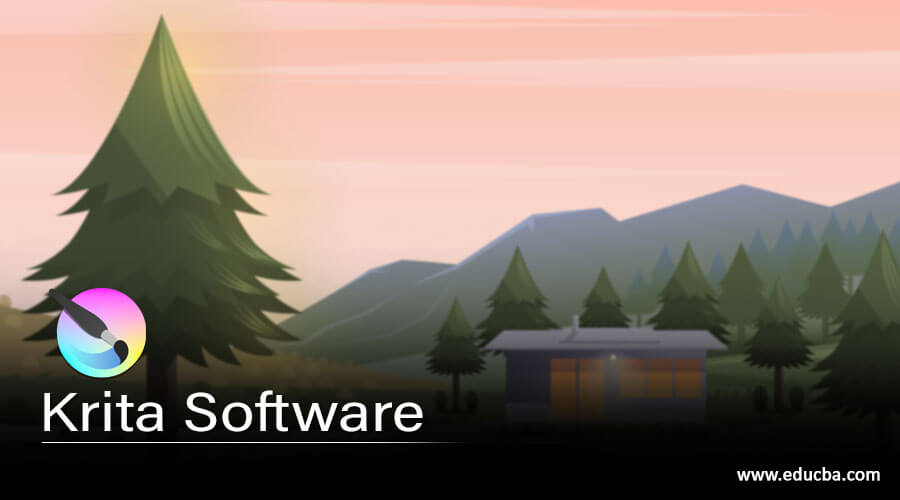 Introduction to Krita Software
Krita is a type of digital painting and 2d animation software known as a raster graphics editor. It is a free and open-source program that can run on different operating systems such as Microsoft Windows, MacOS, Linux, Chrome OS, and Android. It offers several good features, such as high-quality digital painting and raster graphics editing. It offers OpenGL accelerated canvas, an advanced brush engine, non-destructive layer management, color correction, etc. You will find many types of brushes with editable parameters for digital painting. Animation offers you Onion skin features by which you can have good control of the timeline.
So are you excited to know more about this software, such as its working ability, characteristics, and so on? So let us discuss it.
Why do we Need Krita Software?
As I told you in the introduction of this software, it has expertise in digital painting and 2d animation, so it is designed for getting high featured results in digital paint as well as raster graphics animation, and it was launched as a free and open-source program for making art tools affordable to everyone. Suppose you want to grow as an artist. You can use this software because it offers concept art, texture, matter painters features, illustrations, comics design, and other digital art-related features. There is one more reason you can use it: it is a fast and efficient workflow with an easy-handling interface.
How Does Krita Software Work?
For doing its work, it uses a combination of pen buttons, modifiers for the keyboard, and HUD, which is based on icons, ensuring that used functions can be accessed with fewer clicks. It uses graphics tablet support for digital painting and 9 different types of brush engines. It remembers settings for each physical pen so that it does not need to set your desired settings repeatedly. It works on a frame-by-frame animation principle of raster graphics, uses Timeline control for the output of individual frames, and uses a new feature, Onion Skinning. This feature allows you to see several frames simultaneously, which helps you decide how you want to draw the next frame. It works with Real-time animation playback controls as well.
Advantages and Disadvantages of Krita
Although it is a very popular software for digital painting, it also has advantages and disadvantages in many contexts. So let us have a look at the advantage of it first.
Advantages:
We have several advantages of using this software, but I will tell you some of them so you can understand its efficiency in digital painting work.
Although it is a raster graphics editor, it also offers vector tools so that we can do non-destructive editing in this software. This non-destructive feature will do editing without harming the original raster graphics. Path tool, Selection tool, Text tool, Fill and Gradient Tool, and Vector art tool are those tools that get involved in editing as vector editor. All these tools have adjustable parameters.
It has the facility for its users to make multiple-level layer groups and add masks to any layer for doing a specific type of editing.
Fully Customized panels are also available in this software, called Dockers. These Dockers can move on any side of the working screen according to our suitability.
It supports several devices like the Web, iOS, Android, and desktops.
Disadvantages:
This software has many advantages and disadvantages, so let us discuss them too.
It does not offer any customer service or team to support its use for solving problems related to this software. To get any help, you have to search on your basis or ask doubt questions related to this software or its working on community forums.
This is not a very important drawback, but you must know that it does not offer a trial version.
Career in Krita Software
If you want to grow your list of digital art designers, then it is a good choice for you to choose Krita as your pet software for digital painting. You can find several opportunities with this software because it involves project work of storybook painting, Book covers, different illustrations, and many other industries dealing with digital artworks. After having a hand full of knowledge and expertise in this software, getting the project on a full-time or freelance basis becomes easy for you. You should be creative with unique ideas for achieving a high level of digital painting artwork, and this creativity with Krita software will give you many opportunities to make your dream come true.
Uses of Krita Software
This software is fully focused on digital painting and illustration. Therefore, it is used by many professional painters to create digital paintings. For this purpose, it uses several brushes and offers on Canvas Brush editor, Color management, and many more. It also deals with the animation of raster graphics, which different professionals use for animations. It also works for Photo or image editing. Still, it has limited photo editing capacity as I can do retouching, apply filters for making a different type of manipulation, do cropping, and use layers arrangement for setting the order of layers.
These were some important content you should know about this software to have deep knowledge.
Conclusion
I think it was a good article about Krita software because we have discussed all possible facts and features of this software. Now you can analyze this information to extract detail of this software which can be helpful for you to understand this software. Being free and open-source software, it is a plus point for you to start working with it without paying anything.
Recommended Articles
This is a guide to Krita Software. Here we discuss the introduction, working, need, use, career, advantages, and disadvantages of Krita. You may also have a look at the following articles to learn more –