Updated June 13, 2023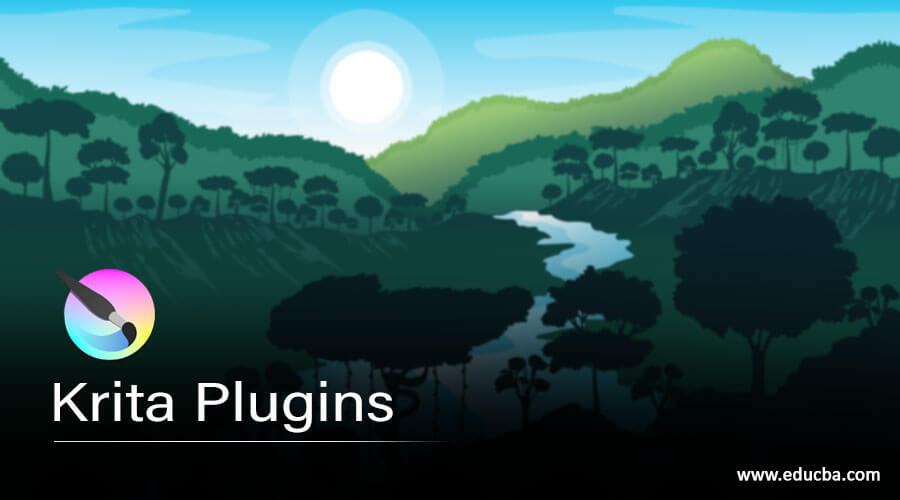 Introduction to Krita Plugins
Krita Plugins are that additional software or programs that are designed to enhance the accuracy as well as the working ability of Krita. There are several free-of-cost and paid plugins, and you can have both free and paid plugins according to your work requirement in this software. You will have a zip file of plugins when you download it for installation in your system, and by unzipping it, you can install it in the folder of Krita. Today installation of plugins is not our main concern; in fact, I will tell you about some latest plugins so that you can use them while working on this software.
List of Krita Plugins
In the latest plugin list of Krita, we can include Pigment.O, Buli Notes, Krita Reference Plugin, Spaceottercode/ Kritatoot, and so on.
So let us discuss them one by one in a fascinating manner.
1. Pigment.O
We have several good features that make this plugin most supported with Krita, and these features are:
Definition: This plugin has its expertise as Color Picker and Mixer tool and offers several tools for achieving this good result.
Color Management: It can display your active color and your previous color. You can also lock Luminosity with this plugin.
Harmony Color Management: Harmony Colors are displayed in categories such as Active color and ARD, HSL, HSV, and HUE panels.
Harmony Rules: It has rules for Harmony such as Monochromatic, Complementary, Analogous, Double Complementary, and Split Complementary Double.
Multiple Panels: It has the facility to display multiple panels such as the FGC panel, RGB panel, ARD panel, HSV panel, HSL panel, Hue panel, YUV panel, Gam panel, Dot panel, and Obj panel. All these panels are used for different purposes, such as using an FGC panel to display color temperature and harmony set.
Hex Code: It offers Hex color coding of independent color through which identification of color becomes easy for you; not only this, you can also lock the CMYK channel for stable mixing of color.
Adjustable and Scalable UI: Features offered by it are adjustable and Scalable for UI, which provides a smooth working environment for UI.
Setting/Quick access options: Settings for different parameters can easily do in it, and it has a quick options feature, saving you time in this software while working with it.
2. Buli Notes
Buli Notes also have several functionalities and characteristics for adding notes in the Krita file, which will be saved with the native file format of Krita.
Definition: It can be considered a note manager plugin of Krita, which can manage notes for addressing different types of components and will be embedded with the .kra file.
Notes Docker: All the notes made by this plugin in the .kra file will be available through docker, and in docker, you will have a List of defined notes, Add/Edit/ Remove notes option, Lock/Unlock notes option, Pin/ Unpin notes, and so on.
Three Types of Note Arrangement: It offers three types of notes Title, Description (you can describe anything in this note), and Color note.
Automatically Set Date/Time: One good thing is that it automatically sets the date/time on notes for the last modification and creation.
Text Editor: With Text Editor, you can choose font family, set font size, text weight, text style, and text alignment, and also add bullet points.
Hand Written Notes: It allows you to set handwritten notes on a scratchpad.
3. Krita Reference Plugin
You will also have some of the unique features in this plugin, which are as follows:
Definition: It is compatible with Krita 4.0.0 and uses for replacing removed reference images, docker, quickly in this version of Krita. One thing you must remember is that it is only for temporary removal.
Reference Image Tool: In Krita 4.1, the Reference Image Docker has been replaced with the Reference Images tool.
Zoom In/Out feature: If you want to Zoom In or Out, you can scroll the mouse wheel by holding the Ctrl button on the keyboard.
Color Picker: With this plugin, we can pick a color from a reference, and for that, we have to click on our desired part of a reference, and its preview will display on the top of the Docker.
4. Spaceottercode/Kritatoot
Kritatoot is one of the best plugins of Krita software with lots of advanced features that are:
Definition: This plugin is used for posting our images to Mastodon from inside of Krita, and it is ready to use the plugin because no external dependencies are required. It has an MIT license.
Post document directly into Mastodon: It is for Krita 4.x that allows you to post a copy of your current document directly on Mastodon.
Directly Export and Post Copy of Document: It always offers you to export and post a copy of the current document easily. By default, the exported image will be in PNG format if the current document has never been saved.
Privacy and Message setting: There is an arrangement for specifying messages, a privacy setting of your toot such as Public, Unlisted, Direct, and Follower-only.
Limitation: This plugin has some limitations: you can post one image per toot, and if you want to specify a focal point, it will not implement it. There is no input for alternate text only.
Features depend on Mastodon Server: One crucial thing about it is that the Mastodon server sets the maximum size and type of file.
After going through this article, you got information about some of the essential plugins of Krita software, and you can use anyone to have a solution for your work Krita software.
Conclusion
We have discussed all features and facts of the plugins of Krita so that we can have deep knowledge about them. Now you can choose plugins from our discussed plugin of this software to enhance the working ability of Krita software to get the desired result in your work. You can also try other plugins for this purpose because several others are on the market.
Recommended Articles
This is a guide to Krita Plugins. Here we discuss the introduction and list of Krita plugins along with features. You may also have a look at the following articles to learn more –