Updated July 27, 2023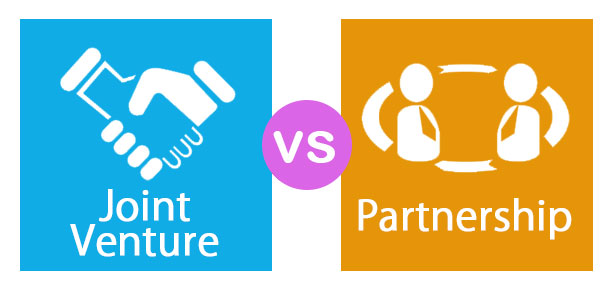 Difference Between Joint Venture vs Partnership 
Here we have first to understand that even if we talk about Joint Venture or Partnership, both are business forms, meaning that the ultimate purpose in both terms is to earn a profit. So here, names and processes are different, but the ultimate objective of both joint ventures vs partnership terms are the same.
What is Joint Venture?
First, we understand the meaning of the two words Joint and Venture; what do these two words mean?
Joint: It means something that can be done or completed together.
Venture: It means business.
So basically, Joint Venture means Joint business, which is the meaning of the Joint Venture. Now let's understand the concepts of the Joint Venture with the help of the small example.
Let's say there are people, John and Andy, both are professional builders. John has his office in California, and in California, he has undertaken lots of projects. Andy has his office in Santiago, and in Santiago, he has undertaken lots of projects. So both work separately but know each other because they are in the same profession. Now let's say John has $20 Million, and Andy also has $20 Million.
The government published a tender in the newspaper to construct the building, and the minimum capital required is $40 Million; only they will consider any company to give the tender. John saw a tender in the newspaper, and he became very much interested in this tender to undertake the project and earn a profit. Still, the problem was a lack of finance because John had only $20 Million, so he couldn't apply for the tender. But John reached out to Andy, talked with him, and came to an agreement called a temporal partnership. They can both contribute to the tender and can do this project together.
So, they can do this together; that is what Joint ventures mean. Two or more persons of the same field/profession coming together for a specific task is called a Joint venture. After the completion of the specific project, the temporary partnership they created gets terminated as per the agreement.
So, from the above example, it is clear that a Joint venture is nothing but two or more person who works separately and comes together to make profits and later again disconnect and work separately is called as Joint Venture.
What is Partnership?
The partnership is nothing but the relationship or association between two or more persons, who start the business, and who have agreed to share the profit and losses of the business carried on by all or by any of them acting for all. In partnership, mutual understanding is between the partners to run the business because the decision by one person may impact other partners, or others have to face the consequences of the decision. When two or more people come together for the common purpose of starting to do a business and who have agreed to share management and profit and losses is called Partnership.
A partnership is a legal business, and its partners are also legal, and the most important thing in the partnership business is belief. It is based on a fiduciary relationship. In the partnership, profit shares among the partners are as per the capital they invested and the investment duration.
Feature of Partnership Firm
Agreement
Membership
Sharing of Profit and Loss
Simple Dissolution
Mutual Trust
Joint ownership
Joint Management
Unlimited Liability
Number of Partners
Registration of the Firm
Lawful Business
Head-to-Head Comparison Between Joint Venture vs Partnership (Infographics)
Below is the Top 9 Comparison between Joint Venture vs Partnership:

Key Differences Between Joint Venture Vs Partnership
Below are the Key differences between Joint Venture vs Partnership.
A Joint Venture is a business entity created by two or more persons/parties by and large characterized by pooled ownership and parties in a Joint venture known as co-venturers. However, a Partnership is a legal arrangement where partners agree to cooperate to advance their mutual interests, and participant in partnership is known as partners.
A Joint Venture is formed between the parties to achieve a precise goal in a specific time period, and profit earning may or may not be the goal of a Joint Venture. In contrast, Partnership is not limited to only one project or goal. Rather, it focuses on running a business long-term and making a profit from it.
In a Joint, Venture a business comes to an end as soon as the parties achieve a precise goal; however, partnership partners can close their partnership firm only after mutual consent. So, it shows that Joint Venture is a short-term contract, and a partnership is a long-term contract.
There is no special Act or law for Joint ventures; however, there is a separate act by the government for partnership.
Accounting for Joint ventures is not an ongoing concern since it is for short terms. The method of accounting for the joint venture is liquidation accounting. Whereas, in the case of a partnership firm, accounting is going as per ongoing concern basis; in short, partnership firms need to maintain books of accounts.
In a Joint venture, there are no joint and several liabilities unless there is a special agreement. However, a partnership has joint and several liabilities on partners.
Joint Venture vs Partnership Comparison Table
The Joint Venture differs from a Partnership in the following aspects:
| | | |
| --- | --- | --- |
| Difference | Joint Venture | Partnership |
| Scope | A Joint Venture is limited to a specific period, called a specific venture, in which two or more persons carry on business. | A Partnership duration or time period is not a fixed and continuous ongoing concern basis, and it is called not limited to a specific venture in which two or more persons carry business as per mutual understanding. |
| Persons Involved | The parties carrying on a business in Joint ventures are Co-Venturers. | In Partnership, parties are partners. |
| Ascertainment of Profit or Loss | The Joint Venture ascertains the Profit or Loss at the end of a specific venture or on an interim basis. | In the Partnership, profit is Annual. |
| Governing Law | There is no specific act that regulates the Joint venture. | Partnership firms are governed or regulated by the government. |
| Name | It's not necessary to have a specific name. | It is necessary to have an identifiable name for the Partnership firm. |
| Accounting | No need to maintain a separate set of books. | It is needful to maintain a separate set of books. |
| Method of Accounting | Liquidation accounting. | Accounting is as per the ongoing concern basis. |
| Competition | The co-ventures can be in competing for business, and no such restriction is on them unless the restriction is incorporated in Joint Venture agreements. | In partnership, partners are not generally allowed to compete for business. |
| Purpose | It is a terminable profit-seeking venture. | It is a continuing profit-seeking enterprise. |
Conclusion
Joint Venture vs Partnership are forms of business. Still, they are two different entities, which differ from each other, as mentioned above, and these two terms come into the picture when an individual or business needs additional funds or technical expertise. Nowadays, various companies form a joint venture to complete a precise goal, and after completing the goal, the joint venture between them also ends.
In partnership firms, partners come together to earn the profit and share the profit and loss jointly, so partnership firms have longer life terms than Joint ventures. One important thing to understand here is that liability in a Joint venture is less. Whereas, in a partnership, liability is unlimited because the entire firm is there- there is no other business.
Recommended Articles
This has been a guide to the top difference between Joint Venture vs Partnership. Here, we also discuss the Joint Venture vs Partnership key differences with infographics and a comparison table. You may also have a look at the following articles to learn more-