Updated July 28, 2023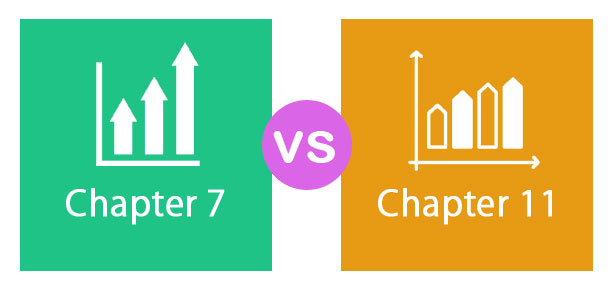 Difference Between Chapter 7 vs Chapter 11
The following article provides an outline for Chapter 7 vs Chapter 11. If any business/person is thinking of filing for bankruptcy, this is not an easy task/decision. There are many complications, but one has to decide which bankruptcy chapter to file. Chapter 7 of bankruptcy is also known as liquidation bankruptcy or straight bankruptcy. Under this chapter, the debtors can surrender assets and quickly eliminate unsecured debts like personal loans, etc., which have no collateral.
In addition, there will be no repayment schedule under this type of bankruptcy since the asset liquidation will help recover the debt value. On the other hand, Chapter 11 bankruptcy, also called rehabilitation bankruptcy, allows the party filing bankruptcy to pay their debts back over time. In other words, it is a more organized approach that helps businesses to restructure their operations and emerge as a more healthy organization.
Head-to-Head Comparison Between Chapter 7 vs Chapter 11 (Infographics)
Below are the top 7 differences between Chapter 7 vs. Chapter 11:

Key Differences Between Chapter 7 vs Chapter 11
Chapter 7 vs Chapter 11 are the bankruptcy sections that individuals or businesses can use to file the bankruptcy.
Although these two chapters provide in filing bankruptcy, there are differences which are as follows:
Chapter 7 is the final step of any business. The business operations will no longer exist under this section. It is not the case with Chapter 11 filling, as this filling helps restructure the debt and allows businesses to continue their operations.
The company is disposing of its debts by liquidating the assets to pay the creditors. But, on the other hand, Chapter 11 keeps the hope alive that business will come back in the future.
The cost of filing bankruptcy under Chapter 7 is relatively lower than Chapter 11.
Under both the chapter, a trustee has a different role to play. In Chapter 7, the business will seize its operation, and the trustee will sell the assets to repay the creditors. In Chapter 11, the trustee will only oversee the operation of the business and debt restructuring.
There is no need for an attorney to file bankruptcy under Chapter 7, but filling under Chapter 11 is a complex process requiring more knowledge.
Chapter 7 vs Chapter 11 Comparison Table
Let's look at the top 7 comparisons between them:
| | |
| --- | --- |
| Chapter 7 | Chapter 11 |
| Chapter 7 is the last step of their operations for any individual or any business, and they seize to operate after filling under this section. | This section allows the party filing bankruptcy under this section to reorganize the bankruptcy and continue its operations. |
| This section's attorney cost and filing fees are substantially lower than in Chapter 11. | This section's attorney cost and filing fees are substantially higher than in Chapter 11. |
| In this section, debtors do not pay creditors back but receive a share of the money when the assets are sold. | In this section, debtors must have a reorganization plan outlining how the creditors will be paid back. |
| A trustee is appointed in this section, who can decide to operate the business for some time before closing all the operations to generate some money for the creditors. | A trustee in this section does not sell the assets but supervises the operations, and the business will continue to operate by the owners. |
| Chapter 7 has limited forms for filing bankruptcy and is fewer in number than Chapter 11. | The forms in Chapter 11 are more complicated than in Chapter 7. |
| Chapter 7 bankruptcy can be filed without an attorney. | Chapter 11 bankruptcy filing needs an attorney's help since it requires more knowledge of the bankruptcy code. |
| Debt is absolved in Chapter 7 filling. | Debt is not absolved but restructured, and there is a change in the debt. |
Conclusion
After discussing the above points, we can infer that both Chapter 7 and Chapter 11 are similar in that both are useful sections if some individual or business wants to file bankruptcy. But they are different in the way they work. For example, if the reason for applying for bankruptcy is that the party wants to shut down its operations, then Chapter 7 is useful. Still, if they want to continue the business operations, chapter 11 is effective.
Since in Chapter 7, the businesses shut down their operations, all of their assets are sold off, and the proceeds will be used to pay the creditors. So that is why there is no need for the debtors to pay any money or have any repayment schedule. But in Chapter 11, debtors must have a repayment schedule that will determine how the creditors will get paid. Chapter 11 is a more complex process than Chapter 7; therefore, the cost is also higher than Chapter 7. In a nutshell, Chapter 7 vs Chapter 11 have pros and cons, and it solely depends upon the purpose or intention of filing bankruptcy, which will eventually help select which chapter to use.
Recommended Articles
This article has guided the top difference between Chapter 7 and Chapter 11. Here, we also discuss the Chapter 7 vs Chapter 11 key differences with Infographics and a Comparison table. You may also have a look at the following articles to learn more –