Updated June 15, 2023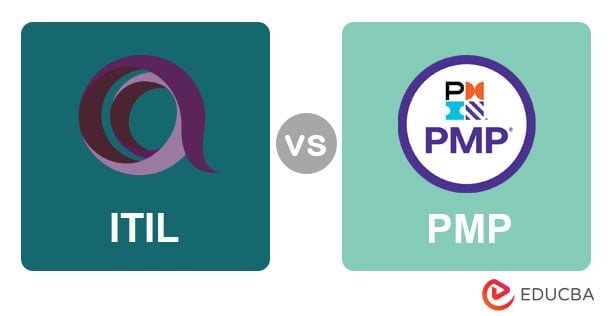 ITIL VS PMP – In the modern era of professional expertise, it has become increasingly important for those involved in managing critical projects and processes to gain an edge over the competition in terms of their knowledge and skill sets, along with the ability to inspire confidence in the stakeholders.
If observed closely, a project manager is involved in defining and implementing effective work strategies to achieve quantifiable success in terms of pre-defined goals at every stage of a project.
In a modern setting, where cross-industry global projects are more of a norm than an exception, large-scale corporations are wary of hiring someone they cannot rely on completely with such a role, especially with the involvement of technological, financial, and human resources.
This is one of the primary reasons why along with professional experience, requisite certifications have nearly become the order of the day for project managers and those in equivalent positions in order to make an impression on their employers.
However, some professional certifications have aggressively acquired this space, and choosing the most suitable credential for a professional is no mean task.
Two of the leading certifications which attract the attention of aspiring and existing project managers include ITIL Certification and PMP Certification, each with its own distinct set of advantages.
ITIL vs PMP Infographics
Why ITIL & PMP?
Both certifications speak of adopting a structured approach to managing specific projects and related tasks. They naturally gain relevance for professionals in the field of project management.
Today, project managers have difficulty choosing which certification would adequately meet their professional needs.
This is why a comparative approach is necessary to study these certifications' inherent advantages and disadvantages and their specific methodologies.
This should help professionals understand what these credentials offer and choose accordingly. However, first, we need to discuss each of them individually and then only try to compare them.
ITIL Certification:
ITIL stands for Information Technology Infrastructure Library. The certification help professionals become acquainted with the principles of enterprise IT management.
In order to achieve this objective, as a part of comprehensive ITIL training programs, candidates are introduced to a standard IT service management framework
The purpose of ITIL is to help professionals become acquainted with the best codes and practices in the field of IT service management.
ITIL's Philosophy:
This leads to enhanced efficiency in the execution of IT projects and assists organizations in delivering greater value to their customers. The whole concept of ITIL revolves around IT service management and is primarily based on a life cycle approach.
This methodology has been especially useful for organizations engaged in providing IT services. However, this unique framework can also be a specific enterprise management need of non-IT organizations.
PMP Certification:
PMP is a highly valued credential offered by Project Management Institute (PMI), designed to help project managers imbibe project management's fundamental principles and practices as embodied in PMBOK (Project Management Body of Knowledge).
Painstakingly developed by PMI over the years, PMBOK serves as a universal guide for project managers worldwide, detailing a highly effective framework for project management that sets it apart from most other project management certifications.
PMP's Philosophy:
PMP focuses on the processes, tools, and methodologies for successful project completion. It is wider in scope than ITIL in almost any industry because its principles and methodologies apply to projects of any scope and size.
Instead of focusing on a life cycle approach and the services aspect of an organization, it focuses on techniques for efficiently carrying out specific projects with a finite scope, time, and budget.
Different Schools of Thought:
Some experts consider ITIL and PMP to have different methodologies. Their individual advantages and disadvantages must be weighed to choose the right certification based on its relevance for any professional.
However, a different school of thought suggests that although these credentials advocate different methodologies, they can be combined to create greater value and complete highly complex projects and undertakings with high precision.
Next, we will analyze in what ways ITIL and PMP are similar. Also, what makes them unique before studying whether the methodologies they represent can be combined successfully?
What is Common in ITIL & PMP?
Despite their differences, the ITIL and PMP frameworks share many characteristics, such as heavy reliance on a complex set of tools and processes for carrying out a complex set of tasks. This increases efficiency within the particular context of a project or an organization.
ITIL addresses the needs of an entire organization in terms of streamlining its service management and improving processes through a lifecycle approach. PMP is more focused on managing an individual or set of projects than dealing with organizational operations.
What makes them Different?
So far, it sounds like the only key difference between these methodologies is that one deals with the service aspect of an organization instead of each individual project. In contrast, another is about managing individual projects efficiently.
However, another major difference is that where ITIL is concerned with managing the service and other aspects of only IT enterprises, PMP describes managing projects related to almost any industry.
Another important difference is in the way their methodologies proceed to define the core set of processes involved.
Breakdown of Processes in PMP & ITIL Methodologies:
ITIL Methodology:
As already discussed, ITIL defines a comprehensive and coherent set of best practices for IT service management.
Although primarily meant for IT organizations, its unique framework can be adapted and implemented by organizations of almost any kind and help deliver value and improve organizational strategy regarding service management.
ITIL breaks down IT service management into two areas, including IT service support and service delivery, each with sub-processes.
IT Service Support:
This area of service management is concerned with applying principles that hold the key to providing IT services effectively without compromising on quality or other aspects.
IT Service Support includes six processes:
Configuration Management
Incident Management
Problem Management
Change Management
Service/Help Desk
Release Management
IT Service Delivery is concerned with applying principles for ensuring the quality of deliverables in terms of IT services to the customer.
IT Service Delivery includes five processes:
Service Level Management
Capacity Management
Continuity Management
Availability Management
IT Financial Management
PMP Methodology:
According to PMP, a project is a complete and closed entity with specific needs from the entire organization. Each project is bound and defined by the limitation of its pre-allocated budget, time, and scope.
The goal of a project manager is to complete any project within these predefined parameters implementing this methodology. They ensure that any unforeseen changes affected during a project are accommodated without adversely impacting the outcome.
In order to achieve its project management objectives, the breakdown of processes is carried out in a completely different manner. PMBOK defines all these processes and their principles for guiding project management professionals worldwide.
PMBOK defines 5 core process groups, including:
Initiating
Planning
Executing
Monitoring & Controlling
Closing
With a view to studying and comprehending processes better, they are 10 Knowledge Areas (KAs) in PMBOK Guide:
Project Integration Management
Project Scope Management
Project Time Management
Project Cost Management
Project Quality Management
Project Human Resource Management
Project Communications Management
Project Risk Management
Project Procurement Management
Project Stakeholders Management
It is relevant to point out 47 processes in the 5th Edition of the PMBOK Guide. These classifications, including process groups and KAs, only classify them differently to understand their relevance in varying contexts.
Where process groups classify these processes in terms of relevance in different project phases, KAs classify them in terms of functional areas when studying them.
Certification Levels:
PMP Certification Path:
This is one of the most important aspects when comparing these two certifications. As far as PMP is concerned, it's just a single, stand-alone certification, but highly valued.
There are no basic or advanced levels of PMP. However, beginners in project management can opt for CAPM (Certified Associate in Project Management). This requires relatively lesser experience than the PMP exam.
ITIL Certification Path:
On the other hand, ITIL offers a certification path to accommodate the learning needs of IT professionals of different levels. This includes:
ITIL Foundation
ITIL Intermediate Level
ITIL Managing Across the Lifecycle
ITIL Expert Level
Here, we are discussing the merits of ITIL Foundation Level as compared with PMP for any project management professional. The foundation level imparts the knowledge of fundamental principles and concepts related to the ITIL Service Life cycle.
It helps them become familiar with the basic ideas of ITIL methodology and keep going in the right direction.
Prerequisites:
What does it take for a PMP?
Professionals require at least 7,500 hours or 4,500 hours of documented project management experience, depending on if they have a secondary-level diploma or a 4-year bachelor's degree or its global equivalent, respectively. In addition, through a contact learning program a professional must earn 35 PDUs or Professional Development Units.
What does it take for ITIL Foundation Level?
For ITIL Foundation Level, there is no eligibility criterion for qualification or work experience for aspiring candidates. Moreover, it can be a good certification choice for IT professionals or business managers.
However, advanced levels of ITIL certification do need one to have earned preceding certification, including that of ITIL Foundation Level certification.
What does all of this Means?
With almost no prerequisites, it is evident that it is difficult to consider ITIL Foundation Level certification on par with PMP. Comparing them as competing certifications regarding professional experience may not be fair.
However, the certification path that the Level opens up for professionals holds greater significance.
Going a step further, it may be a good idea for someone holding a PMP to opt for this Level of certification. It would help gain a basic understanding of IT service management and also help earn a good number of PDUs required to retain the PMP certification.
Any PMP should earn 60 PDUs within 3 years to retain the certification. Depending on the education provider, they should go for ITIL Foundation Level to get 17-25 PDUs.
Making the Hard Choice:
We can now attempt to compare and find out if and whether ITIL and PMP hold relevance to what kind of professionals.
At the outset, it may be clear that any project management professional in the non-IT industry also can safely stay away from ITIL.
However, this would be a good choice for PMP professionals who wants to learn IT service management.
Having said that, it may also be useful to remember which certification is more valued and favored by leading employers in your location.
Combining ITIL & PMP Methodologies:
Likewise, professionals with a PMP can learn a great deal with ITIL and combine the two approaches for better managing IT-related projects and understanding the intricacies of organization-level service management.
For someone in the IT industry, ITIL is a natural choice. However, in terms of professional recognition and expertise, it is recommended not to stop at Foundation Level and earn advanced ITIL certifications
Additionally, someone in the IT industry aspiring to be a project manager within or elsewhere would benefit from earning a PMP.
Conclusion:
To summarize, ITIL and PMP represent two completely different methodologies that find application in different industry-based contexts. They do have their areas of overlapping functionalities.
If they are brought together, as some experts aggressively advocate, it can also serve as a fitting example of the whole being greater than the sum of its parts.
This is because a synergistic combination of these approaches would not only help manage individual projects better and improve service management. This would ultimately lead to the creation of value-driven services within the project and the organizational service management.
Recommended Articles