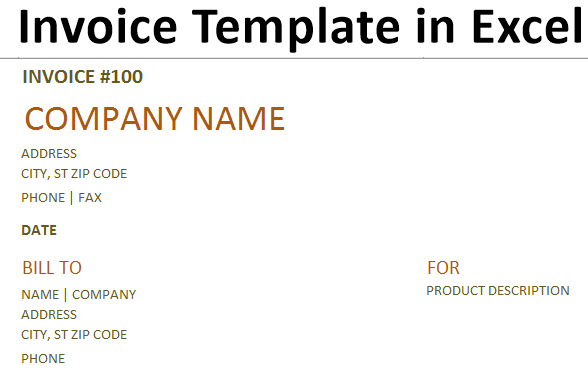 Invoice Template in Excel (Table of Contents)
How to Create Invoice in Excel?
When you run a business, it becomes more important to keep invoices for the purchase or sales you made. Invoice is nothing but a formal document which you send to your customer requesting payment for the purchase they made. It is nothing but the paperwork which allows you to have a detailed history of transactions which has happened against the work you have done. If you have an invoice well maintained and well crafted, it strengthens your relationships with clients as well as allows you to maintain transactions at the organization level. Even though excel is much known for the dashboards and analytical things with the help of logical and standard formulae it can use, you can also create fancy invoices in it with the help of some built-in templates. In this article, we will see how one can create an invoice in excel from scratch as well as using the built-in templates.
Examples of Invoice Template in Excel
Let's look at some examples of Invoice Template in Excel and see how to create the Invoice Template in Excel.
Example #1 – How to Create Invoice in Excel using a Predefined Template
Step 1: Open Microsoft Excel in your windows system by simply typing "excel" in the search box. A Microsoft Excel home page will open.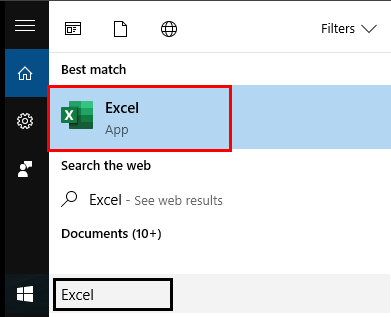 Step 2: In the search box, search for inbuilt invoice templates by typing "invoice" and press the Enter key. You will see thousands of online invoice templates present in Excel. Make sure you are connected to the internet to search those templates.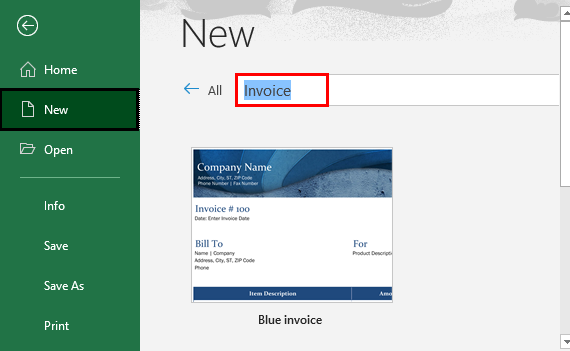 Step 3: Select and click on a template appropriate and fulfilling your needs.

Step 4: Once you select any template, Excel allows you to download the same and use under excel for further purposes. Click on Create Button to download and create the template in Excel.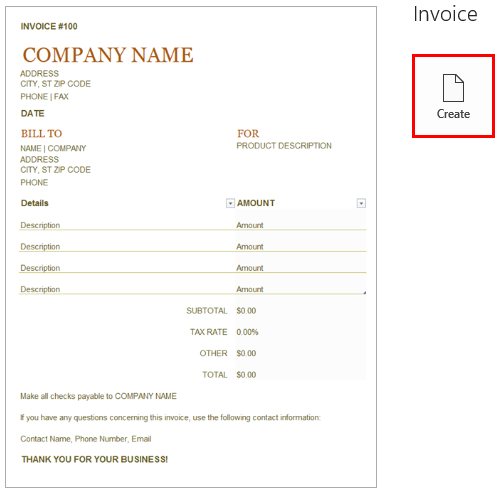 Step 5: Once you click Create button, excel downloads the template for you and opens it. You'll see a template in excel like the screenshot below.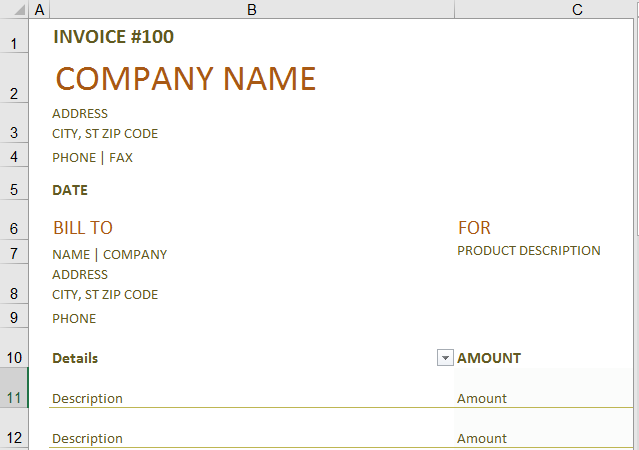 Step 6: Now you can edit and customize this invoice template as per your need. Add the company name in this template and then you can add amount associated with the goods.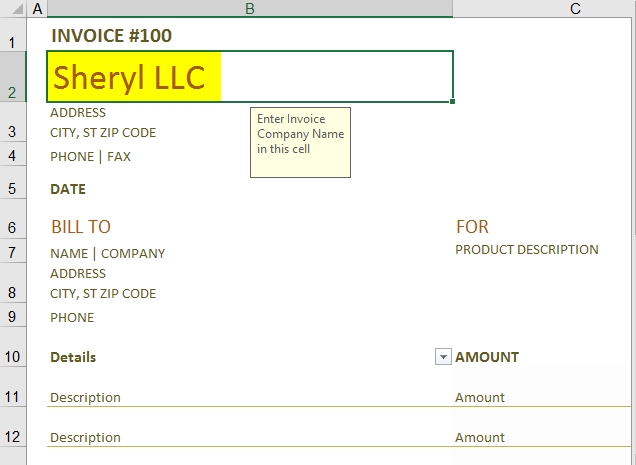 Step 7: You can add them as per the service provided and also should have a look at the final total amount. Most of the excel invoice templates are using formulas which keeps your Final Total updated.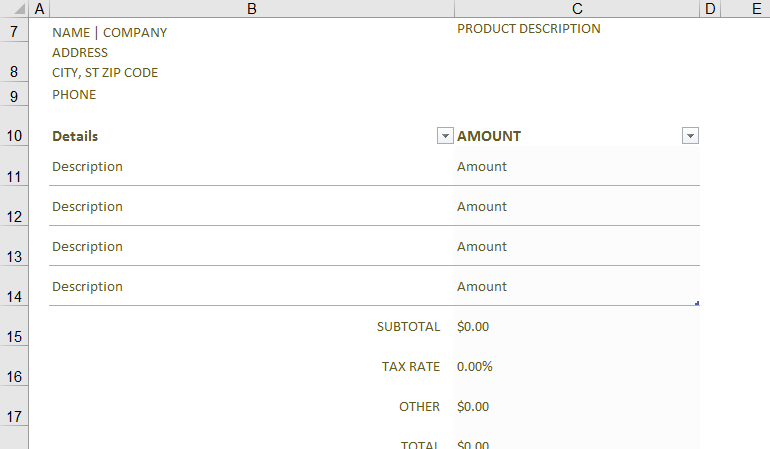 Step 8: Once you are done with the updation of the invoice, you need to save this template. Click of the File menu from the excel ribbon present at the uppermost corner. Click on Save As. Enter a name suitable for your invoice and click on the save button. This way you can save your invoice at any location in your system and can send it. This step is really important because if you fail to save the updated invoice, you will lose all the updated data from your invoice.

Example #2 – How to Create an Invoice in Excel from Scratch
Step 1: Open an Excel file by typing "excel" in the search box, double click on it. Double click on Blank Workbook it will open up a blank excel workbook.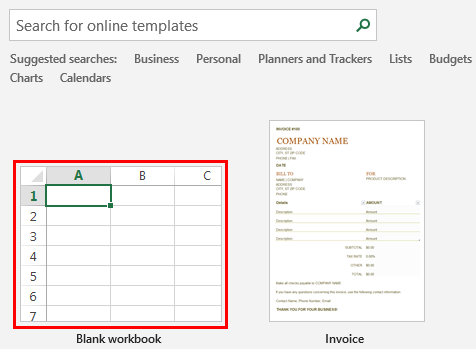 Step 2: You should add the following details under each cell as per the table below.
Company Name: The name of your company for which we should make payments.
Company Address: The address of the company along with contact details.
Date: The date on which invoice is being allocated to your customer.
Customer Details: Company name and address details of the same.
Product Description along with Amount: It allows you to add the product description which you are selling along with the amount to be added under each category.
With these details, there should be some additional details such as Subtotal, Final Total, Tax amount, Thank You note, etc.
Step 3: In cell A1, add the Company Name with alignment on left with font size 16. Make it bold and merge cell A1 and B1.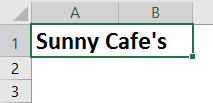 Step 4: Add the company address along with postal details on cell A2:A4.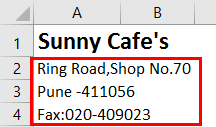 Step 5: Add Date on which the invoice is being issued to the customer under cell A5.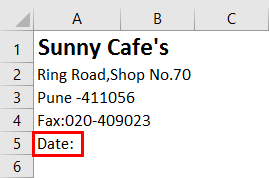 Step 6: From cell A7:A10, add the customer details including name, address and contact details.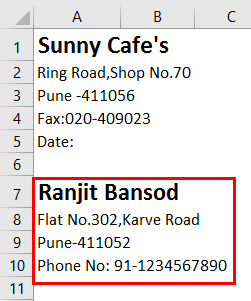 Step 7: From cell A12: B18 add the product description column and Amount associated with each product category. In column A, Product Description gets added and in column B, Amount gets added.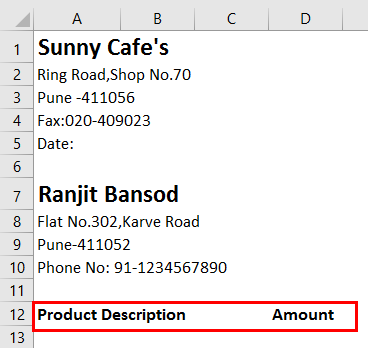 Step 8:  It's good to have these details as formatted in a table. Select a block of cells from A12 to B18 and click on "Cell Styles" menu (present under Home tab).

You can change the style of these block of cells. I prefer "Light Yellow, 60% – Accent 4 Style".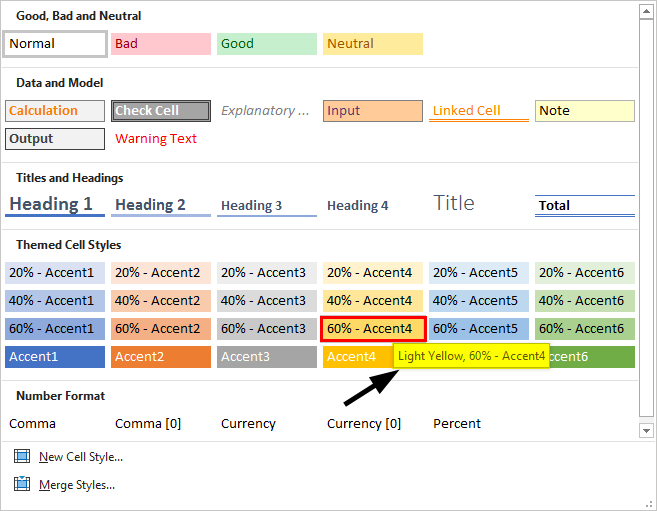 Step 9: Add a thick border to this range of cells through Border Menu present under the Home tab. Your invoice should look like below.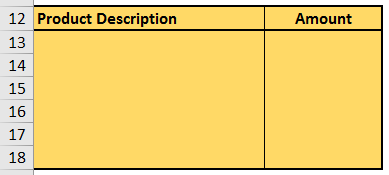 Step 10: In cell A19, add Sub Total fields which are associated with the subtotals being captured and calculated under cell B19. It's nothing but the total Amount column.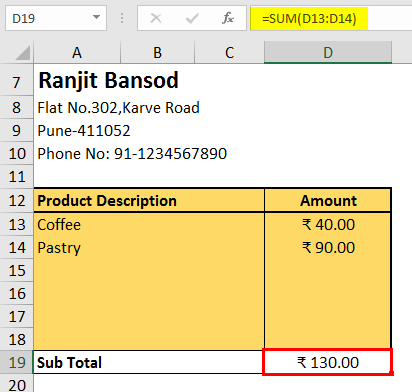 Step 11: Similarly, add the columns for Tax Rate and Final Total on cells A20 and A21 respectively. They will be reflecting the amounts in cell B20 and B21 respectively.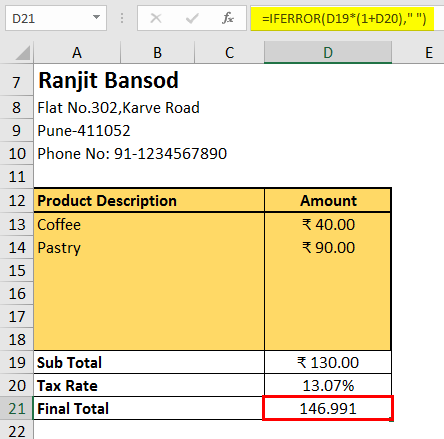 Please note that the Final Total is formulated so that it adds up the Sub Total along with the Tax Amount which gets calculated using the Tax Rate on Sub Total amount.
Step 12: Add a Thank You note in cell A22 to make your invoice complete.

Step 13: Save this file and you are through.

This is it from this article. Let's wrap the things up with some things to be remembered.
Things to Remember About Invoice Template in Excel
Most of the times, it is good to use the default invoice template that is provided in excel in-built. Make sure you have an active internet connection to download the same.
It's always recommended to have your invoice formatted in case you are generating it by your own through scrap.
Recommended Articles
This is a guide to Invoice Template in Excel. Here we discuss How to Create Invoice Template in Excel along with practical examples and downloadable excel template. You can also go through our other suggested articles –