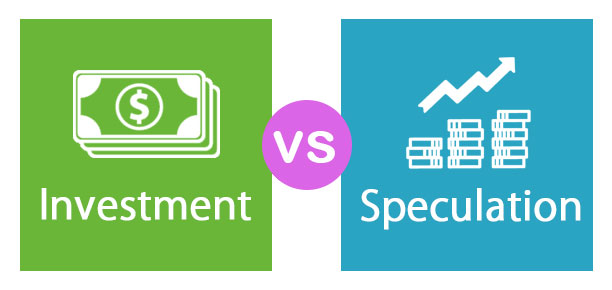 Difference Between Investment vs Speculation
Investment vs speculation terminologies are usually used synonymously owing to certain prevalent features, but it has a line of demarcation to differentiate them.
Definition of Investment
Investment involves allocating money for purchasing a product, usually considered an asset that is expected to generate regular income or appreciate in value in the future. Investment can be anything involving a person's investment of money or resources that can generate larger returns in the future.
It can involve the purchase of stocks, bonds or mutual funds, real estate, or any globally acknowledged and traded commodity. The industrial production of goods or the creation of final consumable products also requires investment. It will require the investment of time, money, and efforts for a mango farm to actually produce sufficient healthy mangoes every season so as to make a profit.
An automobile manufacturing company has to buy and hence, invest in purchasing brake pads and seat covers and engine pistons, among other things, so as to finally be able to make a fully functional car that will be sold in the market for a profit. Ultimately investments compile upon previous investments and gains to result in economic progress and growth in a nation's GDP.
Investment is an important aspect of financial planning so as to ensure that money earned using time and effort is also working for individuals, simultaneously increasing the total corpus of wealth. Money lying idle at home or in the bank savings accounts may not yield in enough returns so as to ensure future financial stability.
Most of the developed countries do not even offer any interest payments for keeping money in savings accounts, and this results in the value of your money's worth decreasing as the yearly inflation results in increased product prices.
Definition of Speculation
Speculation means trading of an asset or commodity, based on a hunch or tip, to make profits from short-term price changes. Speculation usually involves taking positions on extremely liquid assets. Speculation and investment can be done on the same asset for different reasons by people with differing opinions.
The speculation involves very high levels of risks, and the speculators either have inside information (which is considered illegal), are betting on entirely an unrelated phenomenon affecting the asset, or are people with contrarian views. Speculators do not bother to look at the fundamental value of an asset but instead play on high probabilities and knee-jerk reactions in the market.
For Example, during the recent Yes Bank fiasco involving the promoter of the bank, the stock fell from its highs of 400+ in August 2018 to 170-180 range in December 2018. Speculators believed that the issue was not even understood by everyone in the market, and people had just started selling their stocks due to rumors and incomplete information. Such speculators would buy the stock at the new lows of 170-180 and ultimately gained when the stock crossed 280 in April 2019.
Many people think that speculation is equivalent to gambling, but that is not the case. Speculation is actually people trying to make money in the short-term, and hence being proactive every second the markets are functional.
These speculators provide the market with much-needed liquidity. This liquidity helps all market participants to keep the prices at adequate levels in the market, hence dissuading larger corporations from exploiting the smaller retail investors.
Head to Head Comparison of Investment vs Speculation (Infographics)
Below are the top 6 differences between Investment vs Speculation:

Key Differences between Investment and Speculation
We will now go through the key basic differentiating factors that help us identify whether our decision is an investment decision or speculation:
An investment is the purchase of an asset or security with an aim to generate stable and expected returns over the invested principal amount. On the other hand, speculation involves taking risky positions in the market, usually against the market, and expecting to earn substantial returns.
Investments are long-term decisions, spanning across 2 to 20 years in the case of stocks or mutual funds, and even spanning over nearly 50 years if considered for investments in real estate, provident fund, and life insurance. Speculation is starkly opposite, spanning for a very short time, usually ranging from a few days to a few months, and highly dependent on certain macro-level events.
The amount of risk in the case of investments is already low to moderate and filters down to nothing due to the length of the duration of the holding period. Speculation focuses on substantial returns in a short time period, and hence the risk levels are equally commensurate and high.
An investor will use their own funds, and hence the approach in case of an investment is cautious and conservative. On the other hand, the high level of risks involved in speculation tends to depend on borrowed funds by luring in the lenders with attractive returns.
Investments tend to depend on gaining profit by an increase in the value of the asset or by regular dividend or rental incomes over a long period of time. Speculation tends to depend on exploiting information gaps or demand-supply inefficiencies in the market.
Investment vs Speculation Comparison of Table
Let us discuss the topmost differences between Investment vs Speculation:
| | |
| --- | --- |
| Investment | Speculation |
| 1. Investment is the purchase of an asset or security with an aim to generate stable and expected returns | 1. The speculation involves taking risky positions in the market, usually against the market, and expecting to earn substantial returns |
| 2. Timeline of investments is long term in nature | 2. Speculation is short term in nature |
| 3. Nature of risks involved in investments varies from extremely low to moderate | 3. The speculation involves high to extremely high levels of risks |
| 4. Investors usually use their own funds for investments | 4. Speculators tend to use a lot of leverage, and hence use borrowed funds |
| 5. Investment is a prerogative of cautious and conservative investors | 5. Speculators tend to be careless and extremely aggressive in their positions |
| 6. Investment involves a lot of study into the fundaments and the market economics related to the particular stock or commodity or asset | 6. The speculation involves technical analysis and is much more based on behavioral analysis and individual opinions |
Conclusion
Investment is a safer and more secure approach to wealth building for individuals of all classes.
A speculation is a risky approach to exponential wealth-building or wealth erosion, usually deployed by high net worth individuals and their traders, where the individual has deployed only a small fraction of his/her total wealth for these speculative transactions, and a total loss will in no way affect the financial health of that individual.
Recommended Articles
This has been a guide to Investment vs Speculation. Here we have discussed investment vs speculation key differences with infographics and a comparison table. You can also go through our other suggested articles to learn more –