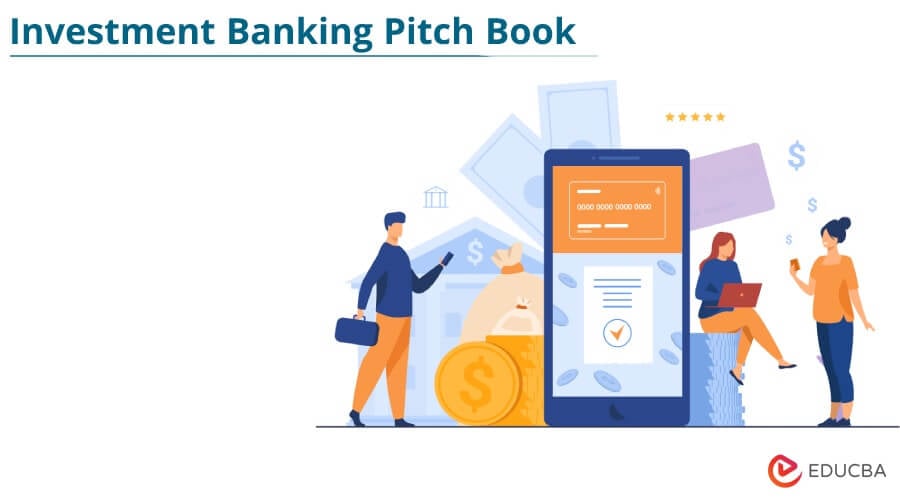 A Pitchbook is a type of sales book that is created by an investment bank that details the main features of the bank. The investment bank's sales force uses this pitchbook to aid the process of selling products and issues and also for generating new clients.
What is an Investment banking pitchbook?
Investment banking Pitch book acts as a marketing device that is used by all investment banks around the world. Investment Banking Pitch Book must have a diligent as well as proper analysis of the investment actions of the current or potential client of the bank. It should be designed and crafted in such a way that it is successful in securing dealss with current or potential clients.
Pitchbook acts as the starting point of the initial pitch or sales introduction for the investment bank when it is trying to seek new business. The approach of the investment banks while making sales is highly formalized and official. Often they follow a tailored and highly effective sales strategy.
It is indispensable to investment banks while marketing themselves to clients. It exemplifies valuable and comprehensive marketing material. It offers the bank a chance to show and prove why the clients should choose them amongst the wide variety of financing and other sources of capital.
Many contributors of the Investment bank help in the process of pitch book preparation. It involves an associate, vice-president, senior vice-president, lead of the team, and managing director. Learn more about Investment Banking Hierarchy 
Some Important Types of Investment Banking Pitch Books?
1. Main PitchBook (Market overviews / Bank introductions) 
These types of Investment Banking pitch books include all the details and information about the investment banking firm. The information includes – background details, vision & mission statements, history, management details, etc. It also embraces the significant achievements of the Investment bank. Also, the statistics related to recent deals, profits, successful investments, recent trends, and deals in the market are demonstrated in the pitch book. Hence such a pitch book needs to be updated regularly.
Contents of the main pitchbook
This Investment Banking pitch book contains slides that display the organizational details of the respective investment bank, like its vision and mission statement, history, global presence, key management personnel, and size of the company.
Further, it also contains information about recent deals, sector-specific client lists, and the services provided to them. It may also contain slides portraying the firm's ranking as compared to competitors.
 The main pitch book will also include important aspects of the market overview, such as competitor performance, current trends & deals in the market.
2. Deal pitch book
This type of pitch book is created specifically for a particular deal. The presentation focuses on demonstrating how the investment bank can specifically cater to its client's financial and investing needs.
A deal-pitch book explains details of mergers & acquisitions (M&A), IPOs & debt issuance.
The Investment Banking pitch book on deals may also list down the bank's prominent achievements and clients to assure acceptability and potential partnership.
Contents of a Deal Pitchbook
This book has information on specific details that make an investment bank look attractive and efficient.
The data is supported by graphs that show the market growth rate, the firm's positioning overview, and a valuation summary.  This helps in making a valiant representation of the firm's potential to serve its client.
It must be attached with relevant financial models, graphs, and statistics wherever necessary.
Depending on whether an investment bank is making a pitch report for M&A or IPOs, the deal-pitch book must include a list of potential buyers, potential acquisition candidates, and financial sponsors and their detailed descriptions.
It contains a summary of the proposal and, provides advice & recommendations, and information on the investment bank's role and contribution to attaining the client's goals.
3. Management presentations
When the client finalizes the deal with the investment bank, management presentations are used to pitch the clients to the investors.
Details included in the management presentations are-
Information on the client's company
Management details
Specific project
Key financial ratios.
Client's goals and how the investment firm can help achieve them.
Contents of a management presentation
This type of Pitchbook is focused on the current client, and hence it is customized to be more client specific.
It provides more information about the Client Company, highlights, products and services, market overview, customers, organizational chart, financial performance & growth forecasts.
Preparation of such a pitch book requires detailed interaction with the client and regular feedback sessions.
4. Combo PitchBook/Scenario Analysis
An investment bank prepares such a pitchbook when the client company isn't sure whether it wants to go public or sell.
Thus the pitch book is created, stating both scenarios and showing the tradeoffs between the two.
5. Targeted Deal PitchBook
Such type of pitchbook is created when your client company is approached by a buyer with an acquisition offer.
In this case, the pitchbook shows accretion/dilution under different scenarios.
6. Sell-Side M&A Pitch Books
These are created when a client approaches an investment bank stating why they should choose the particular bank.
Such pitchbook contains the following information-
Potential buyers for the client
Bank Overview
Positioning Overview (why the bank is more attractive than others)
Valuation Summary
Recommendations
Appendix
7. Buy-Side M&A Pitch Books
Such pitchbook contains similar information to the Sell-Side M&A Pitch Books but differs on the following point-
It contains information about the Potential acquisition candidates
Anatomy of an Investment banking pitch book?
All the details in the Pitchbook must be accurate and up-to-date.
There is no scope for any mistakes that may leave a negative impression on the client.
The information should be brief and to the point
It should be simple but must have a professional layout.
 Points to remember while making an Investment Banking Pitch Book
A pitchbook is like a salesman for an investment bank. Hence it needs to be perfect and professional, and at the same time, it should be convincing enough.
Important points that must be incorporated in the pitchbook are-
1.     Structure
Strengths
Show how your investment bank is different from others
Key Management personnel.
Must showcase the core competencies of the Investment Bank.
2.     Length
It should be concise – only detailing the important points.
May concentrate on a single concept per page.
Always make use of the appendix.
It must be as crisp as possible
3.     Case Studies 
Support your points with case studies wherever possible.
4.     Graphics 
Use graphics to emphasize key points.
5.     Look and feel 
Make a point to make proper use of colors wherever possible but do not overdo it.
It should be professional looking.
Must leave a lasting impression on the clients.
Related Articles