Updated June 15, 2023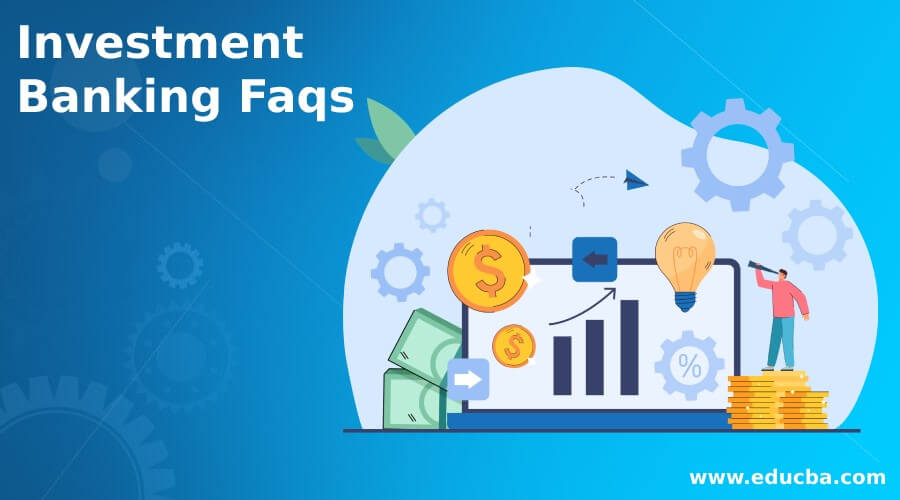 Top 6 Investment Banking FAQs.
Let us discuss some Investment Banking FAQs:
1) What is the role of an Investment Bank in the economy?
Answer: Investment Banking is important because the services they deal with play a crucial role in the economy. The Merger and acquisition services they provide help firms expand their businesses worldwide. Investment bank helps businesses in raising funds through which needful gets capital access. Also, Investment banks provide various investment opportunities to individuals.
2) What is the meaning of Initial Public Offerings or IPO?
Answer: When any company which is unlisted or it is small makes either a fresh issue of securities or an offer for sale of its existing securities or both for the first time to the public is called an Initial Public Offering (IPO)
Let's move to the next Investment Banking FAQs.
3) What are private placement and public offering?
Answer: Private Placement, as the name suggests, is selling securities privately to the selected group of investors and not to the public. These investors are generally insurance companies, large banks, mutual funds, etc.
Public Offering
A Public Offering is selling securities or assets to the public to raise company funds. An initial public offering (IPO) is a very popular type of public offering.
When a company publicly offers shares, the shareholders own a part of the company and gain the right to vote for future company decisions.
4) Is this field finished or going to be finished in the future?
Answer: No, it may happen from time to time that there is a bit of a slowdown in demand for Investment Bankers, or packages may be on a bit lower side when the market is tough, but that is a natural phenomenon.
5) What is "book building?
Answer: Book building is a process by which the price of an Initial Public Offering, i.e., IPO, will be determined. It's the method by which the shares of a company will be marketed. The price of the securities will be issued based on bids received.
Let's move to the next Investment Banking FAQs.
6) Should I take an investment banking course or training program?
Answer: An investment banking course will be very helpful if you want to excel and gain deep investment banking knowledge. Also, if you are a bit confused about whether to go for it, then take a course, go through it, and see whether you would like to do this kind of work in your career. One should go into it only if you enjoy your work, as work pressure is enormous, and if you don't like the work, it may be difficult for you to sustain.
Recommended Articles
This has been a guide to the Investment Banking FAQs. This post is a complete heads-up on Investment Banking FAQs with answers. Here are some articles that will help you get more details about Investment Banking, so just go through the link.