Updated May 26, 2023
Best Luxury Hotels in Mumbai
I am sure that all of you know about the redundant task of finding hotels in Mumbai to stay in. You have to consider many things to find your dream hotel. If you are looking for a hotel in Mumbai, you have come to the right place. It doesn't matter if you have a big or small budget; I will give you different options. There is 'room' enough for everyone. Did you get the pun? I hope you did.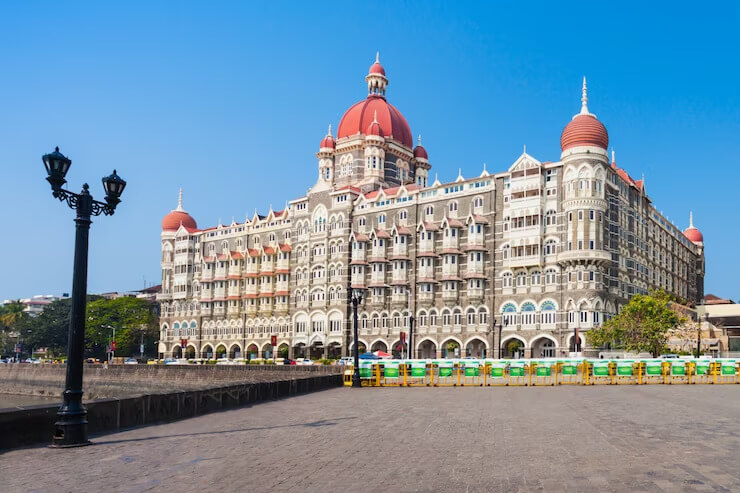 Hotels in Mumbai that Fits your Budget
Here are the top hotels in Mumbai to make your trips more enjoyable.
#1 The Taj Mahal Palace
Do you want to feel like royalty? This hotel will give you the ultimate experience. It explores the traditional and the modern in a historical context. Enjoy your iconic stay overlooking the Gateway of India. Kings and dignitaries from around the globe choose this legendary hotel for their stay in Mumbai. It is known for its hospitality, with 285 rooms and suites. Best dine-in options with nine kinds of restaurants that serve different cuisines. What else is required to make your stay memorable?
#2 Trident Bandra Kurla
The next on the list is the epitome of elegance and efficiency. This hotel is present in the heart of Mumbai. It features high ceiling dazzling chandeliers and signature sculptures with 412 rooms and 24 suites. The rooms are extraordinary, with great attention to detail on the furnishings. You can enjoy relaxing at the spa or gorge on their delicious food.
#3 The Taj Mahal Tower Mumbai
Please do not confuse this with the first hotel on the list since they have similar names and locations. It's a treat to see the Arabian Sea and enjoy the different International cuisines at the Taj Mahal Tower as soon as you wake up. The design and architecture of the hotel are jaw-dropping. It has 246 rooms and 12 suites. I am a big fan of 14th-century architecture; if you are too, you should look at this hotel. The mixture of modern and historical will leave you spellbound.
#4 Taj Lands End
If you are a minimalist, then this one's for you. Enough said. Taj Lands End is well known for its award-winning spa treatments and aromatherapy. Dip in the pool or sunbathe while enjoying the cocktail from the Tropical Bar beside the pool. You can also partake in currency exchange at the reception if required. The rooms and suites are luxurious, with a view of the Arabian Sea.
#5 Courtyard by Marriott Mumbai International Airport
Yes, that is the actual name of the hotel; you should have misread it. No matter how bizarre the title might seem, it is one of the best luxury four-star hotels that you can find in Mumbai. The hotel is known for its spectacular venues for a wedding. However, you can also enjoy a stay without a wedding on the agenda. Find yourself drowning in the experience with the impeccable services.
#6 Hilton Mumbai International Airport Hotel
This hotel is within a 5-minute drive from the airport and offers excellent services to its clients. The hotel has a blend of unique styles that blends well together. I like how they incorporate the wooden tones with neutral colors to enhance the palate without overdoing it. One of the special features of this hotel is its unique midnight buffet. You have to stay a night to find out about their amazing dishes. Trust me; you won't regret it.
#7 Ramada Plaza By Wyndham Palm Grove
You can find this hotel located on the shores of Juhu Beach. The view is enough to make your stay at this hotel memorable. You will enjoy every minute here with the impeccable services they offer. The design and ambiance of the place are warm and regal. I hope you will return here the next time you visit Mumbai.
#8 Hotel Sea Princess
It is one of the finest hotels in Mumbai, with exquisite decor with vibrant motifs, and it also fits your Budget. You can relax at the outdoor pool or the spa. It also offers delicious services and an experience that will leave you wanting more.
#9 Eskay Resorts
It is a perfect place to stay if you are looking for a budget-friendly stay in Mumbai for a few days. Eskay Resorts are curated to fit the needs of the client. You will experience a positive stay here with access to various services, including an outdoor pool and terrace. The lip-smacking dining services are also noteworthy.
Final Thoughts
There are many affordable hotels where you can stay in Mumbai, in addition to the luxury hotels. We have offered you a blend of both to compare and choose from. No matter where you end up, I hope you have a wonderful time.
Recommended Articles
We hope that this EDUCBA information on "Hotels in Mumbai" was beneficial to you. You can view EDUCBA's recommended articles for more information,