Updated May 31, 2023
Top Tourist Places in Aurangabad
Aurangabad, named after the Mughal emperor Aurangzeb now Sambhajinagar, is a well-known and popular tourist destination in Maharashtra. With its ancient and historical monuments, this charming city retains the rustic charm of the past. A visit to this historic city, also known as the 'City of Gates,' will present you with the many different places to visit in Aurangabad that provide a lively glimpse of its illustrious history.
In terms of tourism, the tourist attractions in Aurangabad, with their rich history and beauty, draw visitors from all over the country. The overwhelming crowd, the plethora of tourist options, and the unique ambiance surrounding Aurangabad make it Maharashtra's tourism hub.
Tourist Places To Visit in Aurangabad
Some well–renowned tourist places in Aurangabad are listed below:-
#1 Ajanta Caves
The Ajanta Caves, located about 99 kilometers from Aurangabad, have been added to the UNESCO World Heritage Sites list. The Ajanta caves depict Buddhist culture and stories through sculptures and paintings. The Ajanta caves are one of India's most prestigious monuments, housing many beautiful artworks and sculptures depicting the country's rich artistic heritage. The shelter, used as a retreat by Buddhist monks, represents Buddhism's serenity through its simple yet stunning sculpture. The caves' basic designs are called 'chaitya grihas' and 'viharas.'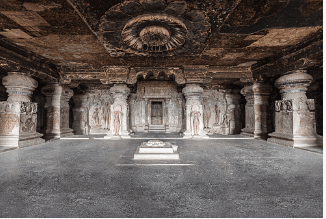 (Image Credit: Pixabay)
Timings: (Tuesday-Sunday) 8 AM to 5 PM, Closed on Mondays
Entry Fee: Camera: INR 25, Indians: INR 10, Foreigners: INR 250
#2 Ellora Caves
The Ellora caves are another World Heritage Site visited while in Aurangabad. Ellora Caves, also known as Elura, is a collection of 34 magnificent rock-cut temples in Maharashtra state, western India. The sculptures here royally and beautifully represent elements of three religions. The Ellora Caves are a UNESCO World Heritage Site celebrating Hindu, Buddhist, and Jain temples and monuments carved from local cliff rock between the 6th and 8th centuries CE.
The Kailasa temple is the most stunning example from the 8th century CE, which stands 32 meters tall and is the world's largest rock-cut monument. The most impressive Kailasa temple (Kailasanatha; cave 16) was named after the mountain in the Himalayan Kailas Range, where the Hindu god Shiva resides. Ellora is a one-of-a-kind tourist destination that transports you back in time, and it is a must-see for Indians and anyone interested in history and art.
Timings: 6 AM to 6 PM
Entry Fee: Starts from INR 40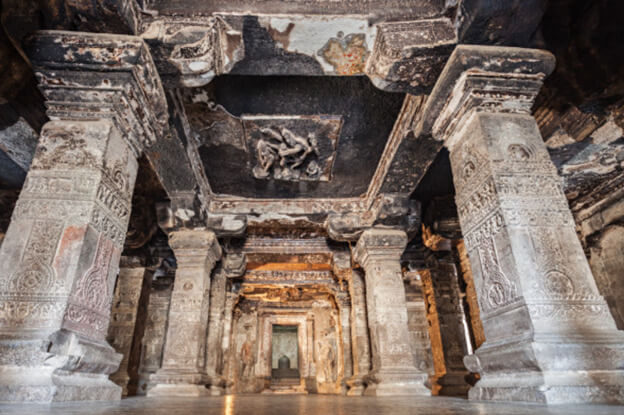 (Image Credit: Freepik)
#3 Bibi Ka Maqbara
The Bibi Ka Maqbara tomb is in Aurangabad, now known as Sambhajinagar, Maharashtra, India. Bibi Ka Maqbara was ancient between 1668 and 1669 CE in memory of Mughal emperor Aurangzeb's wife, Dilras Banu Begum, and it symbolizes Aurangzeb's 'loyalty.'
Because the Taj Mahal inspired the design, the monument is often called the Taj of the Deccan. Because of the similarities in structure, Bibi ka Maqbara has references from the "Dakkhani Taj" or "Taj of Deccan."
According to Ghulam Mustafa's "Tarikh Namah," Aurangzeb only allocated Rs. 700,000 for its construction.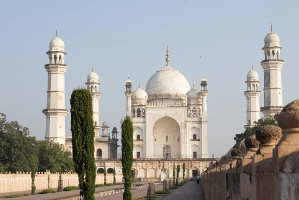 (Image Credit: Pixabay)
Timings: 8 AM to 8 PM
Entry Fee: Indians: INR 25, Foreigners: INR 300
#4 Grishneshwar Temple
Grishneshwar Temple, located in Ellora, is one of India's 12 Jyotirlingas and a UNESCO World Heritage Site. This Jyotirlinga in Aurangabad, also known as Dhushmeshwar or Ghrneshwar Temple, is a famous pilgrimage tourist attraction dedicated to Lord Shiva.
Grishneshwar is India's final, i.e., 12th Jyotirlinga, the smallest of the Jyotirlingas.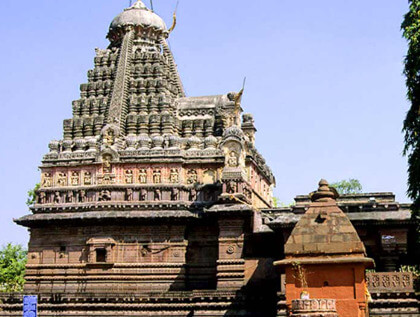 (Image Credit: Aurangabad Tourism)
The temple architecture is in the South Indian style and is one of Aurangabad's holiest places to visit. The Grishneshwar Temple's five-tiered shikhara is magnificently carved and built in the traditional temple architecture style. In the 18th century, Queen Ahilyabai Holkar of Indore rebuilt the temple several times.
Timings: 5 AM to 9 PM
Entry Fee: None
#5 Daulatabad Fort
Daulatabad Fort, also known as Devgiri Fort, is an ancient fortification. Fifteen kilometers from Aurangabad's central city, now Sambhajinagar. This architectural masterpiece, one of Maharashtra's "seven wonders," was constructed in the 12th century. You can get a breathtaking view of the entire city from the top of the Fort.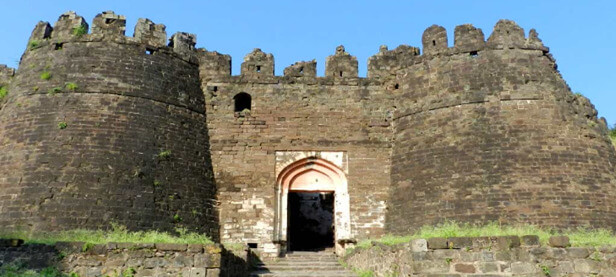 (Image Credit: Aurangabad Tourism)
The structure of the Daulatabad Fort, from the medieval period, is one of its most inspiring aspects. It is built on a 200-meter-high conical hill, providing architectural beauty, strategic position, and protection from enemies. The feature of the Devgiri Fort is its engineering genius, providing an impregnable defense against enemy forces and effectively managing irreplaceable water resources. The beautiful image of the Fort will enchant you back in time.
Timings: 8 AM to 6 PM
Entry Fee: Starts from INR 10
#6 Panchakki
Panchakki is a water mill close to Bibi ka Maqbara in Aurangabad. The complex consists of a madrasa, a court, a minister's house, a mosque, and houses dedicated to women and a Sarai. The mill gets its name from the grinding mill that grinds grains for pilgrims. Panchakki, surrounded by blue and green hues, is a popular picnic spot and tourist attraction in Aurangabad.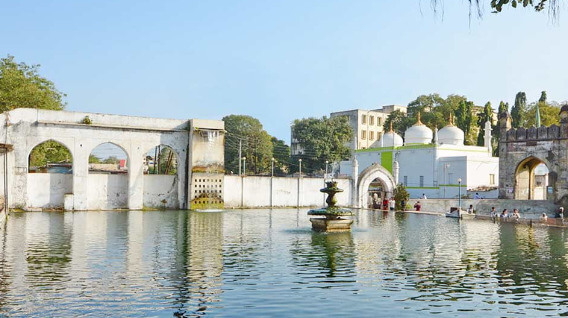 (Image Credit: Aurangabad Tourism)
It is known as a water mill. This monument in Aurangabad, Maharashtra, exemplifies the scientific thought process incorporated into medieval Indian architecture. Its only intention is to generate energy by bringing down water from a spring on a mountain.
Timings: All Day
Entry Fee: None
Conclusion
These Tourist Places in Aurangabad are must-sees. If you plan a trip to Aurangabad, this journey will be both historical and enjoyable. The culture, artwork, and style will lure you to return time and again.
Recommended Articles
We hope that this EDUCBA information on "Tourist Places in Aurangabad" was beneficial to you. You can view EDUCBA's recommended articles for more information,