Public Holidays in March 2023
March has plenty of holidays in 2023. Here enclosed is an updated List of Holidays in March 2023. When you can plan a long trip with family or friends. Knowing the holiday list beforehand will help manage leaves and finances without any last-minute rush. You can extend your holiday during the weekends and get extra time to spend with your loved ones.
Check out the list of holidays in March 2023 below to get the best benefit of your non-working days.
List Of Holidays in March 2023 (Updated)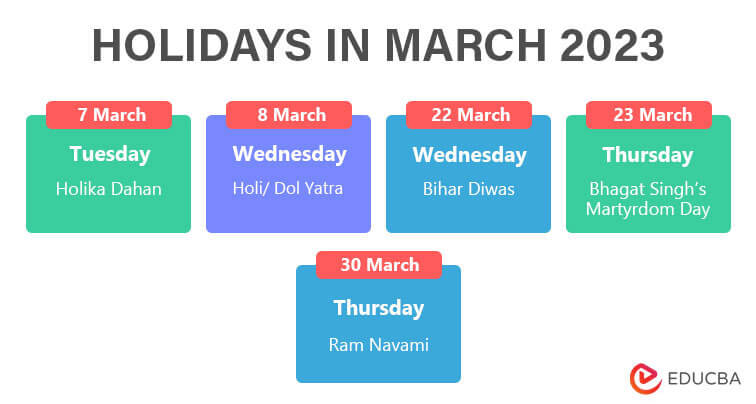 | | | |
| --- | --- | --- |
| Date and Day | Occasion | Regions Where Celebrated |
| 7 March 2023, Tuesday | Holika Dahan | Especially North India |
| 8 March 2023, Wednesday | Holi/ Dol Yatra | Especially North India |
| 22 March 2023, Wednesday | Bihar Diwas | Bihar |
| 23 March 2023, Thursday | Bhagat Singh's Martyrdom Day | State of Punjab and Haryana |
| 30 March 2023, Thursday | Ram Navami | Almost across India |
Detailed Description of Holiday in March
#1 Holika Dahan
On the eve of Rangwali Holi, we celebrate Holika Dahan. The annual bonfire marks the beginning of the New year among Hindus. The burning of Holika, the sister of King Hiranyakashipu, is the symbol of victory of righteousness over bad/ evil.
As soon as the bonfire is lit, the celebration of Holi begins and continues for 2-3 days in different parts of the world. It has different names like Rangwali Holi, Yaosang, and Dol Purnima.
#2 Holi
This festival is celebrated with colors, water, and Abeer (dry colors) in almost all of India. It is said to be one of the most important festivals of Hindus.
Applying colors on the face is significant in holi, symbolizing brotherhood and harmony. Holi is known to make new bonds and forget the rivalry and enmity, if any. On this day, traditional dishes famous in regional areas are prepared to observe the festival.
Holi is celebrated in the Braj region (Mathura and Vrindavan) with great enthusiasm. The 'lath mar Holi of Mathura is famous across India, making it one of the major holidays in March to look forward to.
#3 Bihar Diwas
The formation of Bihar after carving out from Bengal in 1912 is celebrated as Bihar Diwas.  22nd March is a public holiday in Bihar, also known as Bihar Day, which became significant after Nitish Kumar became the Chief Minister of Bihar. Every year events take place on a large scale to celebrate the prominence of this day.
Each year, a new theme is selected for Bihar Diwas, which marks the state's developmental goals for the year ahead. It is an innovative way to remember and celebrate Bihar Diwas. In Bihar, it is celebrated as one of the significant holidays in March.
#4 Bhagat Singh's Martyrdom Day
On 23rd March 1931, the three brave souls of our country sacrificed their lives in the struggle for the independence of India. The martyrs were Shaheed Bhagat Singh, Rajguru, and Sukhdev. At the age of 23, Bhagat Singh sacrificed his life to give his voice to the freedom struggle.
Bhagat Singh was a revolutionist who believed that only actions could result in actions, not mere words. He participated in bombing the Central Legislative Assembly in Delhi. He became a household name after his hunger strike and bombing incident.
To remember this legend, the government of Punjab and Haryana announced a public holiday on 23rd March every year; therefore, we have this day in our list of holidays in March 2023.
#5 Ram Navami
Ram Navmi falls on different dates every year; according to Calendar), in 2023, it is on 30th March. It marks the birth anniversary of Lord Ram, and in different regions, processions are used to commemorate the day.
Therefore, we have it in our updated list of holidays in March, so you can plan your holidays or prepare for a grand event at your home.
You can plan your trips with the help of the list mentioned above. However, this list is not exhaustive, and your holiday's date and day may vary in different regions.