Updated List of Holidays in June 2023
June has ample nationwide, public, bank, and regional holidays. You can use these non-working days to spend some quality time with family or friends and make an action plan for your trip. Take optimum advantage of these holidays to carve out a memorable tour that lasts forever in advance. Let's find holidays in June 2023 to take a sip of tea with our loved ones. Enjoy on the balcony with pakoras in the first rainfall of the monsoon in June.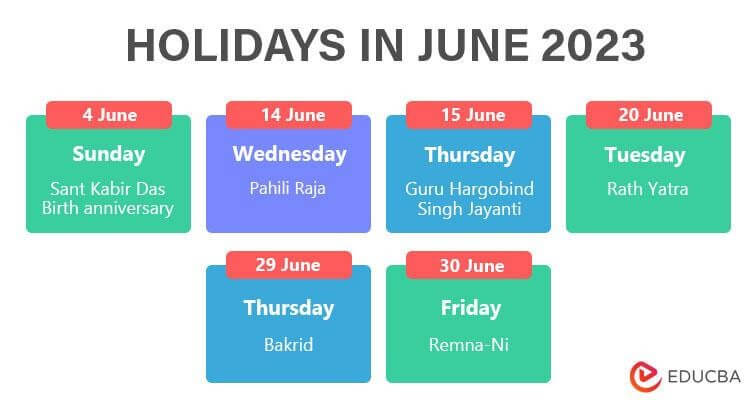 Detailed Description of Holidays
Below table shows detailed description of Holidays in June 2023:
| | | |
| --- | --- | --- |
| Date and Day | Occasion of | States or Region |
| 4 June 2023, Sunday | Sant Kabir Das Birth Anniversary | All India |
| 14 June 2023, Wednesday | Pahili Raja | Odisha and Coastal Districts |
| 15 June 2023, Thursday | Guru Hargobind Singh Jayanti | Jammu & Kashmir |
| 20 June 2023, Tuesday | Rath Yatra | All India |
| 29 June 2023, Thursday | Bakrid | All India |
| 30 June 2023, Friday | Remna-Ni | Mizoram |
#1 Sant Guru Kabir Das
Every year, on the 4th of June, Kabir Das's birth anniversary is celebrated in different regions of the world. Kabir Das was critical of religion and followed a different path in his life. He was concerned about the Hindu-Muslim brotherhood. The Kabir-panthis (the followers of Kabir) embarked on the same journey and questioned the unethical practices of Hindus and Muslims. The purpose of his life was evident; he wanted to live on the path of righteousness and live without holding on to material things. It becomes essential to commemorate the birthday of a legend like him and add it to the list of holidays in June.
#2 Pahili Raja
The Pahili Raja is the first day of the Mensuration of mother earth. It celebrates womanhood where according to a belief, mother Earth menstruates for three days, and all agricultural activities are suspended. Holidays in June are incomplete without celebrating the womanhood of mother Earth. It is a famous festival in Odisha and a symbol of fertility among women. The second and third days in the menstruation cycle are called Mithuna Sankranti and Basumati snana. Everyone in the coastal districts celebrates this day with full enthusiasm and excitement.
#3 Guru Hargobind Singh Jayanti
Guru Hargobind did not let go of his responsibility to propagate the Sikh religion. He sent his Sikhs to spread Sikhism in far-off locations like Bengal and Bihar. Hargobind Singh was an essential propagator of Sikhism along with his followers. In his second war, Bhai Gurdas gave the identities of Nawal and Nihala, two Sabharwal khatris who founded their businesses in Bihar and significantly impacted the conversion of many residents to Sikhism. His contribution must be remembered as a holiday in June.
#4 Ratha Yatra
A vast congregation of devotees is witnessed at Jagarnath Temples all over India. According to a popular myth, the Ratha symbolizes the coming of the deity to his land. Lord is worshipped along with his brother Balram and sister Subhadra. People make delicious food at their homes and offer it to Lord Jagarnath to please him and his siblings. It is a very auspicious occasion, especially in Odisha. However, the popularity has increased so much that you can see the raths everywhere in the country.
#5 Bakrid
Bakrid symbolizes the end of the Hajj pilgrimage for followers of Islam to Mecca in Saudi Arabia. The day marks the sacrifices and devotion of Prophet Muhammad towards humankind; people sacrifice goats and celebrate Bakrid. The goat symbolizes the evil Prophet Muhammad defeated with his goodness and righteousness. People celebrate Bakrid by distributing goat meat and chanting the Takrib as a practice. They offer Namaz at the masjid and pray to Allah to protect them from sins and evil.
#6 Remna-Ni
Remna-Ni is the day that altered the geo-political status of Mizoram and established harmony against internal conflicts. A peace agreement signed on this day forever changed the Mizo people's lives. One cannot imagine life when there is complete unrest and instability around. Therefore, we add this day to the list of holidays in June, a public holiday in the state of Mizoram.