Bank Holidays in February 2023
Are you planning a trip in 2023? Want to get away for the weekend this February? We are sure you want to know about the holidays in February 2023! Some festivals are nationwide, while others are specific to states. These dates may differ until the official government announcement. In this article, we will go through the holidays in February 2023. Make sure to plan your trips today!
List of Holidays in February 2023
The following table represents the holidays in February 2023.
| | | |
| --- | --- | --- |
| Date and Day | Occasion | Regions Where Celebrated |
| 5 February 2023, Sunday | Hazrat Ali Jayanti | Uttar Pradesh |
| 5 February 2023, Sunday | Guru Ravidas Jayanti | Madhya Pradesh, Himachal Pradesh,  Punjab & Haryana |
| 15  February 2023, Wednesday | Lui-Ngai-Ni | Manipur |
| 18 February 2023, Saturday | Maha Shivaratri | Majorly North India |
| 19 February 2023, Sunday | Chhatrapati Shivaji Maharaj Jayanti | Maharashtra |
| 20 February 2023, Monday | State Day | Mizoram, Arunachal Pradesh |
| 21 February 2023, Tuesday | Losar | Sikkim |
What are the Major Holidays in February 2023?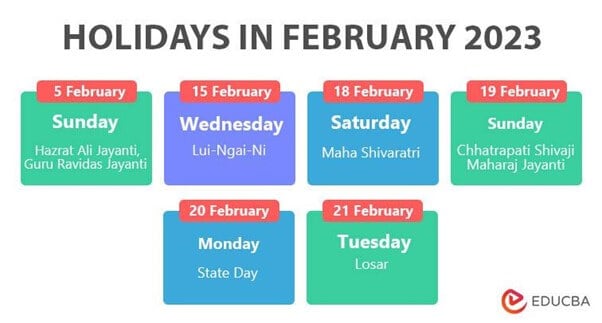 Here are some major festivals celebrated if you plan a trip in February 2023.
#1 Guru Ravidas Birthday – Guru Ravidas's birthday falls on Feb 5 and is in remembrance of the famous poet- Guru Ravidas. A mystic poet born in Uttar Pradesh, Guru Ravidas was an iconic personality. His day is on a full moon day during the month of Magh. It's a restricted holiday in Madhya Pradesh, Punjab, and Haryana.
#2  Lui- Ngai- Ni – You may celebrate the seed sowing festival Lui- Ngai- Ni on Feb 15. It is for the Naga people who celebrate the new year during the season. Naga people and tribes converge at one designated spot, celebrating their cultural heritage and values. It is one of the significant Naga festivals after Hornbill.
#3 Chhatrapati Shivaji Maharaj Jayanti – Maratha ruler, Chhatrapati Shivaji Maharaj was an iconic personality in Maharashtra. To pay respects and celebrate his rule, people in Maharashtra take out several processions and dress up like the iconic ruler. It is with a lot of fervor and gaiety.
#4 Arunachal Statehood day – Arunachal Pradesh day, or Arunachal Statehood day, is remarked as AP becoming the official state of India. Arunachal Pradesh is known to light up, celebrate massively, and reflect on its diversity on Feb 20. The Governor also unfurls the national flag- he saluted the Guards of honor. People also observe various award ceremonies like the Dorjee Khandu Memorial Award, State awards, and the Chief minister's Excellence award in Civil Service.
#5 Mizoram State Day – the state of Mizoram celebrates becoming the 23rd state of India every year. You observe various celebrations and festive vibes in the state. People fly kites and celebrate culture and uniqueness.
#6 Losar – One of the new year festivals, the Losar is restricted to the Tibetan Calendar and is the new year for Tibetians.
#7 Vasant Panchami – Vasant Panchami is celebrated to welcome the spring season and is one of the Hindu festivals. It is also to pay respects to the Hindu goddess Mata Saraswati. People dress in yellow and throw feasts like Kesar halwa (made with flour, sugar, nuts, and cardamom powder). Students also pay respects to the goddess and keep their books, pens, and other stationery at the deity's feet to get blessings.
#8 Hazrat Ali's birthday – Hazrat Ali was the fourth successor of Muhammad in the Muslim culture. This day is to remember the same. According to the Muslim culture, he was also the first one to accept Islam and start the culture.
February is short, and there is no leap year in 2023. Make sure to plan your trips accordingly. These dates may vary depending on the weather, government, and other factors.
Are you Planning for a Holiday this February?
It is a perfect time to visit places like Goa, Puri, Agra, Mumbai, Kaziranga National Park, Udaipur, Varanasi, Jaipur, Shillong, and Ooty.
February is comparatively a changing month from winter to spring. It is also one of the most loved months in India. People remain chilly yet warm. You may visit places that are hard to reach during the summer.
Places like Agra, Jaipur, National parks, Udaipur, and almost all of north India, look perfect in February. People enjoy the weather and the onset of the spring season. Happy holiday planning!