What is the Full Form of OCD?
The full form of OCD is Obsessive-Compulsive Disorder. It is a psychological disorder characterized by stressful, unpleasant, obsessive thoughts and recurrent, compulsive physical or mental behaviors. In the overall population, OCD impacts 2% of the general populace. The symptoms often first arise in childhood or early adolescence, and they seldom do so after age 40. OCD is an anxiety disorder involving obsessive thoughts and compulsive actions. OCD can severely impact a person's well-being and quality of life.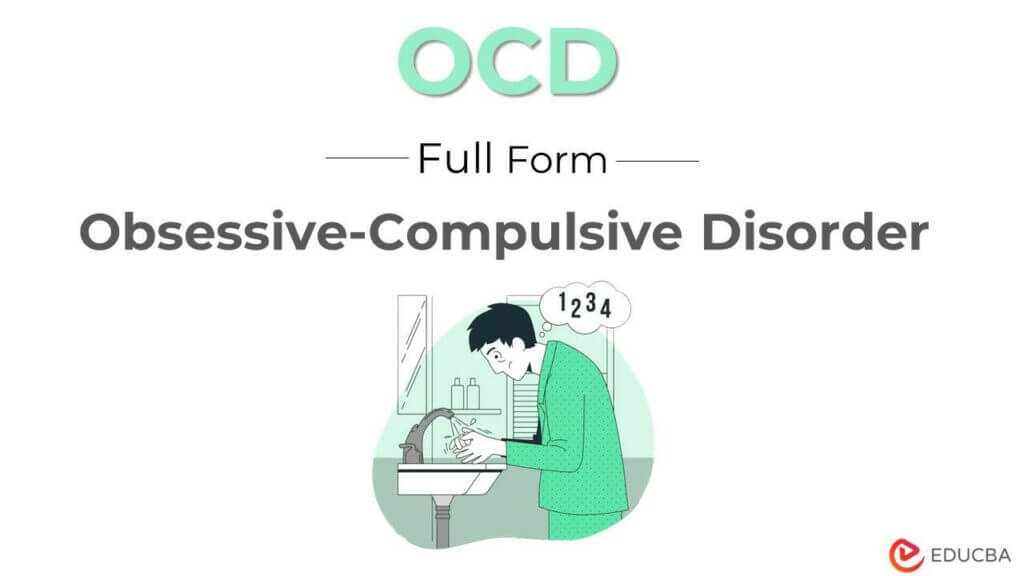 Obsessive-compulsive disorder, the full form of OCD, is a psychological disorder that includes compulsion or obsession, problematic behaviors, and repetitive thoughts. Performing ordinary duties can be difficult for someone with OCD, and OCD sufferers typically:
Do not want to endure these bothersome thoughts and feelings.
Unable to control their ideas, impulses, or images.
Spends time thinking about and practicing these obsessions, which interfere with their personal, social, and professional interests.
OCD can have different effects on various people. It might entail:
An OCD person can feel the urge to check for problems repeatedly.
Some OCD patients have an overpowering, constant urge to wash their hands. They could worry that anything they touch is contaminated.
In this case, the person struggles with the need to discard unused or old items.
What are the types of OCD?
People with OCD may need to perform various compulsions only once or twice before they feel relaxed. Although compulsions and obsessions change from person to person, they are typically classified into distinct categories. People frequently experience various symptom classifications, which may vary over time. These are some of the types of OCD.
Organization:- The organizational type of OCD, probably the most popular, includes fixations on things being exactly where they should be or symmetrical. The individual may feel pain or have beliefs that being disorganized will harm them or their loved ones in some unrelated way if they do not follow through on the compulsions to get things just so.
Contamination:- Contamination OCD is built on two fundamental ideas. First, non-viral infections can be transmitted from person to person via touch or proximity. Second, everyday events, ideas, and phrases can "contaminate" and make someone feel dirty. This personality type frequently needs to continuously wash their hands and sanitize their surroundings to stop the perceived contamination from spreading.
Checking:- A person with a checking fixation is overly concerned about damaging themselves or others if they are irresponsible. Their obsessive behaviors may include checking doors, stoves, and wallets for cash, identification cards, and credit cards regularly. They may have to inspect something several times or gaze at it for a while before they feel more at ease.
What are the causes of OCD?
After looking at the full form of OCD and its types, let us look at why it happens. The exact causes of obsessive-compulsive disorder are unknown. The major theories are:
Biology: OCD could be caused by changes in your body's natural chemistry or how your brain works.
Genetics: There may be a genetic element to OCD, but no separate genes have been discovered.
Learning: It is possible to gradually develop obsessive concerns and compulsive habits over time or by observing family members.
What are the symptoms of OCD?
OCD is frequently associated with compositions such as a fear of bacteria or the urge to assemble things in a specific manner. Symptoms usually occur slowly and change over time. Some of the symptoms:
Washing and personal hygiene
Checking, such as ensuring the doors are closed or the gas is turned off.
Counting, ordering, and organizing are all examples of math skills.
Seeking confirmation
Mentally repeating words
What is the treatment of OCD?
Self-care and therapy are used as part of the treatment. Talk therapy, medicine, or both may be used in treatment.
The most effective therapies are a type of Cognitive Behavior Therapy known as Exposure and Response Prevention (ERP), which has the most substantial proof to support its use in the treatment of OCD.
In an outpatient situation, exposure and response prevention are frequently carried out by a qualified psychologist or mental health counselor. This implies that you go to your therapist's office once or twice weekly at a specified appointment time.
Medication prescriptions can only be made by qualified medical professionals (such as your doctor or a psychologist), who should consult with your therapist to develop a treatment plan.
Conclusion
Obsessive-compulsive disorder (OCD) is a crippling condition that frequently goes unreported. It's critical to check people for disorder symptoms. It is essential to raise awareness of medical professionals and those working in school systems often interacting with teenagers by identifying specific brain areas and focusing on the related hormones. This article could assist in spreading information about OCD. Hope this article has helped you understand the full form of OCD and its various facets.
Recommended Articles
We hope that this EDUCBA information on "Full Form of OCD" was beneficial to you. You can view EDUCBA's recommended articles for more information,