What is the Full Form of NTPC?
The full form of NTPC is National Thermal Power Corporation Limited. Since its inception in 1975, NTPC has remained a significant public sector undertaking in India. According to the Economic Times survey for the last 11 years, the National Thermal Power Corporation Limited remains India's best workplace.
NTPC is a power generation company and an organization that has succeeded in power generation from fossil fuel to new generation renewable energy. Now the installed capacity of NTPC is 71,594 MW.
This blog post will consider the full form of NTPC, its vision and goals, its history, and the current sustainability model.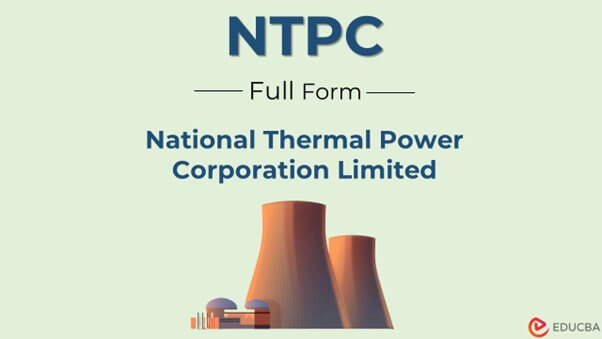 The Vision and Mission
The vision is to accelerate the growth of India in energy production and power generation. It takes responsibility to energize the country's growth by generating power, the critical element in the growth and development of a country.
NTPC believes more than generating power is needed; its distribution to the country's remotest areas is equally relevant. To make this idea a reality, the National Thermal Power Corporation works to provide sustainable, affordable, and efficient energy through the latest technology and agility.
History of NTPC
The story of NTPC began in 1975; from then, it has evolved and established itself as a Public Sector Unit (PSU), which has stood the time to become India's most potent power generation company with the help of the erstwhile Soviet Union, India's first power station got a green signal in Vindhyachal.
Today, the National Thermal Power Plant has an installed capacity of more than 71,000 MW, an impressive number given India's resources and ability to spend on power generation. Currently, a whopping number of 15,000 employees work in this organization, which is evolving and growing, and adapting to the changes and requirements in India's energy sector.
In recent times, NTPC has been expanding its International footprint by undertaking power projects in different countries. It is involved in the commissioning of coal or renewable energy-based projects globally.
Services and Initiatives
Over time, NTPC has gained much popularity due to its splendid service in India's power generation and capacity building. Due to this expert, many countries seek various services from the organization to help them become energy-efficient economies.
The services and initiatives undertaken by the National Thermal Power Corporation Limited over time are listed below. The mentioned listing will help you understand the full form of NTPC and its vision in its truest sense.
#1 Consultancy Service
At NTPC, you can expect consultancy services at different phases of power generation and construction of power stations. From time to time, it receives requests from domestic and international clients who seek the organization's technical expertise to help them establish power stations.
The entire set of services you can expect from this organization is
Owner's Engineer Service
Contract and Procurement Service
Material management
IT and Research and Development
Quality assurance
#2 Swachh Bharat Abhiyan
The National Thermal Power Corporation pledges to work towards fulfilling the 'swatch' mission set by the Prime Minister of India. The Scheme focuses on making India cleaner and greener. Renewable and clean energy sources are a means to keep India clean, which NTPC takes into account in all its projects.
#3 NTPC School of Business
The institution run by NTPC aims to make India energy efficient and a superpower in the energy sector. The institution's mission is to serve through research, consultancy, teaching, and ethical management of the energy sector.
It offers two AICTE-acknowledged programs: PGDM-E (Post Graduate Diploma in Management- Executive) and PGDM-EM (Post Graduate Diploma in Energy Management).
Sustainability Model
Towards fulfilling its vision to provide clean, efficient, and sustainable energy to all and uplift society and the nation's economy, NTPC has developed its sustainability model. Strives to utilize all available energy sources to maximize power generation and minimize pollution.
The 'Brighter Plan 2032'of NTPC is a roadmap towards sustainable energy goals, achieving digitalized energy transfer, decarbonization, and decentralization of energy. The major pillars of the sustainability model include
The Environment
Health and safety,
Corporate Citizenship,
Ash Utilization,
CenPEEP (Center for Power Efficiency and Environmental Protection).
The sustainability model explains the strategy to achieve India's commitments to UNEP and INDCs. The plan is to generate cleaner energy and a greener future for India. It will help NTPC create a progressive business, make the planet greener, and enrich many lives without compromising the quality of life and standard of living.
Conclusion
With the knowledge of the full form of NTPC, you learned how with thermal power generation in 1975, NTPC evolved to hydro, nuclear, and solar energy. Among the Maharanis in India, NTPC ranks at 2nd position, indicative of its growth and success as a public sector unit and power generation company. The massive success of NTPC represents India's dedication to making energy generation more affordable and sustainable.
Recommended Articles
We hope that this EDUCBA information on "Full Form of NTPC" was beneficial to you. You can view EDUCBA's recommended articles for more information,