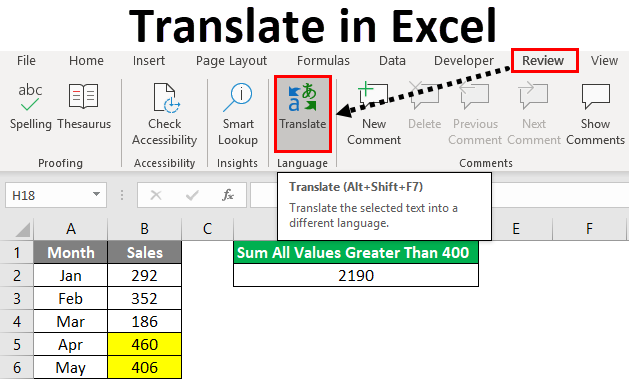 Translate in Excel (Table of Contents)
Introduction to Excel Translate Function
Excel Translate is a function that helps to convert one language to another. In 99.99% of the cases, we all use the English language to present our data. However, we can change the content of the default English language to our own language; it could be a single word, it could be a full sentence, or it could be a paragraph as well. We can convert it to 51 available languages in excel.
Where is the Translator in Excel?
You must know where exactly the translator function is in excel. You must be thinking it could have been hidden like Data Analysis Toolpak or any other built-in options in excel. If you are thinking it is a hidden gem in excel, you are wrong because it is not a hidden gem in excel; rather, it is available upfront under the REVIEW tab in excel.

Yes, you are correct; this option is gone unnoticed because of the not exact requirement in our day-to-day work. We learn only what is necessary for us; apart from that, we will not even bother about learning other things that add value to our career. But we will overcome that today and learn the unnoticed option called Excel Translator.
How to Convert Words to Other Languages?
Let's start something new by converting words to other languages. Follow the below steps to convert words into other languages.
Step 1: Go to the REVIEW tab and click on Translate.

Step 2: Now, we will see the below option on the right-hand side.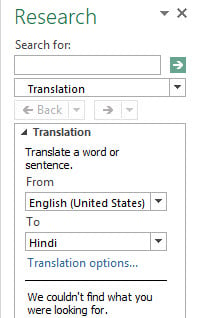 Step 3: In the Search for, type the word you want to convert.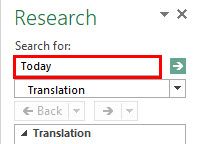 Step 4: Select the From & To language.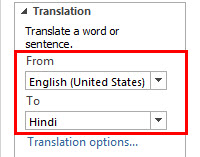 Step 5: Now click on OK to complete the process. It will show the result of this word in Hindi.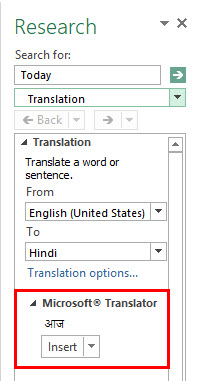 Step 6: If you click on Insert, it will insert the converted text to the active cell in the worksheet.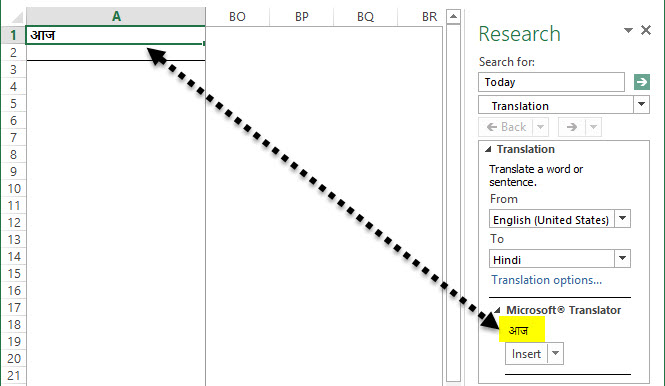 Install Excel Function Translator Add-In
If you are not a regular of English language, then it is quite difficult to understand the functions in excel. In order to overcome this barrier, we can install the free excel function Translator add-in to the excel. Note: I am using Excel 2013 version. This Excel add-in can convert 800 different functions into 80 different languages. Add-in can convert the function to 15 different languages, and common languages are English, Danish, German, Spanish, French, Italian, etc.
Follow the below steps to install the Excel Functions Translator. You need an internet connection to install the Add-In.
Step 1: Go to the INSERT tab and click on Store.

Step 2: Now, you will see the Online Browser option.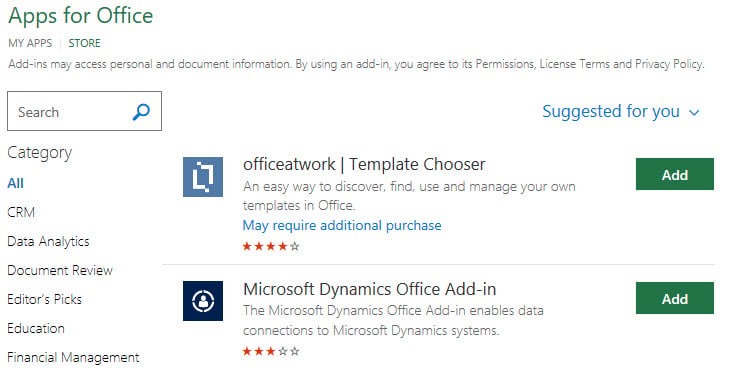 Step 3: Now, in the Search field, type Excel Function Translator and search. You will see this Add-In.

Step 4: Now click on Add; it will add the add-in to your excel. Before that, you need to do some installation process. You will see on Function Translator installation wizard on the right-hand side.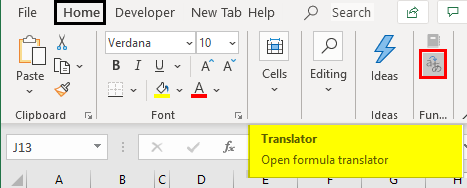 Step 5: Scroll down and select Get Started.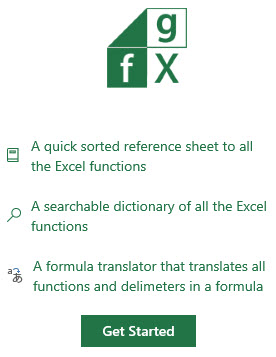 Step 6: Here, you need to select converting language. I have selected English to Danish. Click on Start Working.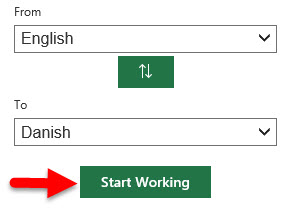 Step 7: Go to the Translator and enter the formula you want to convert.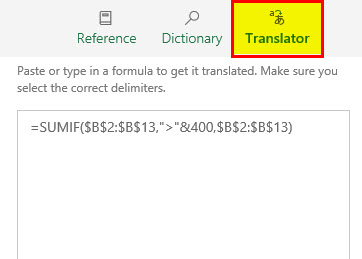 Step 8: Now click on the down arrow key to convert.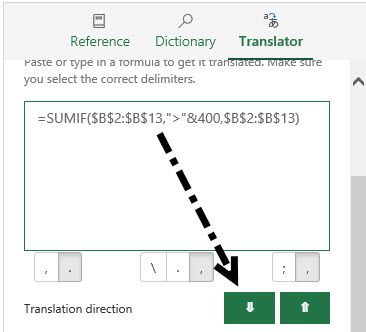 Step 9: Now, it will convert the formula to the selected language.

Things to Remember About Translate in Excel
Once the excel translator is installed, it is available under the INSERT button and Under My Apps.

You can select any language available under the usage language section.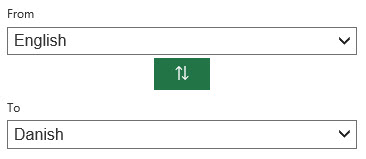 We can sort all the formulas from A to Z under toggle sorting.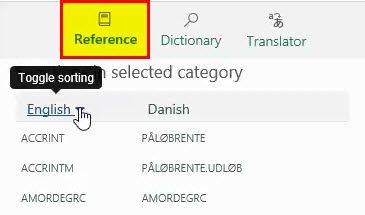 Once the language is selected, we can see the formula name in other languages as well as the English language.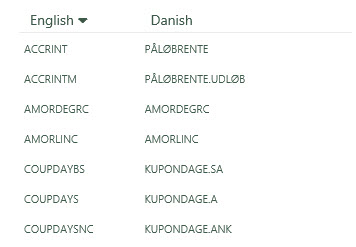 Under the dictionary, we can search for the function that we want.
You need an internet connection to work with these excel function translator.
There are 51 languages available in excel, and you can convert the function to any of them with the description in the selected language.
Recommended Articles
This is a guide to Translate in Excel. Here we learn to translate text to different languages using Translate in excel and how to add a translate option in Quick Access ToolBar. You can also go through our other suggested articles –