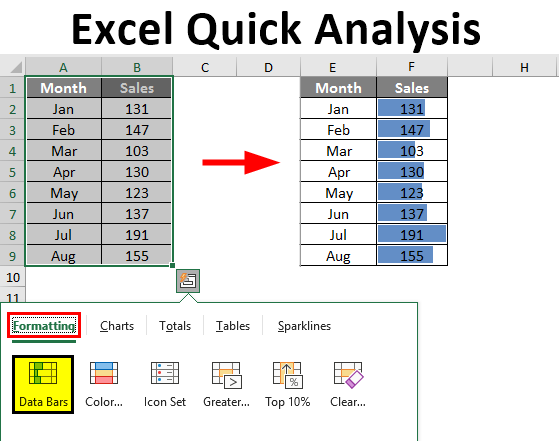 Excel Quick Analysis (Table of Contents)
Overview of Excel Quick Analysis
Excel is tremendous while doing the data analysis, for this purpose only excel has various kinds of formulas, tools, visualization charts, and many other kinds of stuff. Over a period of time, Microsoft has made very useful updates with its new version products and similarly, in its 2013 version of excel it has provided one more useful tool i.e. "Quick Analysis".
You must have searched for this tool in excel 2013 but it is always with you whenever you select the data. Yes, it is with you but you are not interested in that at all, so in this article, we have decided to take you through the "Quick Analysis" option with excel.
Note: This feature is available from Excel 2013 onwards.
What is Quick Analysis Tools in Excel?
When we are analyzing the data instead of going through various tabs we can make use of the Quick Analysis tool to insert charts, visualizations, various formatting techniques, formulas, tables, pivot table, Sparklines.
These are can be done with a few seconds.
How to Use Quick Analysis Tools in Excel?
Here are some following ways to Operate Quick Analysis Tools in Excel
Where is Quick Analysis Tools in Excel?
Now all important question where is this tool. This tool appears when we select the data range in excel. For an example look at the below data.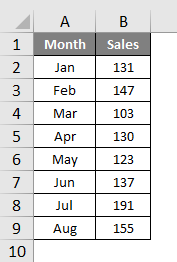 Once we select the data we can see a small icon to the bottom right of the selection.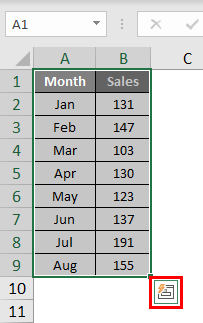 I know you have seen this icon before but you have not worried about this. Not many of the excel users make use of this wonderful tool. We will show what the various kinds of analysis tools it has are.
Quickly Insert Formatting to the Data
Once you select the data we can see the Quick Analysis tool icon at the bottom of the selection. Click on this icon to explore all the possible options.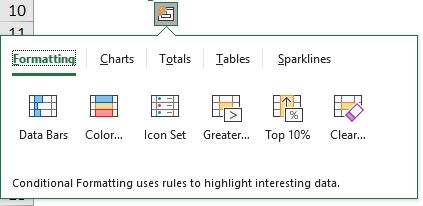 We have "Formatting, Charts, Totals, Tables, and Sparkline's".
Let look at formatting now. Just place a cursor on the required formatting option we can see the immediate impact in our data.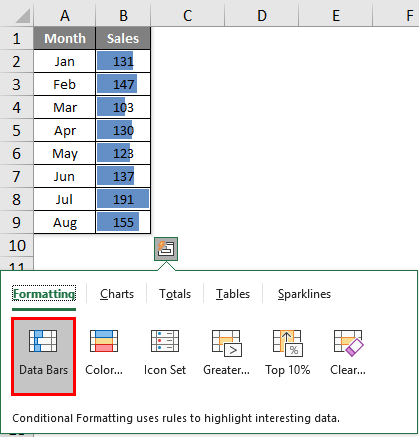 I have placed a cursor on "Data Bars" it has inserted data bars according to the size of the numbers. Similarly, we can make use of "Color Set, Icon Set, Greater Than, Top Value and more importantly we can clear the formatting with "Clear" option.
Click on Color set to insert different colors.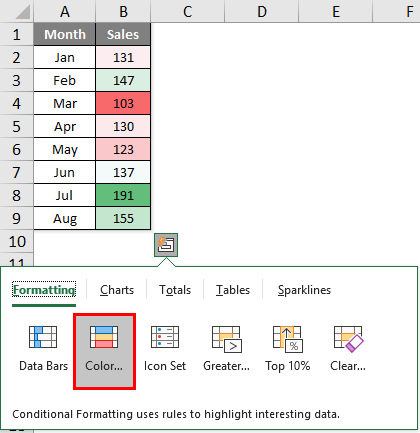 Click on Icon Set to get icons for your numbers.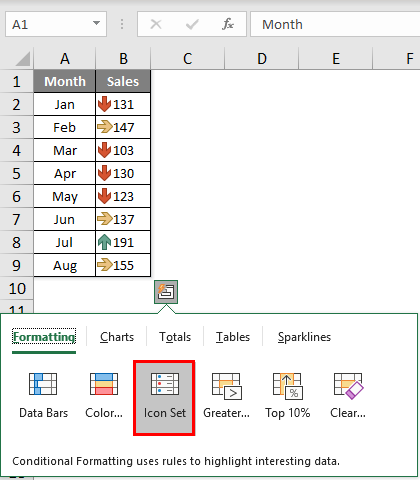 If you want to highlight all the values which are greater than 140 then click on the Greater option you will see below window.

Mention the value as 140 and choose the formatting color.

Click on OK, we will have mentioned formatting for all the values which are >140.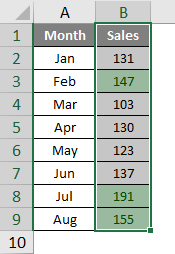 Quickly Analysis Inserting Chart to the Data
We can also insert a chart to the selected data by using Quick Analysis tool. Once the data is selected click on "CHARTS".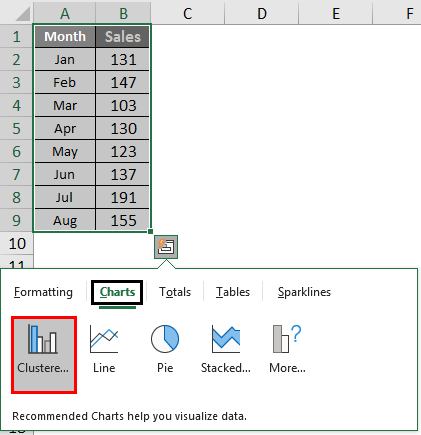 Select the required chart, your quick analysis is ready to use.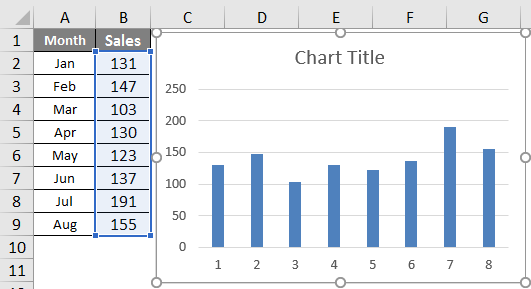 Like this we can make use of various charts which suits our data structure.
Quickly Analysis through Totals
We can also insert totals to the data by choosing TOTALS under quick analysis. Under this, we have a various variety of formulas.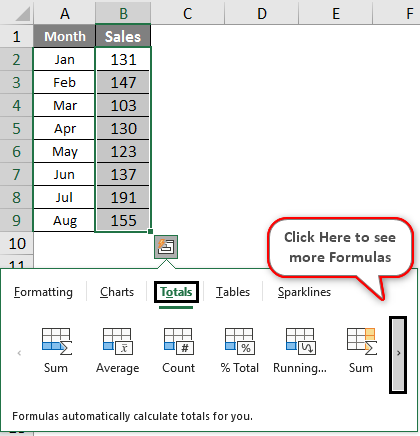 We can insert SUM, AVERAGE, COUNT, % Total, Running Total, SUM to the Right, Average to the Right, count to the right, running total to the right.
Based on the requirement we can make use of these formulas. Now I have applied RUNNING TOTAL.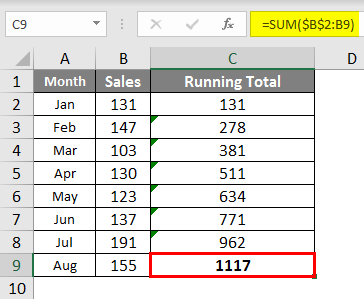 Similarly, you can use SUM, AVERAGE, etc.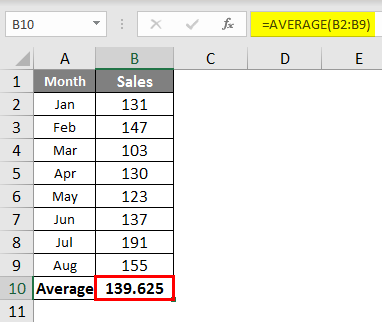 Quickly Analysis through Tables
We can also insert the table format and pivot table to the data under Tables. Click on TABLES and choose the option you want to use.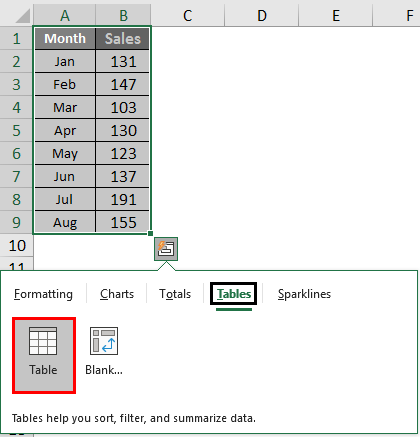 The table will convert the range of data to table format data.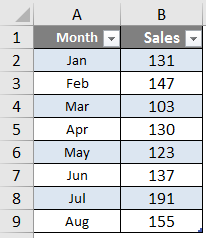 If you click on Pivot Table it will insert the pivot table in a new sheet.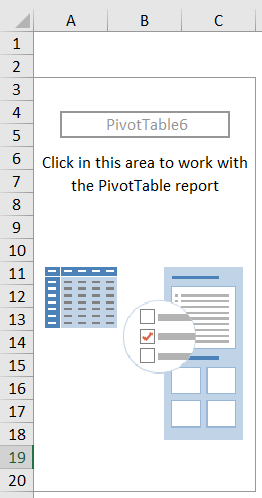 Quickly Analysis through Sparkline's
We can insert Sparklines to the right of the data under SPARKLINES option.
Based on the selection we make it will display the Sparkline to the left of the data.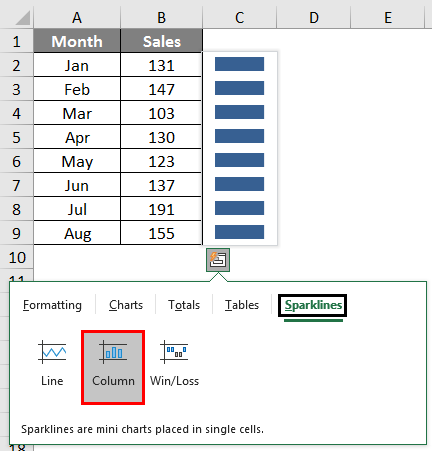 Like this making use of the "Quick Analysis" tool, we can make a quick analysis of our data without breaking any sweat.
Recommended Articles
This is a guide to Excel Quick Analysis. Here we discuss How to make Use of the Quick Analysis tool to insert charts, visualizations, various formatting techniques, formulas, tables, pivot table, Sparklines along with downloadable excel template. You may also look at the following articles to learn more –