Microsoft Excel OneDrive (Table of Contents)
Excel OneDrive
In an office environment mostly we require to share our files online with others who are available in the same office or at another location. Sharing file online is called "Working in the Cloud".
Through this, we provide easy access to our data via a browser to anyone, anytime, anywhere. People can easily work on the same shared files and it's not required them to install anything.
Microsoft provides a very important feature for sharing file's online which is called OneDrive. It is the Microsoft's online storage space which you can use for storing the files, editing, saving the files etc.
This OneDrive can be easily accessible from your computer, mobile phone or any of the devices. It is similar to a built-in drive (C: drive etc.) of your system. The difference is that whatever you save in your system drive, that's your personal drive. Nobody can access your work without accessing your system. Whereas OneDrive is the shared storage space, so that people can easily access your data after providing the required accesses and from anywhere when they are on move.
How to Use Microsoft Excel OneDrive?
For using the excel OneDrive first you need to create your Microsoft Account which is free. Follow the below guidelines for creating this:
Open a workbook.
Go to the FILE tab.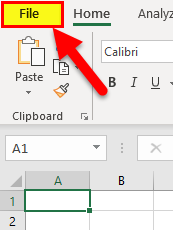 It will display a left pane window with some options.
Click on Save As option as shown in below screenshot.

Click on OneDrive option as shown in the below screenshot.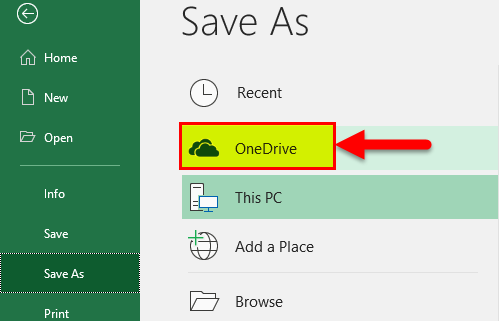 Then it will open the OneDrive storage space as shown in below screenshot.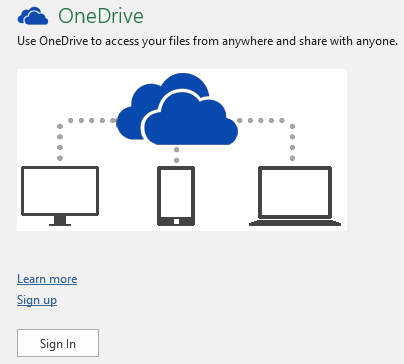 Click on Sign up for creating a new account (Or if you already have an account with Microsoft then click on Sign In)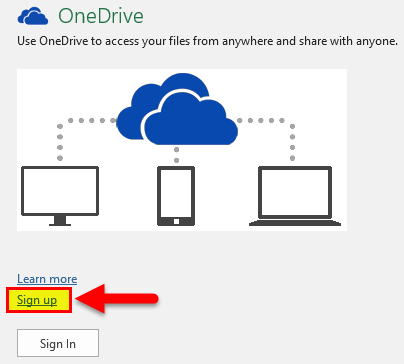 After clicking on Sign up, it will open a Microsoft OneDrive portal.
Click on "Sign up for free" button here. Refer below screenshot.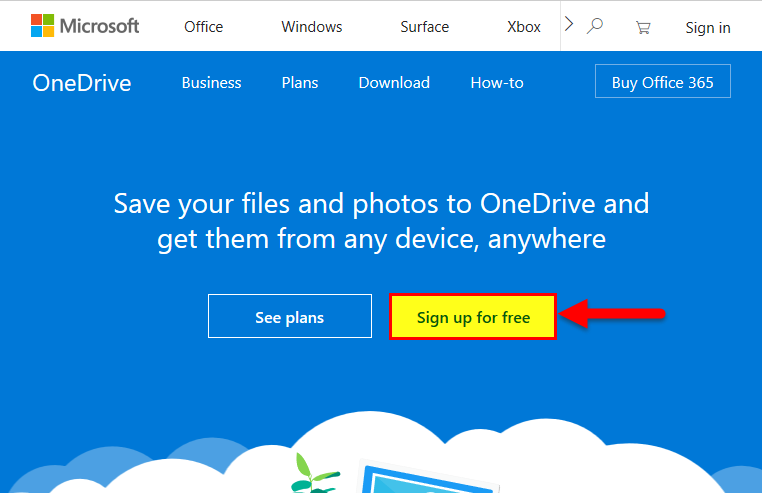 It will open a Signup portal like below screenshot.
Click on Create a Microsoft Account and set up your account and password.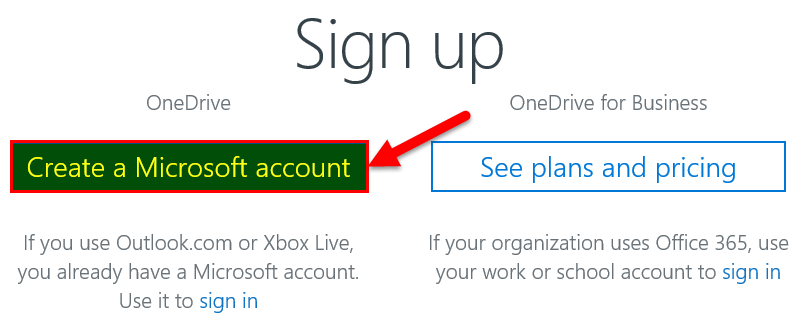 After setting up the account, it will open a OneDrive space like below screenshot.
Click on Next.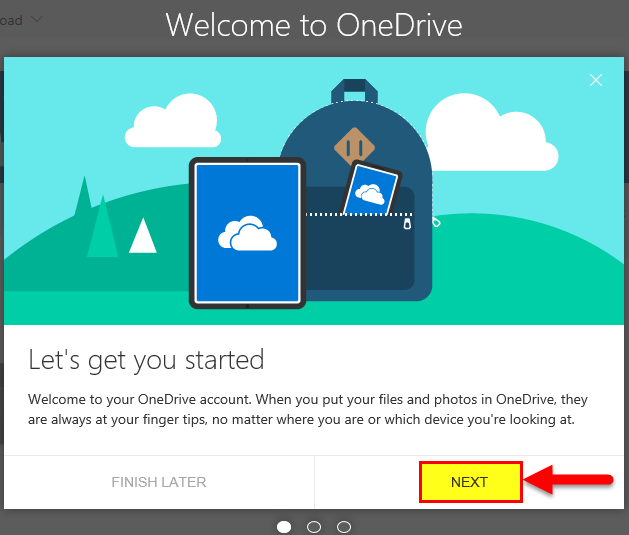 It will show you the OneDrive created space like below.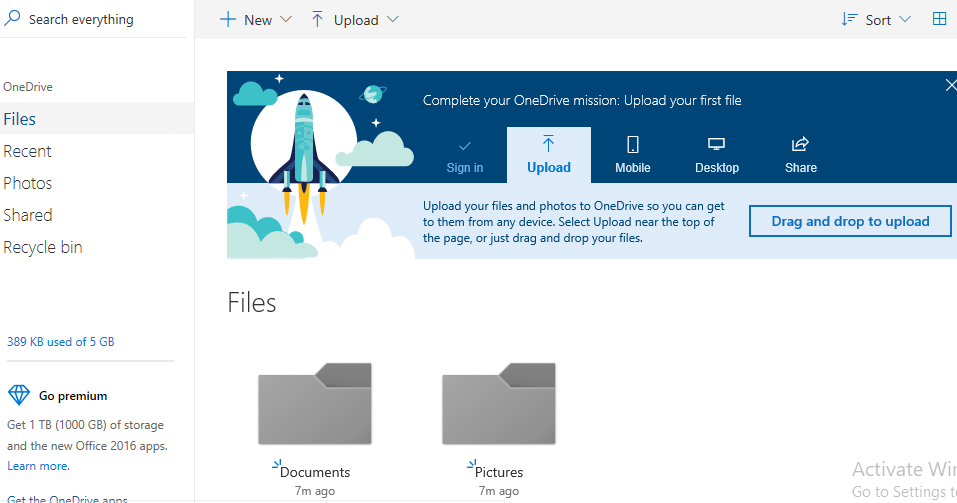 Now you can use this drive as a storage space for saving and sharing your work with anyone. We can create our own folder and save our files.
We have created our folder here with the name of Excel. Refer below screenshot.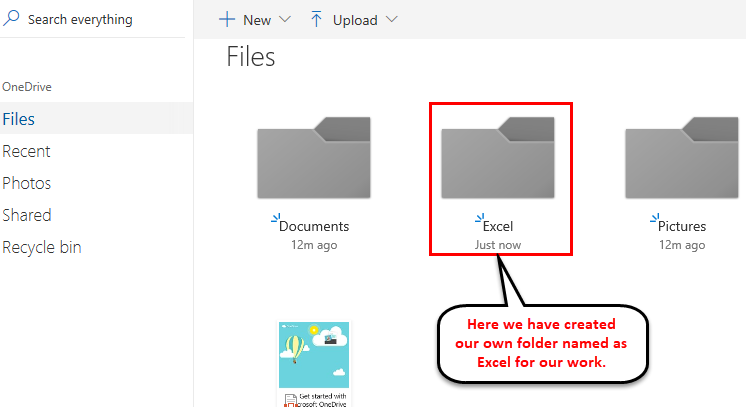 Saving the file on OneDrive space
For saving our file on OneDrive, Click on File.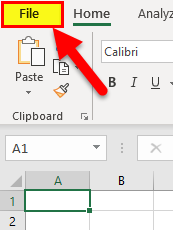 Click on Save As and then click on OneDrive – Personal as shown in below screenshot.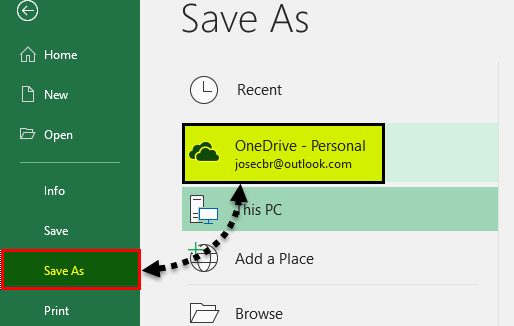 Select the folder and save your file.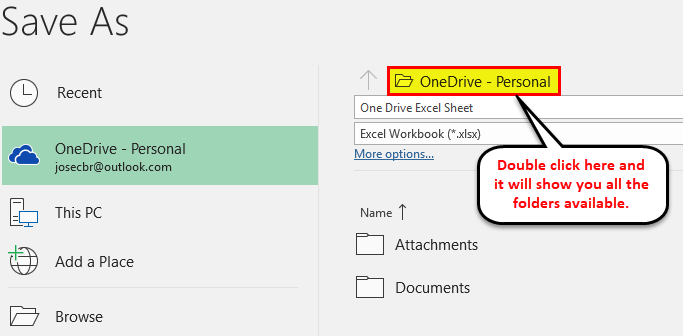 It will upload the file on OneDrive or SkyDrive space.
How to Share your file with anyone?
For sharing your file with someone, you need to give them the access. Please follow below steps to do this:
Step 1 – Open the link Onedrive.live.com and sign in with your Microsoft account.
Step 2 – Select the folder and right click on the file which you want to share. It will open a drop-down list of options. In which we have to click on Share option. Refer below screenshot.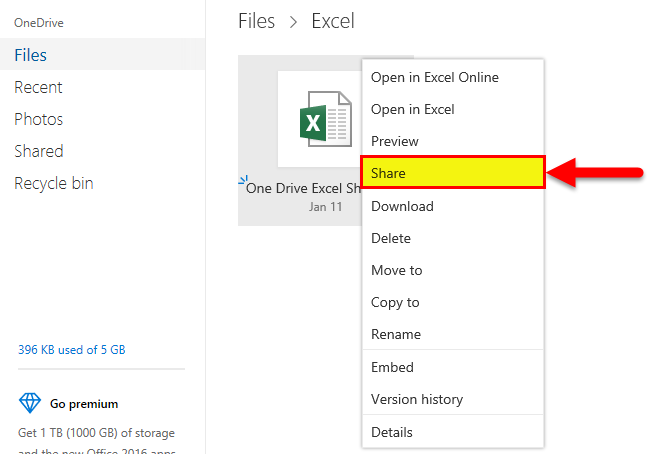 It will open a dialog box. Click on Email. Refer below screenshot.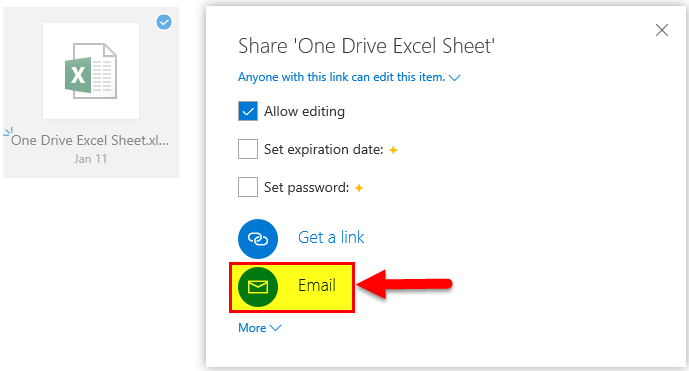 It will open a dialog box. Enter the email id of the person with whom you want to share your file. Refer below screenshot.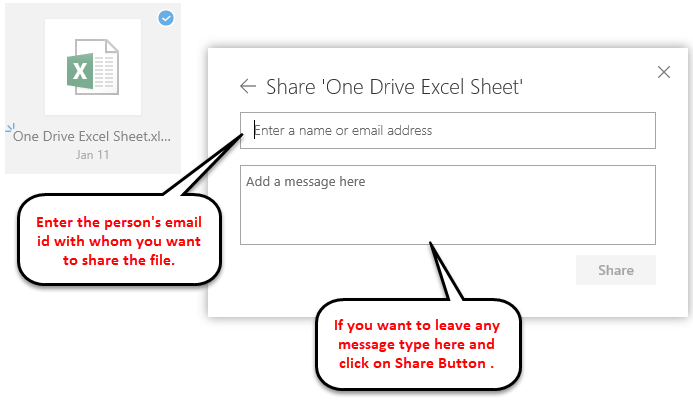 After that, the recipient will receive a link and can work on the same file.
Things to Remember About Microsoft Excel OneDrive
If you and the other person want to work at the same time on the same file, then use Excel Online option.
You can easily access the file from anywhere if you save the file on OneDrive.
Recommended Articles
This has been a guide to Excel OneDrive. Here we discuss how to use Microsoft excel OneDrive and how to share a file with anyone. You can also go through our other suggested articles –