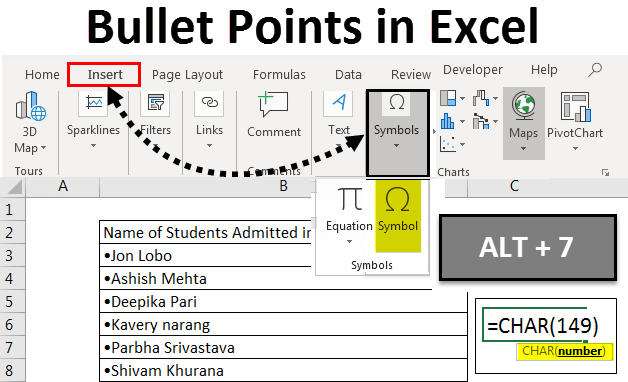 Excel Bullet Points (Table of Contents)
Bullet Points in Excel
Microsoft Excel is more about numbers and reports. Sometimes you need to present some information in points in your report and you can do it by adding bullet points in Excel.
But the major drawback is that creating the bulleted list in Excel isn't as straightforward as it is in Word Document as there is no direct button of adding bullets on the ribbon in Excel. But that doesn't mean that we can't add bullets in Excel. In fact, there are 6 different ways to use it.
How to Add?
As discussed above, we will show you below steps how to add bullet points in excel by using 6 Different ways with some examples.
Bullet Points in Excel – Example #1
Create the Bulleted List Using Keyboard Shortcuts
The Simplest and quickest way to add the bullet symbol into the cell of the Excel sheet is by using keyboard shortcuts.
Alt + 7 to insert a Solid Bullet.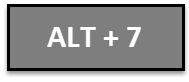 Alt +9 to insert an Empty Bullet.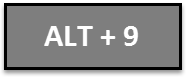 Alt +254 for the Square Bullet.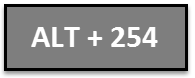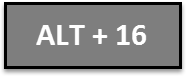 Note:
You need to use your numeric keypad for using the numbers key with Alt-tab. If you are working on a laptop you may need to use different shortcuts.
Usually, Solid and empty bullets are used but if you want to add some fancy bullet points in excel you can add square or arrow bullet points.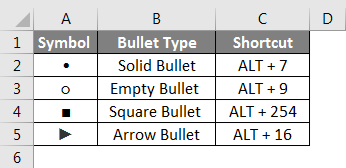 Bullet Points in Excel – Example #2
Create the Bulleted List Using the Symbol Dial Box
You can use Symbol Dial Box in case if you don't have a number pad on your keyboard or if you forget Keyboard shortcuts.
We will show you this step by step and with an example.
Open an Excel Sheet.
Go to Insert tab.
Select Symbols >Symbol under the Insert Tab.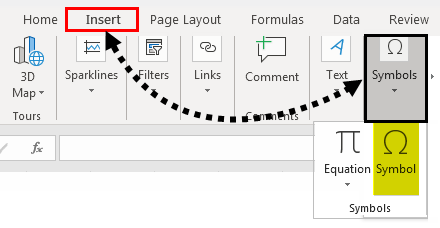 After Selecting symbol, a dialog box will open, Font Calibri will automatically get selected in the Font Dropdown but you can select any font, and then select the bullet symbol you want to use and click Insert and then click Close.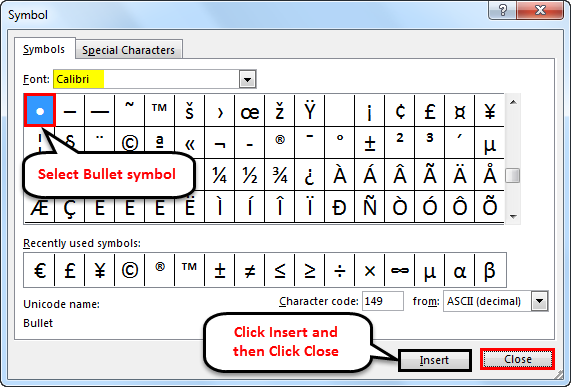 You can copy paste the symbol to next Row or Column.
So, in the above steps, it is shown how to insert by using the symbol tab under Insert tab and now let's take a simple example.
We need to show the Number of children admitted in School in 2019 and we want to show this data in the Excel file.
Open the Excel File.
Go to Insert Tab, Select Symbol under Insert Tab.
So, in the file, we have created the heading "Name of Students Admitted in School in 2019"
So before adding the names under it, we will add bullet points before the name as we want to show our data in Bullet Points. We will select the B3 cell.

We will click on Insert tab, then we will select Symbol, after selecting symbol a dialog box will appear. We will select Bullet symbol and select Insert.
The bullet will be inserted in a column and you can update the name of the student.

A bullet is inserted in Column B3 & now you can type the name of a student. This way you can add a bullet in another column and update the name or you can copy paste by using (CTRL+C) for copying and (CTRL +V) for pasting the bullet in other columns till where you want to update the data.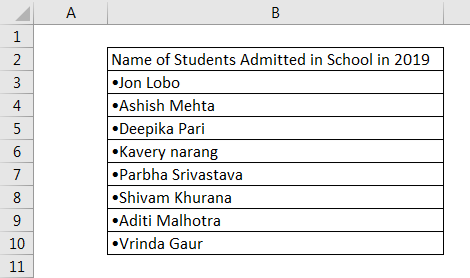 So, this way the bullets are added using the Symbol tab. For any List or Worksheets, you can use it in a similar way.
Bullet Points in Excel – Example #3
Create a Bulleted List Using a Function
It is useful when you want to add bullets to a multiple cell at a time, so you can use the CHAR Function. It takes a character code and displays the character that corresponds to that code in the cell. We will show you an example of how to use this function.
Open an Excel Sheet.
Let's say we have a list of fruits in Column A of the excel sheet.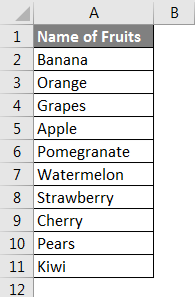 Now we will convert the above list of fruits to the bulleted list in Column B by using CHAR Formula
In B2, we will put formula (=CHAR(149)), It will add a bullet to the column.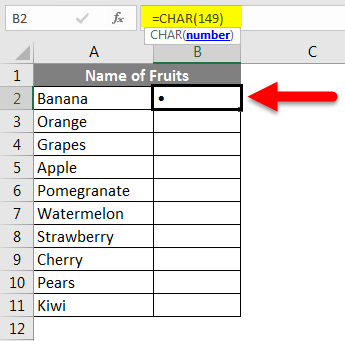 If you want to add the name of the fruit after the bullet, you can type this formula (=CHAR (149)&" "&A2). This Formula concatenates a solid bulled character, one space and the value of the referenced cell(A2).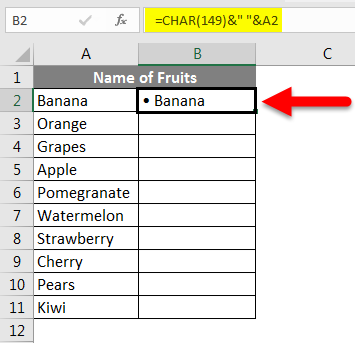 This method is useful if you already have a list of items in one column without the bullet. To copy the formula in other columns you can then drag the AutoFill box in the lower-right corner of the cell and scroll it down till where you want to fill your data as shown below.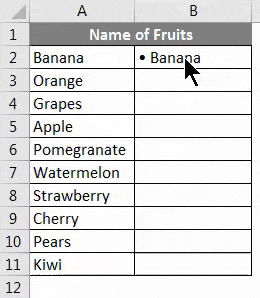 Bullet Points in Excel – Example #4
Create Bulleted List through Custom Formatting
Custom Number Formatting is an amazing technique useful in long Bulleted list as it adds the bullets to your list items faster and it is useful when you don't have a number pad.
Let's discuss this feature with an example.
Open an Excel File.
We will select 15 cells in the Excel sheet in column A.
After Selecting the cells, we will press (CTRL+1) to open the Format Cell dialog box or you can go to the Home tab and click the small icon shown below to open the dialog box.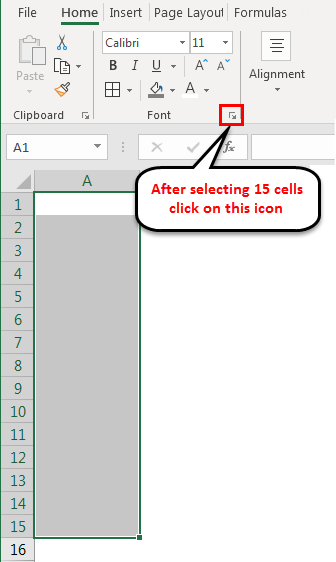 When the dialog box appears, we will go to the Number tab and select Custom from the below list.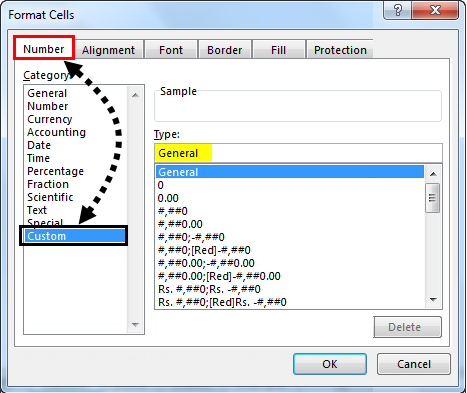 After Selecting Custom, a General Field will appear as shown in the above screenshot. This Field allows you to specify the format of the selected cells which we selected in our second step (15 cells) from Column A1 to A15.
Now we will add bullet point by putting Bullet Symbol(you can copy the symbol from anywhere) and paste it in the type box and then space and then @ character and Click OK.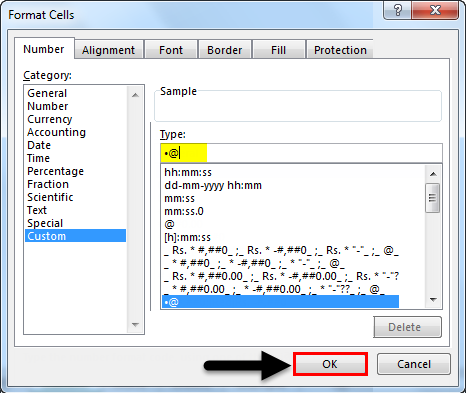 Now if you type "Little Elly School" in the A1 Cell and hit Enter. It will automatically come with the bullet point. Now if you check in the formula bar the value which was only Little Elly School remains the same.

The similar formatting will be applied for the 15 cells which we selected in the starting & whatever you type in these cells, it will come up with bullet points.
Using the same function, we have added the data on all the 15 cells with the school names. It will all come up with the bullet points in excel worksheet.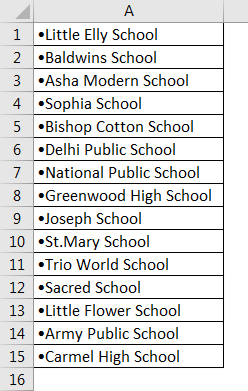 Bullet Points in Excel – Example #5
Create a Bulleted List by copying it From Microsoft Word
This Feature is very simple and easy. As we all know that we have the Bullet Feature in Word, so we can add our list of items in the word with Bullet Points and copy the data from word and paste in the excel by double clicking the cell of a column.
Open the Microsoft Word Document.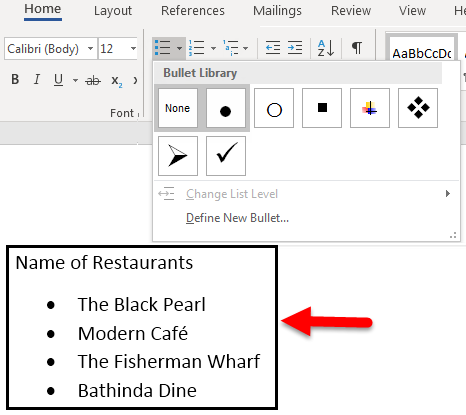 Select Bullet Point feature in word and type the data you want to update in Excel File. Copy the data by using CTRL+ C.
Open the Excel File and Paste the data by double-clicking on the cell (or press F2) and then Press (CTRL+V) in the excel file. The Data copied from Word will be pasted in the Excel sheet
NOTE: You can either double click the cell or press F2 before pasting the data for getting the data in one cell otherwise bullet points will be pasted in one cell & data will be pasted in another cell.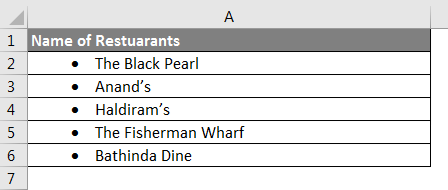 Bullet Points in Excel – Example #6
Entering Multiple Bullets in One Cell (ALT + ENTER)
Suppose you want to enter multiple bullet points in one cell. You can simply do by following the below steps.
Double click on the cell or Press F2.
Now insert the bullet point by following any other above methods and enter the text you want to enter.
After entering the text, press ALT + Enter

This will take you to another line in the same cell.
Now you can add bullet again and enter the text.
For example, Look at the below screenshot where I have entered multiple bullet points line item in a cell.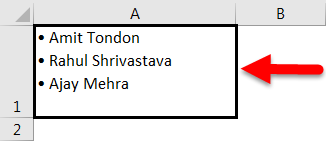 Things to Remember
Bullet Point helps Clarify Writing as it avoids information in long texts and adds just the brief with quick information, but you should use it Wisely and in Limit.
Bulleted Lists should be arranged in an order that makes them as efficient as possible.
Bullets are designed for clarity and not for confusion, so you should avoid using more bullets and sub-bullets.
Never have only one bullet. If you have a list of information then these bullet points are useful.
Recommended Articles
This has been a guide to Bullet Points in Excel. Here we discussed How to add Bullet Points with different methods in Excel along with practical examples and downloadable excel template. You can also go through our other suggested articles –