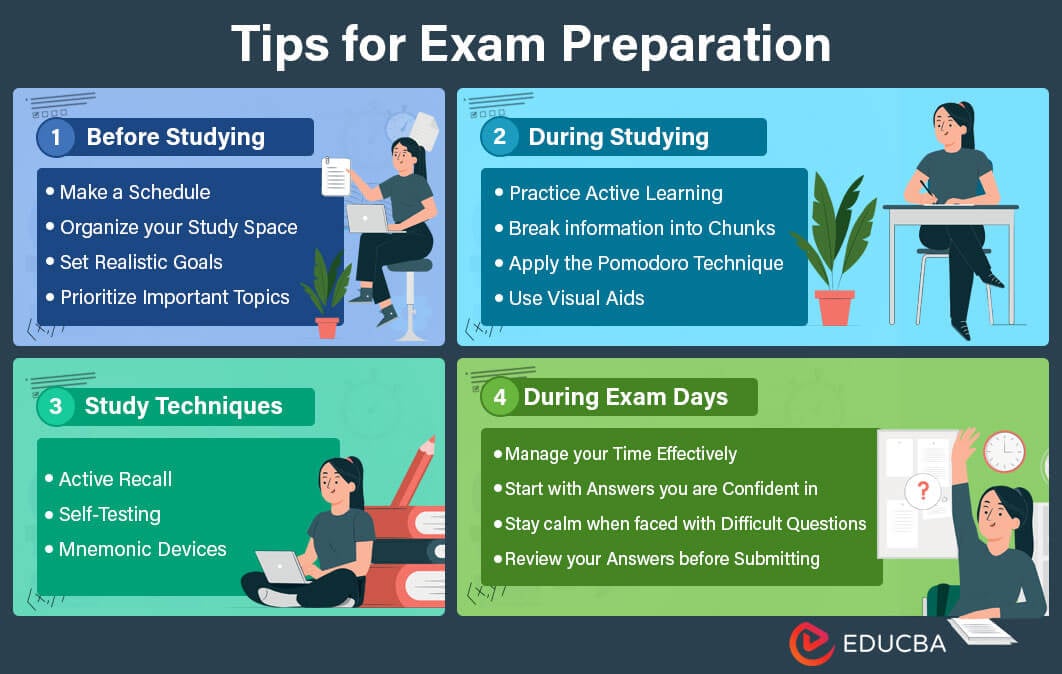 Introduction to Exam Preparation Tips
Effective exam preparation is essential to successfully qualify for exams. Whether you are a student facing a final exam or a professional preparing for government or competitive exams, the tips in this article can help you improve your performance.
This is a clear and concise guide on how to prepare for exams using various strategies.
Table of Contents
How to Prepare for Exams?
1. Before Studying
Follow these tips before you start your exam preparation:
Make a Schedule:
Before you start preparing for your exams, you must create a study schedule.
A study structure will help you divide your time correctly for each subject.
Also, make sure you plan and work according to your peak productive hours (depending on if you are an early bird or night owl).
Finally, stick to the schedule to build discipline and consistency.
Organize Your Study Space:
Keep your study environment clutter-free, well-lit, and equipped with essential materials.
It plays an important role in your focus and efficiency in exam preparation.
A tidy workspace can minimize distractions and boost concentration.
Set Realistic Goals:
Break down your study goals into smaller and achievable milestones.
It will make the task seem easier and offer a sense of accomplishment as you tick off completed objectives.
Prioritize Important Topics:
Not all topics are equally important or challenging, so you must find the key areas to pay more attention to and complete them first.
It prevents last-minute study and ensures you know the essential things.
2. During Studying
As you sit down to study, use the below exam preparation approaches,
Practice Active Learning:
You can summarize what you understood about the topic and imagine you are a teacher explaining the topic to imaginary students.
You can also discuss concepts with a study partner or in group sessions.
Break Information into Chunks:
Instead of trying to memorize information altogether, you can break them into smaller sections.
This strategy makes it easier to learn complex subjects, preventing information overload.
Apply the Pomodoro Technique:
The Pomodoro Technique is when you study with full focus for 25 minutes and take a 5-minute break continuously in a cycle.
After completing four cycles, you can take a longer break.
This approach boosts productivity and prevents burnout during exam preparation.
Use Visual Aids:
You must use visual graphics like mind maps, diagrams, and flowcharts to help you visualize concepts.
It will simplify complex information and improve your understanding of the subject.
3. Study Techniques
Using these techniques while studying will help you remember stuff better:
Active Recall:
It is a way of learning where you try to remember things from your memory instead of just reading them again.
To do this, once you memorize a piece of information, close your resources and try to recall what you remember.
It will help you remember things for a longer time.
Self-Testing:
Regularly practice quizzes to test yourself. You can use practice questions and past papers.
Self-testing helps you know what you remember and which parts you should study more.
Mnemonic Devices:
Using mnemonic tools, like acronyms and rhymes, will help you in your exam preparation.
For instance, to remember the order of the colors in a rainbow, we use the acronym VIBGYOR (violet, indigo, blue, green, yellow, orange, red).
This way, it is easier to remember than trying to remember all the words/terms separately.
4. During Exam Time
After successful exam preparation, while attending your exams, remember the following tips,
Manage Your Time Effectively:
Take 5 minutes before the exam to read the question paper thoroughly.
Understand the structure of the paper and allocate appropriate time for each section.
While answering, if you can't remember any particular answer, leave some space and return later instead of trying to remember it.
Start with Answers You are Confident in:
While attending the exam, start with the questions you are confident in.
Solving questions you know first will boost your morale and set a positive tone for the rest of the exam.
Stay Calm When Faced with Difficult Questions:
During the exam, if you don't remember the answer to a particular question, take a deep breath and remain calm.
Keep a clear head and write as much as you remember because panicking will make it more difficult for you to think of an answer.
Review Your Answers Before Submitting:
Try and finish the paper at least a few minutes early so you have the time to review your answers.
It is common to make spelling mistakes or incorrect numbering of answers. So, look for any errors or omissions and rectify them.
Board & Competitive Exam Preparation Tips
Here are some exam preparation tips for specific major school-level and professional exams:
Exam
Effective Exam Preparation Techniques
Tips Before the Exam
SSC (Secondary School Certificate)

Create concise notes for quick revision.
Join study groups.

Revise key chapters and answers at least twice.
CBSE Exams

Use mnemonic devices for complex concepts.
Create mind maps for clear understanding.

Focus on key concepts and formulas.
ICSE Exams

Utilize flashcards for key terms.
Solve past question papers.

Review challenging topics and practice problem-solving.
SAT (Scholastic Assessment Test)

Create a skill-based study schedule.
Enhance reading skills and speed with continuous practice.

Get adequate rest prior to the exam.
CPA (Certified Public Accountant)

Build a robust timetable to complete all four parts within the set period.
Analyze past exam questions for patterns and trends.

Review practice tests to test your knowledge.
CFA (Chartered Financial Analyst)

Summarize complex theories in your own words.
Teach concepts to others to solidify learning.

Analyze errors in mock exams.
CA (Chartered Accountant)

Read and practice complex concepts more than once.
Solve case studies to apply knowledge in real-world contexts.

Review case studies and important legal case laws.
Banking Exams

Practice mock tests to enhance speed and precision.
Create mnemonics for banking concepts and terminology.

Focus on current affairs and important events.
FRM (Financial Risk Manager)
Revise complex calculations and key risk metrics.
CMA (Certified Management Accountant)

Simplify financial concepts for a non-specialist explanation.
Create flashcards for ratios and formulas.

Go over cost accounting concepts and formulas.
Bar Exam

Make a visual timeline of legal precedents and cases for easy learning.
Summarize legal concepts for quick revision.

Reread practice essays and focus on clear structuring.
IELTS / TOEFL

Engage in conversations with native speakers.
Record and review speaking responses for improvement.

Practice reading, listening, and speaking skills.
USMLE (United States Medical Licensing Examination)

Visualize medical pathways with concept maps.
Make mnemonics for complex medical terms.

Focus on high-yield topics and practical applications.
PMP (Project Management Professional)

Develop timelines for studying different topics.
Create real-world project scenarios for practice.

Reexamine key project management frameworks and concepts.
GRE (Graduate Record Examination)

Use color-coded flashcards for vocabulary and formulas.
Summarize articles to improve reading and understanding.

Revise high-frequency vocabulary and essential formulas.
Additional Exam Preparation Tips
A) Healthy Habits
Besides studying well, exam preparation also includes caring for your body and mind. Follow these guidelines:
Get Enough Sleep:
Getting enough sleep is necessary for the brain and body to function properly.
It will increase your ability to think, learn, remember, and solve problems.
Get at least 7-9 hours of quality sleep per night during your study period.
Stay Hydrated & Have a Balanced Diet:
Following a healthy diet and intaking an adequate amount of water will help increase brain function.
Dehydration can reduce focus, slowing down the learning process. So, maintain hydration and eat nutritious foods to sustain energy.
Exercise Regularly:
Physical activity and exercise can help you increase blood flow to the brain and throughout the body by increasing your heart rate.
This will improve your performance and reduce stress, keeping you healthy and fresh for your exam preparation.
B) Tips for Managing Stress
It is very common for students to stress before an important paper. Here are some tricks you can use to help mitigate stress during exam preparation.
Practice Relaxation Techniques:
Stress can interfere with your ability to understand and remember important things.
Therefore, practice relaxation methods like deep breathing, meditation, or mindfulness to reduce anxiety and improve concentration.
Take Breaks:
If a student studies for an extended period of time without taking a break, it can result in burnout.
Regular breaks during study sessions, such as short walks, stretching, or simply stepping away from your desk, can increase your focus.
Final Thoughts
Exam preparation does not include only studying. It is a plan involving effective strategies, healthy habits, stress management, etc. Using all the above tips in your routine will make you better prepared to perform your best on exam day and achieve the desired results. So, follow the guidelines, stay focused, and care for yourself throughout the process.
Recommended Courses & Articles