Online Shopping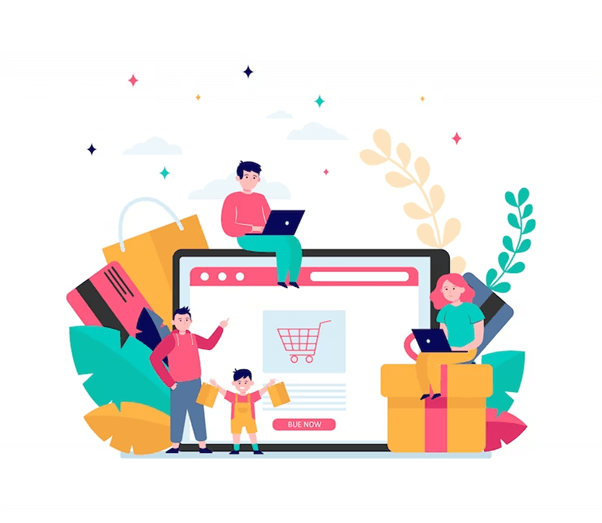 (Image Credit : Freepik)
Online shopping is one of the best gifts of modern technology and is just one of the many benefits of technological advancement. It has enabled many products to be available at online stores, where everyone can shop with a single click and have the item delivered as soon as possible. Because of its convenience, most people prefer online shopping in both urban and rural areas.
Online shopping is a type of shopping in which customers can easily purchase goods and services online. Shopping online allows us to get a sense of the availability of everything, but it costs data. Online shopping is becoming increasingly popular. Customers can buy various goods and services, while sellers can use them to conduct business and transactions online. It is a time-saving and convenient method of shopping. It could argue that the evolution of traditional shopping habits has increased shopping accessibility, relaxation, and flexibility. Let us now learn more about the essay essay on Online Shopping.
What does Online Shopping mean?
The practice of purchasing items from online stores using a laptop or mobile device is well-known as online shopping. Because of technological advancements, many traditional physical stores have transformed into online stores. All products were available in physical stores found in online stores and purchased with a single click. Amazon.com, eBay, Flipkart, Paytm Mall, Snapdeal, Myntra, Jabong.com, BigBasket.com, Urbanclap, and other websites provide the ability to shop online. Anyone can go to these online stores on their computer or mobile device, select the item they want to purchase, and then place an order. A delivery person will deliver our products as soon as possible.
Online shopping is a rapidly growing segment of technology and the digital world. When a store establishes online, customers have a variety of options. As a result of the rise of online shopping, most businesses have begun selling their products online. There needs to be more than physical stores in today's fast-paced world. Consumer-facing online store interfaces are now required for business operations.
Online Shopping vs. Traditional Shopping
When you hear "shopping," you typically picture traditional shopping, which involves going into stores and making purchases. The main benefit of traditional retail is that shoppers can see the items they purchase before committing to a purchase. They can also try on any clothing or shoes they plan to buy. In contrast to online shopping, customers can also take the goods home on the same day. This is crucial when purchasing daily necessities like groceries.
For various reasons, people prefer traditional or in-person shopping to online shopping. The ability to immediately assess the quality of a product makes visiting physical stores advantageous. You can even try on the clothing to ensure that it fits perfectly. This feature needs to improve in the online market. You hold the product in your hands when you shop traditionally. There is no need to wait several days for the product to arrive. When it comes to purchasing items for daily use, traditional stores far outperform online stores. While online prices are fixed, you can haggle when shopping in person. When you shop online, you have the option of a simple return.
Impact of Online Shopping on Retail Stores
Retailers are more aware than ever of consumer purchasing power since the advent of online shopping. As you might have seen with big box stores such as Borders, Hastings, and Circuit City, failing to transition their stores to online outlets can lead to the company's demise. Businesses must maintain connections with their customers both online and in person. With these connecting points, retailers can develop a relationship with their customers, which could help their profits and brand loyalty.
Customers prefer a mix of retail spaces and other communal activities such as restaurants, art, theaters, and cafes, which is why shopping malls are becoming less popular. Another potential roadblock for retailers is to innovate their spaces, enter those great outdoor malls, or rent a retail space mixed in with other stores. Because fewer people shop in stores than online, the store must provide a unique experience that the internet cannot. These one-of-a-kind experiences can create using electronic innovations such as iPad inventory selection, virtual changing rooms, limited edition collections, or coupons only available in-store.
Conclusion
Online shopping is a convenient way to purchase a variety of products. However, some items are superior when purchased in a physical store. As a result, everyone expects online retailers to advance their technology in the future, resulting in a more direct and realistic shopping experience.
This generation's youth adore online shopping. It's an intriguing way to compare a variety of goods at different price points on the same website or in the exact location. Thanks to online shopping, everyone has new ideas for surprising their loved ones on special occasions. It does, however, have some effects on other fronts.
Recommended Articles
We hope that this EDUCBA information on "Essay on Online Shopping" was beneficial to you. You can view EDUCBA's recommended articles for more information,