How it Works?
Artificial Intelligence has been one of the most booming industries since its first program launch in 1951. With a global market value of $136.55 in 2022, an essay on Artificial Intelligence is worth the shot. Who would have thought a few centuries back that there would be a time when we would have surgeries performed by robots? Or virtual assistants like Siri or Cortana to operate smartphones hands-free!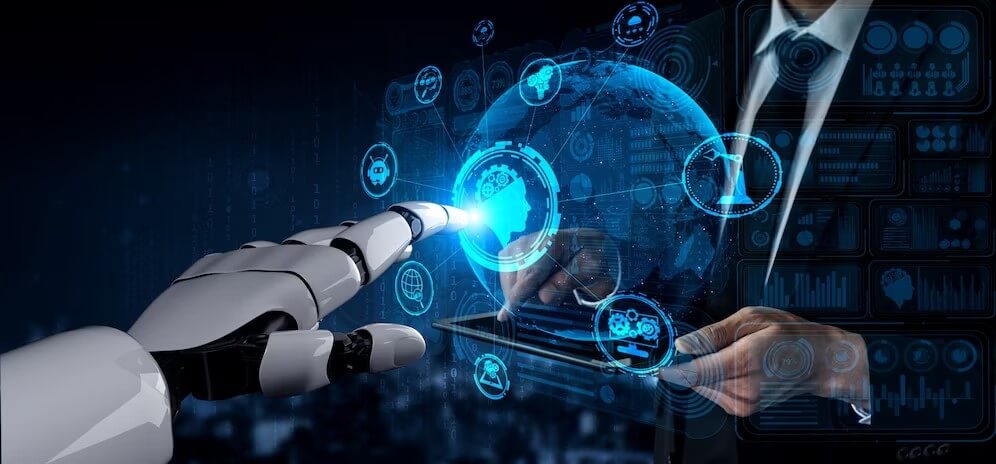 The A.I. industry's rise is no wonder, as we have driverless cars in manufacturing like Tesla on the cards. Today's homes are no longer just ordinary but 'smart homes.' While A.I. is an integral part of today's life in 2023, let's first know what is A.I.
What is Artificial Intelligence?
Artificial Intelligence is the ability of computers to perform the tasks possible through human intelligence. In short, it is the simulation of human intellect by machines. It is a branch of computer science that involves the development of intelligent machines that can think independently.
While human intellect comprises a diverse range of abilities, A.I, abbreviated for Artificial Intelligence, focuses on five of its components:
Reasoning
Learning
Problem-solving
Perception
Language
Its elements include machine learning, deep learning, cognitive computing, etc.
Is A.I. a New Field?
Though A.I. recently grabbed the eyeballs of the masses with digitization, the A.I. boom took place in 1980-87.
How does A.I. Become Smarter?
Initially fed loads of data by professionals to the A.I. engine, slowly, it needs lesser human assistance to operate and think. Such ability allows A.I. to take on more tasks and problems and, with time, become more competent and may even surpass human intelligence to become super intelligent one day.
Neural networks in deep learning allow A.I. to mimic the thinking efficiency of the human brain's neocortex. It thus helps it to refine its outcome with every experience, thus improving decision-making ability.
Impact on Everyday Life
A.I. emerged to complement and assist in labor and innovation. Today, software like Chat GPT can solve complex issues, including finding a bug in a long programming code.
Besides, A.I. boosted the industrial sector with automation and innovative technologies.
The Era of Artificial Intelligence
With many countries setting up dedicated offices for A.I., like the Ministry of A.I. in UAE, its integration into the real world is no more uncommon.
Why is Artificial Intelligence So Popular?
In this fast-paced world, automation and error reduction are the prime demands. From taking over repetitive jobs like writing emails to do of chores like sweeping, A.I. has come forward like a savior. Though A.I. lacks human emotions and essence, it is nearly in complex calculations.
Limitations of Artificial Intelligence
Exorbantly expensive to both develop and maintain.
Limited data and resources to replicate the human level of intelligence
Less creativity
Lack of infrastructure and awareness, especially in developing countries.
Lack of A.I. talent
Ethical issues like creators needing to be more transparent about how A.I. collects the users' information.
Applications of Artificial Intelligence
A.I. found use in a diverse range of sectors:
#1 Agriculture
It allows for countering issues like irrigation, spraying of insecticides, and predicting demand.
#2 Manufacturing
A.I influenced sectors like engineering, supply chain management, quality assurance, plant logistics, etc. With A.I., unfamiliar situations allow for sound, flexible, and best decision-making.
#3 Healthcare
Advancements like imaging diagnostics and personalized treatment plans with A.I. allowed for reaching far-off areas. The advent of robotics gave way to perform robot-assisted surgeries. Other uses include faster analysis of swabs, data mining through medical records, etc.
#4 Retail
It is one of the earliest adopters of A.I., using the technology to ensure the highest quality user experience. It helps develop chatbots for customer care to fasten the query processes.
#5 Education
Automating administrative tasks, personalized learning suggestions, and plans allowed to reduce the dropout rate. E-learning platforms in 2020 saw tremendous growth, especially after the Covid-19 pandemic.
Is A.I. Domination Something Scared of?
Some experts are skeptical of A.I. and believe giving A.I. the ability to learn itself can become a danger in the future with A.I. domination. While others believe that a transparent relationship between A.I. creators and the public can allow its use to limit human welfare with a human-A.I. partnership.
An essay on Artificial Intelligence can't end without putting down the notorious possibilities of A.I. and human relationships. If properly utilized, A.I. can be the perfect employee who can assist in daily operations with little extensive training and guidance required. In this essay on Artificial Intelligence, we broadly explored its meaning, limitations, and benefits with applications.
Recommended Articles
We hope that this EDUCBA information on "Essay on Artificial Intelligence" was beneficial to you. You can view EDUCBA's recommended articles for more information,