Introduction to Essay on My Favorite Game Badminton
The rhythmic whoosh of shuttlecocks slicing through the air, the quick, agile movements across the court, and the thrill of a perfectly executed smash – these are the elements that make badminton my absolute favorite game. While the world of sports offers many choices, each with its unique charm, badminton stands out for me as a sport that encapsulates physical prowess, mental agility, and the sheer joy of movement. In this essay, we will delve into the origins and evolution of badminton, explore the basics of the game, and share my personal experiences that have solidified its place as my preferred athletic pursuit. From the casual backyard matches to the competitive courts, badminton has woven a tapestry of excitement and satisfaction into my life, making it an enduring passion worth celebrating.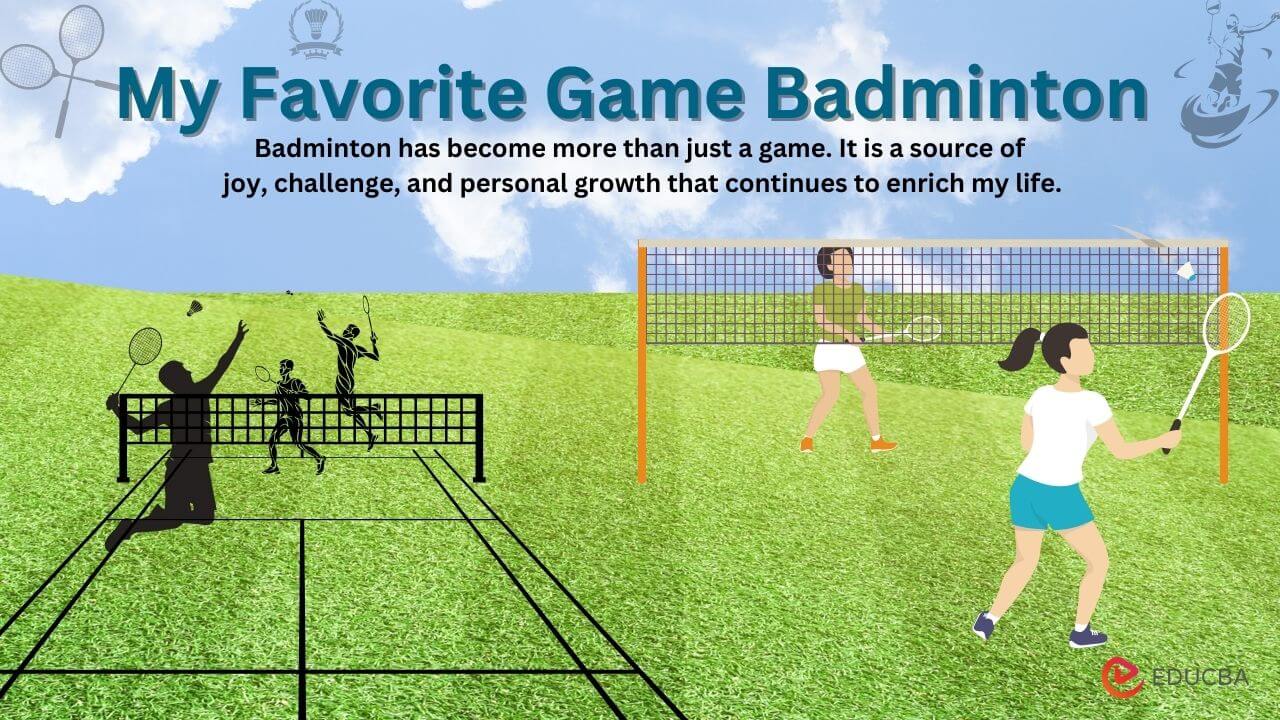 Badminton
Badminton is a beautiful combination of athleticism, strategy, and enjoyment. Played with a racquet and a shuttlecock on a rectangular court divided by a net, it demands swift footwork, enhancing cardiovascular health and stimulating mental alertness. The joy derived from playing badminton is unparalleled, creating a sense of accomplishment and satisfaction. It also fosters teamwork, communication, and sportsmanship. It is an art form, a physical and mental challenge, and a lifelong passion that enriches life.
History of Badminton
Ancient civilizations, including ancient Greece and China, played games involving a shuttlecock-like object, tracing the origins of badminton back to those times. However, the modern version of badminton took shape in British India during the mid-19th century. The British army stationed there adopted a game called "Poona", which involved hitting a shuttlecock back and forth with rackets.
In 1873, the Bath Badminton Club of England formalized the rules, marking the birth of badminton as a distinct sport. The game's name is believed to have been derived from the Duke of Beaufort's Badminton House in Gloucestershire, where club members played the early version of the sport.
Badminton quickly gained popularity in England and spread to other parts of the world, becoming a global sport. The Badminton World Federation (BWF) was formed in 1934 to oversee and promote the sport internationally, further contributing to its growth and development.
Why Badminton is a Popular Sport
1. Accessibility and Simplicity:
One of the reasons for badminton's popularity is its accessibility. It requires minimal equipment – a racket and a shuttlecock – and can be played in various settings, from a backyard to a professional court.
The simplicity of the game's rules makes it easy for beginners to grasp, encouraging people of all ages to take up the sport.
2. Physical and Mental Benefits:
Badminton offers a comprehensive workout, engaging players in constant movement, jumps, and rapid changes in direction. This contributes to improved cardiovascular health, agility, and overall fitness.
The game's fast-paced nature enhances reflexes and requires strategic thinking, promoting mental sharpness and concentration.
3. Versatility:
Players can choose the level of competitiveness that suits their preferences in badminton, a versatile sport that can be played in different formats – singles, doubles, and mixed doubles.
People can enjoy the sport both recreationally among friends and family or competitively in organized leagues and tournaments.
4. Global Appeal and Professional Scene:
Badminton has a widespread global appeal, with a significant following in countries across Asia, Europe, and beyond.
The existence of a vibrant professional badminton scene, including prestigious tournaments like the All England Open and the BWF World Championships, attracts top-level athletes and garners international attention.
5. Inclusivity:
Badminton is a sport that accommodates players of varying skill levels, making it inclusive for individuals of all ages and abilities.
Its popularity in schools and community centers contributes to developing a broad player base and fosters a sense of community.
6. Entertaining to Watch:
Badminton offers a visually appealing spectacle for spectators with its fast rallies, powerful smashes, and strategic play.
Major tournaments heighten the sport's entertainment value, where the world's best players showcase their skills and compete for prestigious titles.
Essentials of Badminton
Basic Rules of Badminton
1. Scoring System:
In badminton, players usually play in sets, and a match consists of three sets, each playing for up to 21 points.
To score a point in badminton, the shuttlecock must land in the opponent's court, and the side that wins the rally earns a point.
2. Serving and Receiving:
The serving side must serve from the right service court when their score is even and from the left service court when their score is odd.
The server must serve diagonally across the net to the opponent's service court.
The receiving side must stand in their respective service courts without crossing the boundary lines until the shuttle is served.
3. Faults:
A fault is committed if the shuttlecock:

Lands outside the boundaries of the court.
Fails to clear the net.
Touches the ceiling or side walls.
Hit twice in a row by the same player.
Struck by a player's body or clothing.
4. Scoring Rotation:
Players or pairs switch sides after winning a rally and scoring a point. This ensures no player or pair has a consistent advantage due to factors like lighting or court conditions.
Equipment
1. Racket:
Badminton rackets are typically lightweight and have a frame strung with strings or synthetic materials.
The choice of racket depends on the player's skill level, playing style, and personal preference.
2. Shuttlecock:
The shuttlecock, or shuttle, is a feathered or nylon projectile with an open conical shape.
Feathered shuttles are used in professional play, while nylon shuttles are suitable for recreational and casual play.
3. Net and Posts:
The badminton net is set at 5 feet (1.55 meters) in the center and is slightly lower at the posts.
The net divides the court into two halves and is placed over the doubles sideline when playing doubles.
4. Court and Lines:
The badminton court is rectangular, and its dimensions vary for singles and doubles play.
Lines mark the court, including the baseline, service lines, and sidelines.
Terminology for Beginners
Service Court: Each side of the court is divided into two service courts, marked by the short and long service lines.
Baseline: The back boundary line of the court.
Smash: A powerful overhead shot executed with a quick, descending racket movement. The smash is often used to finish a rally.
Drop Shot: A soft shot played with finesse to make the shuttlecock fall just over the net.
Clear: A shot hit deep into the opponent's court, forcing them to move towards the back boundary.
Drive: A flatter and faster shot, often played parallel to the sidelines, to counteract an opponent's attack.
Rally: A sequence of shots exchanged between the opposing players or pairs.
Deuce: When the score reaches 20-20, referred to as "deuce," a side must win by two clear points to secure the set.
Tips to Play
Playing badminton involves a combination of techniques, strategies, and training. Whether you're a beginner or an experienced player looking to improve, here's a guide on how to play badminton effectively:
Mastering Basic Techniques
1. Grip:
Learn the basic grip: forehand grip and backhand grip.
Practice switching between grips seamlessly.
2. Footwork:
Work on your footwork to move swiftly and maintain balance.
Practice the split step, which is crucial for quick reactions.
3. Serving:
Practice the correct serving technique, ensuring the shuttlecock is hit below waist level.
Experiment with different serves, such as high serves and low serves.
4. Clear Shot:
Master the clear shot to send the shuttlecock deep into the opponent's court.
Focus on proper body rotation and use of the wrist for power.
5. Drop Shot:
Practice the drop shot for a soft, close-to-the-net placement.
Develop a deceptive motion to catch opponents off guard.
6. Smash:
Perfect the smash, a powerful overhead shot, using your wrist and arm strength.
Practice variations of the smash, such as cross-court and straight smashes.
Strategic Play
1. Understanding the Opponent:
Analyze your opponent's strengths and weaknesses.
Adjust your strategy based on the opponent's playing style.
2. Court Positioning:
Learn how to cover the court effectively, especially in doubles.
Understand the importance of maintaining a good position relative to the shuttlecock and your opponent.
3. Tactics for Singles and Doubles:
Singles: Focus on agility and covering the entire court.
Doubles: Coordinate with your partner, communicate, and strategize to cover the court efficiently.
4. Deception:
Incorporate deceptive shots to keep your opponent guessing.
Use changes in pace, angle, and shot selection to create uncertainty.
Training Regimen
1. Physical Fitness:
Engage in cardiovascular exercises to improve endurance.
Incorporate strength training for better power and agility.
2. Footwork Drills:
Practice various footwork drills to improve speed and agility.
Focus on lateral movements, quick changes of direction, and explosive bursts.
3. Shadow Play:
Mimic match scenarios without a shuttlecock to work on positioning and footwork.
Visualize opponents' movements and practice your responses.
4. Regular Practice Matches:
Engage in practice matches to apply learned techniques and strategies.
Seek feedback from coaches or more experienced players.
Mental Preparation
1. Focus and Concentration:
Develop mental resilience to stay focused during matches.
Train your mind to recover from mistakes quickly.
2. Visualization:
Visualize successful execution of shots and effective strategies.
Use mental imagery to prepare for different game scenarios.
3. Mindfulness and Relaxation:
Practice mindfulness techniques to stay calm under pressure.
Incorporate relaxation exercises to manage pre-game nerves.
Badminton World Federation
The Badminton World Federation (BWF) serves as the international governing body for badminton. It was initially established as the International Badminton Federation (IBF) on July 5, 1934, and later rebranded as the BWF in 2006. The federation's primary responsibility is to manage and promote the growth of badminton globally, organize international competitions, set rules and regulations, and uphold the sport's integrity.
The key functions and duties of the Badminton World Federation (BWF) entail:
Rule-making and regulation: The BWF sets and maintains badminton rules and regulations. This includes court dimensions, scoring systems, and player conduct during matches.
International competitions: The BWF organizes and sanctions various international badminton tournaments, such as the All England Open Badminton Championships, the BWF World Championships, and the BWF Thomas and Uber Cup. These events allow the world's top players to compete at the highest level.
Ranking system: The BWF maintains a global ranking system for players and pairs in different categories (singles, doubles, mixed doubles). These rankings are crucial for determining seedings in tournaments and showcasing the current standings of players in the world of badminton.
Sports development: The BWF promotes and develops badminton at all levels, including grassroots and youth programs. It supports member associations and organizations to grow the sport in their respective regions.
Technical officials and coaching: The BWF trains and certifies technical officials such as umpires and referees to ensure the consistent and fair enforcement of the rules. It also plays a role in developing coaching standards and programs.
Anti-doping and integrity: The Badminton World Federation (BWF) strives to uphold the integrity of the sport by implementing anti-doping protocols and enforcing ethical conduct and fair play among all participants.
Broadcasting and marketing: The BWF is involved in commercial aspects such as broadcasting rights, marketing, and sponsorship. This helps generate revenue to support the federation's activities and the growth of badminton globally.
Representation and governance: The BWF represents badminton internationally and liaises with other international sports organizations. It also ensures good governance and transparency within its structure.
Memorable Moments
Lin Dan's Olympic Dominance: Lin Dan, often referred to as "Super Dan," etched his name in badminton history by winning back-to-back Olympic gold medals in the men's singles category in 2008 (Beijing) and 2012 (London). His extraordinary skills and ability to perform under pressure have made him a sports legend.
Lee Chong Wei vs. Lin Dan Rivalry: The intense rivalry between Lee Chong Wei of Malaysia and Lin Dan of China captivated badminton enthusiasts worldwide. Their epic clashes in multiple finals, including the 2008 and 2012 Olympic finals, showcased the pinnacle of men's singles badminton.
Saina Nehwal's Historic Win: Saina Nehwal made history by becoming the first Indian woman to win a singles medal in badminton at the Olympics. Her bronze medal at the 2012 London Olympics marked a significant milestone for Indian badminton.
Carolina Marin's Olympic Triumph: Spain's Carolina Marin created history by winning the gold medal in women's singles at the 2016 Rio Olympics. Her spirited and aggressive style of play showcased the changing landscape of women's badminton.
Indonesia's Thomas Cup Victory 2020: Indonesia's Thomas Cup triumph in 2020 was remarkable for the nation. The team, led by the young and talented Anthony Ginting, defeated China to win the prestigious men's team event.
P.V. Sindhu's World Championship Gold: P.V. Sindhu, from India, won the 2019 BWF World Championships singles gold medal, becoming the first Indian to achieve this feat. Her victory showcased her skill, determination, and resilience.
The Longest Rally in History: A mesmerizing 2014 match between Malaysia's Goh V Shem and Lim Khim Wah and Japan's Hiroyuki Endo and Kenichi Hayakawa featured a rally that lasted an astonishing 108 shots. This showcase of endurance and skill remains etched in the memories of fans.
All England Open Classics: The All England Open Badminton Championships has been the stage for many iconic moments. Matches like the 2001 men's singles final between Gade and Hendrawan, known for its incredible rallies, are eternally remembered.
Why badminton is my favorite game?
Badminton is my favorite game for several compelling reasons. One of its distinguishing aspects is its accessibility. Unlike some sports requiring extensive equipment or specific playing surfaces, badminton can be enjoyed almost anywhere, whether in the backyard, at a local park, or in a dedicated sports facility. This versatility allows for spontaneous and enjoyable games with friends or family, which adds to the sport's charm.
Moreover, badminton's fast-paced and dynamic nature captivates me every time I step onto the court. The rapid exchanges, precise shots, and strategic gameplay create a thrilling experience. Whether I'm executing a powerful smash, delicately placing a drop shot, or engaging in a thrilling rally, each moment on the badminton court is filled with excitement and unpredictability, keeping me fully engaged and invested in the game.
The elegance associated with badminton further adds to its allure. Watching skilled players move gracefully across the court, executing precise footwork and showcasing masterful strokes, is like witnessing a dance. The blend of athleticism and finesse required to excel in badminton elevates it beyond a mere sport, making it a captivating display of skill and coordination that resonates with my appreciation for aesthetic sports.
Badminton also fosters a sense of camaraderie and sportsmanship that I find deeply rewarding. Whether playing casually with friends or in more competitive settings, the mutual respect and shared love for the game create a positive and inclusive environment. The handshake or exchange of smiles after a match, win or lose, underscores the spirit of fair play that is inherent in badminton and contributes to the overall enjoyment of the sport.
The sport's physical and mental benefits significantly contribute to its appeal. The intense rallies and quick reflexes required enhance cardiovascular fitness, agility, and hand-eye coordination. Beyond the physical aspects, badminton demands strategic thinking, concentration, and adaptability, fostering mental acuity and resilience – qualities that extend beyond the court and into everyday life. Whether for the sheer joy of playing a spontaneous match with friends or the thrill of a competitive game, badminton continually provides me with moments of enjoyment, challenge, and personal growth, making it a sport that resonates with me on a profound level.
Conclusion
Badminton is my favorite game because it is accessible, dynamic, and elegant. The sport's ability to foster camaraderie and its physical and mental benefits adds to its allure. From the quick exchanges on the court to the moments of triumph and learning, badminton has become more than just a game. It is a source of joy, challenge, and personal growth that continues to enrich my life.
Recommended Articles
We hope that this EDUCBA information on "Essay on My Favorite Game Badminton" was beneficial to you. You can view EDUCBA's recommended articles for more information.