Updated August 31, 2023
Importance of Sports
Sports are an important part of life for many people, providing physical and emotional benefits that can last a lifetime. Sports can teach valuable life lessons and foster a sense of discipline and commitment. They can also provide a sense of belonging, community, and camaraderie. From playing with friends in the park to competing in professional leagues, sports help to shape our lives in many ways. This importance of sports essay will explore the importance of sports in our lives.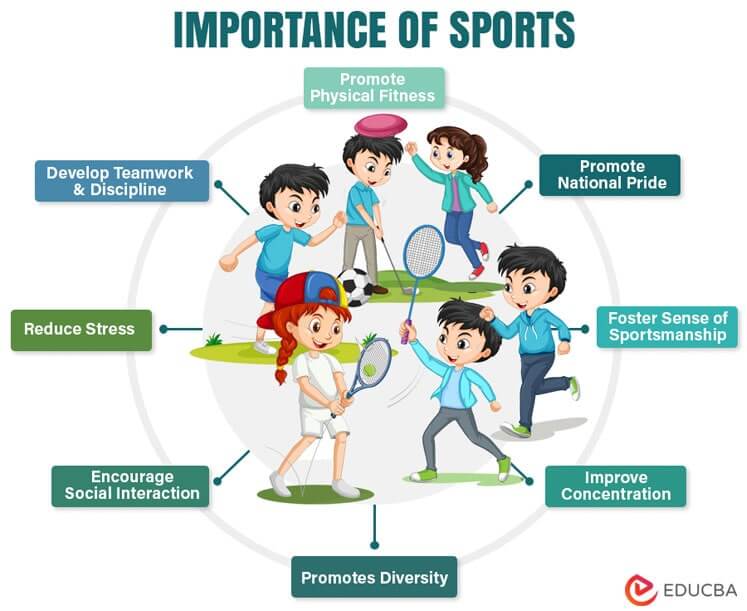 Importance of Sports in Student's Life
Sports are an important part of every student's life. 88% of parents believe sports contribute to their children's physical health.
Physical Benefits
Participating in sports can help students stay physically active, which is crucial for them to stay healthy.
As sports help students stay fit, it can reduce the risk of obesity and other chronic health conditions.
Regular physical activity also helps students develop coordination, strength, and flexibility, as well as increase stamina and overall physical endurance.
They enhance muscle development, promote strong bones, and reduce the risk of osteoporosis.
Mental Benefits
In addition to the physical benefits, sports can help students develop critical mental skills.
Team sports teach students how to work together as a unit to achieve a common goal, leading to greater teamwork, collaboration, and leadership skills.
Sports also improve students' decision-making skills, boosting their confidence and self-worth.
Besides learning valuable skills, sports help students fight depression, reducing isolation and enhancing their overall emotional state.
More than 70% of parents believe sports enhance their child's mental health.
Health Benefits
Some of the major health benefits are:
Regular physical activity and playing sports release endorphins, reducing stress and anxiety.
It also strengthens the immune system as sports improve heart and circulatory system fitness.
Additionally, sports also help regulate blood pressure and improve vascular health.
Moreover, students who play sports regularly have better sleep schedules and quality sleep.
Social Relationship Benefits
Participating in sports helps students build relationships and build higher self-esteem.
Students have to learn to work as a team when playing sports. This way, they learn to communicate and work together to succeed.
Students who participate in sports develop sportsmanship, promoting a healthy competitive environment.
Sports can also be an excellent way for children to socialize and make new friends.
Education & Careers Benefits
A career in sports offers diverse opportunities beyond just playing on the field.
Students who are marvelous at sports can use it to their advantage and get scholarships for higher education.
Mastering any sports can also lead students to become professional athletes and play for their nation.
Alternatively, children with exceptional sports skills can also choose to become a sports coach or trainer for physical education.
Effects of Sports on Personal Life
Sports also have a great impact on our personal lives. It allows us to learn discipline and stay focused and motivated toward our goals. These activities teach students time management as they must balance their studies and sports activities to do well in both. Sports also help us to learn the importance of hard work and dedication. It is because, to excel in sports, we need to practice continuously and put in a lot of effort.
Importance of Sports in an Adult's Life
Sports provide numerous benefits for adults in terms of career and life growth.
Regular sports boost overall health, leading to higher energy levels and better work performance. It also improves mental well-being and enables handling work-related pressures effectively.
Balancing sports with work demands time management skills. Thus, playing sports increases efficiency and productivity in both personal and professional spheres. Moreover, setting and achieving goals in sports translates to setting and attaining career objectives.
Additionally, sports participation offers opportunities to connect with diverse individuals, expanding social networks. This can help individuals achieve career growth through referrals and collaborations. Lastly, dealing with challenges and disagreements in sports cultivates conflict resolution skills, which are valuable for managing workplace conflicts constructively.
Importance of Sports for Nation
Sports are important for a nation's development and growth because they help foster a sense of national pride and unity among citizens. Sports also help to instill values such as determination, discipline, and respect for others. Through sports, people learn to work together as a team and strive for excellence. Playing sports can also have physical and mental health benefits, such as improved strength, balance, and coordination, as well as the development of problem-solving and leadership skills.
Sports have a powerful economic impact as well, creating jobs and generating income through ticket sales, merchandise, and sponsorships. Additionally, sports can be used to promote social change and raise awareness of important issues such as health, education, and gender equality.
Overall, sports are an essential part of any nation's development and growth. They provide citizens with an opportunity to come together, celebrate their shared culture, and work together towards common goals. At the same time, sports foster a sense of responsibility and build character through dedication, focus, and discipline. Through sports, nations can improve the physical and mental health of their citizens, promote economic growth, and create a more harmonious society.
Most Preferred Sports by Youth
The choice of sports for youths can vary based on individual preferences, interests, and physical abilities. Here are some of the popular sports that the youth often enjoy.
| | | |
| --- | --- | --- |
| Sports | Benefits and Features | Iconic Players |
| Soccer | Improves teamwork and cardiovascular fitness. | Lionel Messi, Cristiano Ronaldo |
| Cricket | Helps gain goal-setting skills with improved mental focus. | Sachin Tendulkar, Vivian Richards |
| Basketball | Enhances your hand-eye coordination and agility. | Michael Jordan, LeBron James |
| Swimming | Gives you a full-body workout, while boosting cardiovascular health | Michael Phelps, Katie Ledecky |
| Tennis | Refines hand-eye coordination along with improving physical fitness | Serena Williams, Roger Federer |
| Track and Field | Increases speed and endurance capacity | Usain Bolt, Florence Griffith Joyner |
| Volleyball | Builds better communication and spatial awareness skills | Karch Kiraly, Misty May-Treanor |
| Gymnastics | Makes you flexible and teaches balance | Simone Biles, Nadia Comăneci |
| Baseball/Softball | Expands your strategic mindset and improves hand-eye coordination | Babe Ruth, Jackie Robinson |
| Martial Arts | Teaches discipline and self-defense | Bruce Lee, Ronda Rousey |
| Cycling | Lets you explore the world and boosts your overall well-being. | Lance Armstrong, Eddy Merckx |
Infographics
Here is a comprehensive infographic image that summarizes the crucial benefits of sports.

Final Thoughts – Importance of Sports Essay
In conclusion, the importance of sports essay explains that sports play a vital role in our lives. It helps us to stay healthy, fit, and active. It teaches us the value of teamwork and encourages us to work hard and never give up. Sports also help us develop discipline, dedication, and commitment, which are essential values for success in life. It is also a great way for people to socialize and make new friends. Therefore, we should all strive to make sports a part of our daily lives.